A new summer season of Operation Heal Our Patriots begins as 10 couples arrive at Samaritan Lodge
Thunder, lightning, and an enthusiastic, flag-waving crowd of Samaritan's Purse staff and hardy town residents welcomed Week 1 couples to Port Alsworth, Alaska, on Sunday evening.
A line of over 100 people formed to greet the couples with thankful handshakes, marking the official start of this summer's Operation Heal Our Patriots marriage enrichment program.
"I think doing this is a good opportunity for us to connect," said Joe Mejias, a former Marine sergeant who struggles with post-traumatic stress disorder following deployments to Iraq and Afghanistan. "I think it's important to the healing process."
Joe said he looks forward to focusing on his wife, Brittany, this week and she, in turn, said she wants "to get to talk to my husband with no distractions."
One hundred and sixty couples, each with a spouse injured in combat or combat operations after 9/11, are scheduled to arrive in groups of 10 each week over the next 16 weeks for a time of physical renewal, spiritual refreshment, and Biblically-based marriage training.
"We know long-term healing needs a strong marriage and a strong faith," said retired Marine Brigadier General Jim Walker, executive director of Operation Heal Our Patriots.
At Samaritan Lodge, couples have opportunities to spend quality time together on adventures such as fishing, wildlife watching, hiking, and kayaking. More important, they attend daily devotions and marriage classes presented by retired military chaplains and their wives. Topics include reconciliation and forgiveness, love languages, communication, worship, and more. Private spiritual counseling with the chaplains is also available.
"Our veteran couples relearn their love for each other," Chaplain Jim Fisher said. "They get to a point of renewed love, renewed respect, and renewed compassion for each other."
Operation Heal Our Patriots, a Samaritan's Purse project started in 2012, has served nearly 370 couples since its inception. Over 110 individuals have received Jesus Christ as Lord and Savior. More than 130 couples have rededicated their marriages under Jesus Christ and His Word.
Todd King, a retired Air Force staff sergeant, and his wife, Laci, were among last year's Operation Heal Our Patriots participants who publicly renewed their vows. Todd suffered partial vision and hearing loss, a brain injury, and dozens of shrapnel wounds when injured by a suicide bomber in Baghdad. The Kings' time in Alaska breathed fresh air into their marriage.
"We're laughing together; we're giggling again," Todd said from Port Alsworth last summer. "It's like you're running to an old friend who you haven't seen in such a long time. We've been given that opportunity here."
Keys to Long-term Healing
Aftercare is a critical component of our program that differentiates it from many others. Our staff works to contact and encourage couples on a regular basis, help them find a church home, provide crisis response as needed, and more.
Annual reunions, as well as regional events called Fortify Your Marriage weekends, offer further training. There is always a twin emphasis on strengthening the husband-wife relationship and holding out the hope of the Gospel of Jesus Christ.
In June 2012, retired Army Sergeant Major Kris Kosem and his wife Rhonda attended the very first week of marriage enrichment offered by Operation Heal Our Patriots in Alaska. Three years later, they remain friends with various staff members they met, and the couple recently attended one of the program's reunions in April of this year.
Kris, who suffered a traumatic brain injury in South America while training for a hostage rescue mission, has seen improvements in his health over the past couple years after starting transcranial magnetic stimulation treatments.
Rhonda said it was clear from the start that Samaritan's Purse personnel deeply cared for them and about life's most important matters.
"Samaritan's Purse, OHOP, is concerned about our spiritual wellbeing," Rhonda said. "They're concerned about our soul, our salvation."
Kris, a former member of Delta Force, points to his Christian faith as his reason for living.
"If you don't have faith, you're not gonna make it," he said. "Eventually you're going to get worn down."
Please pray for marriages to be restored and hearts to be drawn to Christ as couples attend marriage enrichment training in Alaska this summer.
"What we need for our veterans is daily support and daily prayer," General Walker said.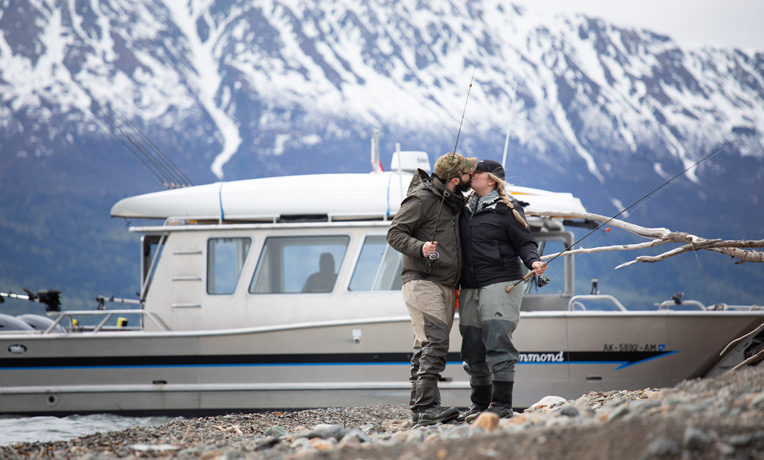 Bless the Marriage of a Military Couple
Operation Heal Our Patriots helps military couples build a strong spiritual foundation during a week of Biblically based workshops, relationship-building wilderness activities, and individual care by our retired military chaplains. We offer all this free of charge to these American heroes as a token of our appreciation for their service and sacrifice. Your gift will help us cover the costs—including transportation, lodging, activities, and long-term Family Care—so that we can help them find hope in the Lord.
---
Operation Heal Our Patriots 013960
Suggested Gift: $60