Samaritan's Purse is providing critical assistance to families in Umatilla County who were overwhelmed by historic flooding.
U.S. Disaster Relief
013622
"The storm was just supposed to be rain for two days. It was not supposed to be a big deal," shared homeowner Russ Clinkenbeard. "It was so surprising how fast it happened."
Some eight to ten inches of water burst into his home as he tended to his 2-year-old son while his wife was at work. Family members who live nearby arrived just moments later, and this might have saved their lives. They all loaded up in Russ' truck and as they sped away from the mobile home park, water even began filling the vehicle. Praise God they made it to higher ground and out of danger.
After the waters dispersed, Russ and his brother Steven returned to the property to survey the devastation. When Samaritan's Purse teams arrived in the neighborhood, Russ and his family had been trying to do all the work themselves.
"[It was hard] to come in the first night, with no power or lights, and to have to start filling garbage bags of toys that we had to throw away," Russ explained. Standing in his home and grateful for the volunteers, he added, "to come back today and see where it is now—it's such a change."
Samaritan's Purse volunteers cut strips of insulation from the home's foundation and dragged out debris from underneath, allowing any remaining water to drain out of the house. They also carried out heavy, waterlogged boards.
When the group finished working on Russ' home, they presented him with a special Billy Graham Study Bible, and together they prayed for the family's recovery. Raised as atheists, the two brothers began asking our team questions about their faith and commitment to God.
"I didn't know how I was going to take care of my family. Without all the help from you, we wouldn't be where we are today," Russ shared.
Russ opened his new Bible to find signatures and verse references written inside by each team member. He intently began reading the Scriptures. Meanwhile, Steven openly spoke with the Billy Graham Evangelistic Association chaplains as they shared the Gospel. In the wake of devastating flooding, standing outside the salvaged home, we praise God that Russ' brother Steven received Jesus Christ as his Lord and Savior.
The Clinkenbeards are one of hundreds of hurting families in Umatilla County in eastern Oregon where historic flooding from heavy rainfall and snowmelt have caused widespread devastation. Over the weekend, one of our Disaster Relief Units—tractor-trailers stocked with tools and supplies—rolled in from our West Coast Ministry Center in Fullerton, California.
On Sunday we mobilized volunteers who had arrived from all areas of the West Coast—including California, Washington, Nevada and different parts Oregon. Working out of our base of operations at Pendleton First Assembly of God Church, our teams are entering the hardest-hit communities to help hurting homeowners clear debris; remove water-damaged insulation, flooring, and drywall; and carefully salvage personal belongings that may have survived the flood.
Since the beginning of our response on February 16, we've had 45 volunteers join our efforts and have completed nearly a dozen work orders. We praise God that four residents have received Jesus Christ as Lord and Savior.
Inundated with Gratitude
Homeowner Robert Warden and his wife had paid off their mortgage just four months before the storm wreaked havoc on their property.
"It was fast, and it was scary," Robert said, as he looked around at his swamped neighborhood and described the disaster. The couple had sheltered in their home as they watched the floodwaters quickly rise. They'd agreed to stay inside together and wait for the storm to pass.
But when the floodwaters began to fill their house, the two realized they needed to develop a plan to escape the life-threatening deluge.
"At 3:30 p.m., the water was up to the road. Fifteen minutes later, it was up to the mailboxes. Within the hour, it was here," Robert explained, pointing to his chest. The Warrens were able to escape to safety, but when they returned days later they found a waterlogged home and community.
When our teams of volunteers arrived, the Warrens were able to finally breathe with relief and accepted our help.
Volunteers crawled under their home to rip out waterlogged insulation. Working in the freezing temperatures, the team cleared flooded debris and wreckage out of the house, praying with Robert and offering other spiritual encouragement throughout the day.
"All of this has been overwhelming but extremely amazing," Robert said with deep appreciation. "I have so much gratitude for the people coming to help. I'm not used to it at all."
Please pray for these families, for the many other affected families in Umatilla County, and for our volunteer teams as they help homeowners who have lost so much to the storm. Continue to pray that as we help people physically recover that we would have miraculous opportunities to share with them the hope found only in the Gospel of Jesus Christ. For more information on volunteer opportunities, visit spvolunteer.org.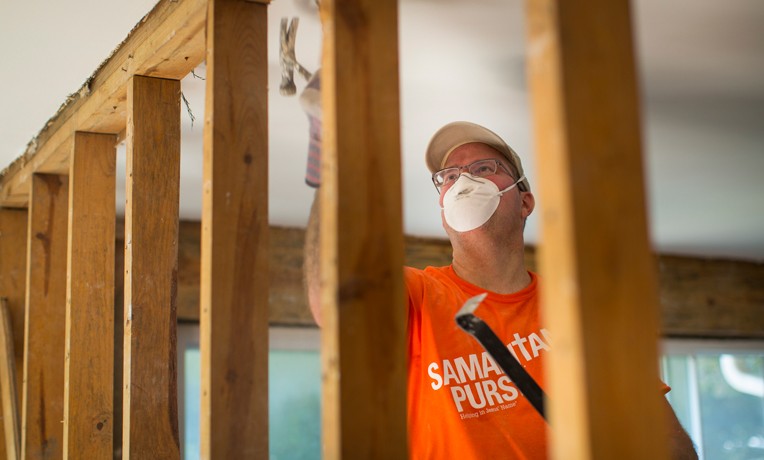 U.S. Disaster Relief
Samaritan's Purse mobilizes and equips thousands of volunteers to provide emergency aid to U.S. victims of wildfires, floods, tornadoes, hurricanes, and other natural disasters. In the aftermath of major storms, we often stay behind to rebuild houses for people with nowhere else to turn for help.
---
U.S. Disaster Relief 013622