Samaritan's Purse volunteers finished serving in hard-hit areas in Oakland County, Michigan
Record flooding swept through southeast Michigan. Around 6,000 houses were affected by the flood, and one elderly woman was found dead in her flooded basement.
Unlike other floods we've responded to where record rainfall and flash flooding caused rivers or other bodies of water to rise, this flood overwhelmed the sewer systems, plaguing homeowners with unsanitary water rising up from toilets and shower drains.
Samaritan's Purse staff and volunteers helped homeowners affected by the floods in Oakland County by removing damaged debris and insulation. We set up base at Central Free Will Baptist Church in Royal Oak. In all, we were able to help 162 homeowners and lead 36 people to salvation through Jesus Christ.
"There are a lot of emotions the homeowners are dealing with," program manager Wayne Shoemaker said. "Seeing the items on the curb, those memories—those things are very near and dear, and it's emotional for them. I'm glad we can be there and talk with them."
One homeowner was brought to tears as a team of volunteers helped her remove wet debris and carpet underneath furniture. The room they worked on contained many of her late husband's possessions that she hadn't moved yet. He had died a year earlier just before Valentine's Day.
"It was one of those situations that it wasn't the work she needed," said Joe Lenhard, a volunteer on our Site Leadership Team from Buffalo, NY. "She just needed to know that people cared. And that's what made a huge difference."
As our teams pack up and leave, please keep Michigan flood victims in your prayers and continue praying for the local church as they continue to minister to homeowners.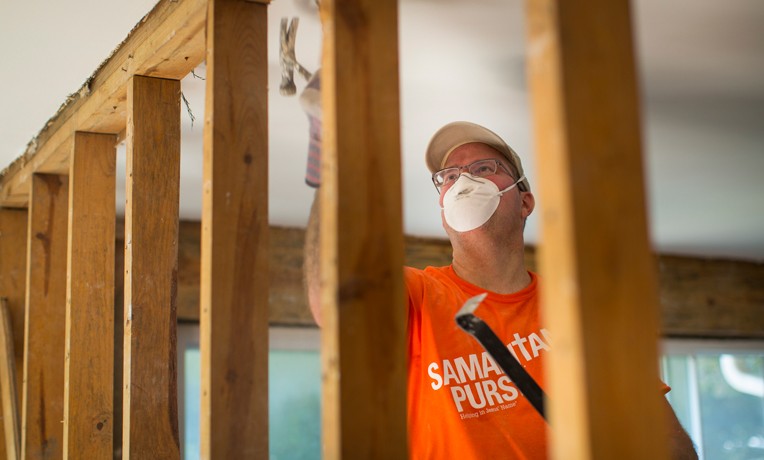 U.S. Disaster Relief
Samaritan's Purse mobilizes and equips thousands of volunteers to provide emergency aid to U.S. victims of wildfires, floods, tornadoes, hurricanes, and other natural disasters. In the aftermath of major storms, we often stay behind to rebuild houses for people with nowhere else to turn for help.
---
U.S. Disaster Relief 013622