Staff and volunteers are helping storm victims
Samaritan's Purse staff and volunteers working out of our base in Rochelle, Illinois, brought relief and hope to dozens of homeowners reeling from destructive twisters.
Tornadoes hammered the Midwest April 8 and 9, with as many as 14 reported on the second day alone. Northern Illinois was particularly hard hit, with at least two twisters sweeping through six counties.
Some of the worst damage occurred in rural DeKalb and Ogle County, where one massive twister cut a 22-mile path of destruction.
The towns of Rochelle, Fairdale, and Kirkland were in the path of the storm. The tornado destroyed homes, knocked down trees, and flipped cars. At least 20 houses were flattened, and preliminary news reports said as many as 100 were damaged.
Samaritan's Purse responded immediately, sending a disaster relief unit from our North Carolina headquarters. Volunteers helped storm victims by tarping damaged roofs, cutting up and removing downed trees, and clearing debris.
Our teams, working in conjunction with chaplains from the Billy Graham Evangelistic Association Rapid Response Team, worked in the Name of Jesus to let homeowners know that there is hope in the aftermath of the storm.
Over 550 volunteers completed jobs for 42 storm victims. Our team in northern Illinois reported that 10 people came to faith in Jesus Christ.
"There were many heartfelt thank you's for us being here to help," said Kenny Adcock, program manager for the response.
"This has been a great time in the Lord"
Please pray for everyone still trying to recover from these storms.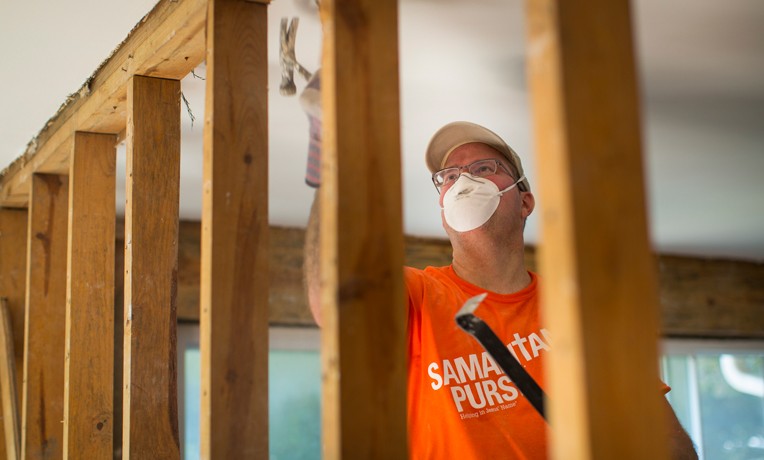 U.S. Disaster Relief
Samaritan's Purse mobilizes and equips thousands of volunteers to provide emergency aid to U.S. victims of wildfires, floods, tornadoes, hurricanes, and other natural disasters. In the aftermath of major storms, we often stay behind to rebuild houses for people with nowhere else to turn for help.
---
U.S. Disaster Relief 013622