A young doctor and her patient find comfort in God's watchful care.
By Samantha Conroy, a family medicine physician serving at Kijabe Hospital though World Medical Mission's Post-Residency program.
When Leah arrived at Kijabe Hospital, I was immediately struck by her infectious laugh and her smile that lit up the room. She was pleasant and kind. Even when her prognosis took a turn for the worse and her future appeared uncertain, her deep-rooted joy still radiated.
Leah is 29 years old and came to the hospital experiencing severe stomach pains and coughing up small amounts of blood. She was at about 30 weeks pregnant with her fourth child. We quickly ruled out labor and admitted her for the night, thinking she mighthave some bad reflux. We started her on some anti-reflux medication, but it didn't help. We tested her for many things, but everything was normal except her blood count. That was extremely low.
The stomach pains persisted, so the next day we consulted with our general surgery team. They looked into her throat and stomach to see if she might have an ulcer or gastritis.
Unfortunately, the OGD revealed that Leah had stomach cancer. We were shocked. She was so young! A CT scan showed metastasis to the liver—Stage 4 cancer.
We discussed our next step. Our surgeons were not optimistic about the chance of successful surgery. The chemo center in Nairobi, about an hour away, was not comfortable treating a pregnant patient. Our nursery was full of premature babies and almost at capacity, but they would save one incubator for Leah's baby.
After some deliberation, we decided to allow Leah's baby to get to 32 weeks, then do a cesarean section, after which she could get palliative chemotherapy in Nairobi once her baby grew big enough and strong enough to travel with her.
As we talked through the options with Leah, she made one thing clear: she wanted to give her baby as much time as possible to grow and develop. Her selflessness was incredible.
When surgery day arrived in early February, Leah was smiling as usual. One of our long-term OB-GYNs performed the C-section.
I had the privilege of holding Leah's hand throughout the surgery. She broke into happy tears when Lovelynn Angel was delivered. We rejoiced with her. As Lovelynn was whisked away to the nursery, our general surgeon scrubbed into the operation. Unfortunately, he found what looked like metastasis to the abdominal wall and the fatty layer covering the inside of the abdomen.
Our pediatrics team did a wonderful job with Lovelynn, and she progressively gained weight. On the first day outside of the incubator at two weeks old, she looked beautiful in Leah's arms.
"She's getting so big and doing so well," I told Leah. Pointing skyward with her right index finger, she exclaimed, "It is God!" I choked back tears.
Our hospital chaplains met with Leah several times. We prayed with her, too. She knows Jesus and is secure in her ultimate eternal home. That's not stopping her though—or us—from praying for a miracle as she starts chemo.
Leah is so grateful and has chosen joy in the midst of a seemingly impossible situation. I know that through Christ all things are possible. I'm believing this for Leah and her family. Please pray for her.
What a privilege to be at Kijabe and serve at a mission hospital. I came to Kenya in October 2017 for language school and started working at Kijabe with World Medical Mission as a Post-Resident in family medicine a few months later. When I consider the journey God has taken me on, I stand amazed.
My favorite chapter in the Bible is Psalm 91. In the very first verse, the psalmist declares, "He who dwells in the shelter of the Most High will abide in the shadow of the Almighty" (ESV).
Resting in His shadow every day is what sustains me, and it really has.
I never dreamed about being a doctor. I was the kid who fainted at the sight of blood. When I was in college at Carnegie Mellon University in Pittsburgh, I majored in biology, thinking I'd get my Ph.D. and do research.
I wasn't following the Lord at the time, but during my third year, God began drawing me back to Himself. I was involved in a campus ministry and we went on a missions trip to Zimbabwe for two weeks. We visited a few hospitals, and a nurse on our trip told me one night she believed God was telling her that I was going to be a doctor and that I would return to Africa.
I told her she was totally crazy. But it wasn't long before I began sensing God wanting me to trust Him for the real possibility of medical school and that through Him all things were possible.
To be honest, I suppressed those thoughts for the next two years. But I wasn't comfortable with where I was and wasn't feeling fulfilled. Finally one day, I surrendered and told God, "OK, I'm going to trust You that You're going to be with me if I go through with this process and in this direction."
I applied to medical school and was accepted at what is now called Geisinger Commonwealth School of Medicine in Pennsylvania. The first day I watched an open-heart surgery and didn't pass out!
It's been miraculous since then, and the Lord has been there every step of the way. I did my residency in family medicine in Waco, Texas, and during my second year, I applied to the Post-Residency Program with World Medical Mission. God has now led me to Kijabe Hospital.
I love it here! I enjoy family medicine because we're able to do a bit of everything. And I really enjoy helping my Kenyan colleagues train young doctors who have a passion to go to "all nations" using their skills in medicine to minister to others. Every day is a new day to trust God Almighty.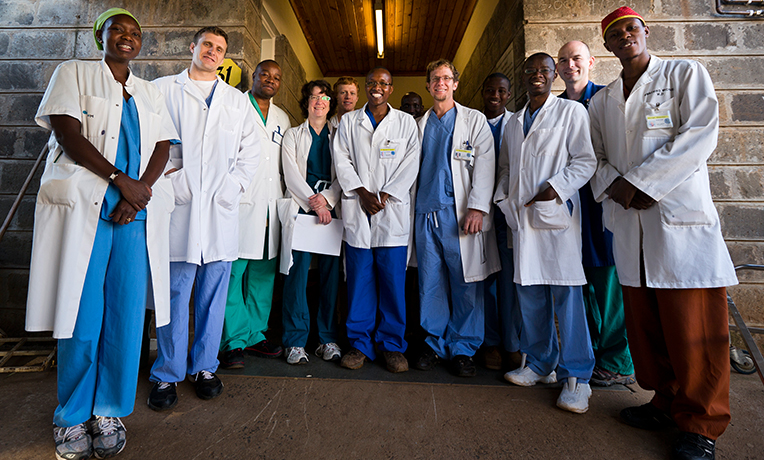 Post-Residency Program
The World Medical Mission Post-Residency Program is a fully funded two-year program for Christian physicians and their families who have been called to medical missions. Following their residency, doctors are placed at a mission hospital to serve within their specialty alongside career medical missionaries. We provide logistical and financial support to these young men and women as they treat patients and share the love of Jesus Christ.
---
Post-Residency Program 013765