Samaritan's Purse volunteers are helping hurting families by finding cherished treasures among the ashes in Washington.
U.S. Disaster Relief
013622
Volunteers are hard at work in the aftermath of wildfires in eastern Washington state. The Gray Fire and Oregon Road Fire destroyed more than 350 homes in Spokane County, and as our teams sift through the ashes, they are reminding homeowners that God sees them and loves them.
Watch the video above to learn about Debbie's story.
"Our entire home was destroyed in the fire," said homeowner Debbie Mauzay. "These little treasures that they're bringing to us are just restoring hope to us. I just can't thank them enough. Thank you Samaritan's Purse."
Samaritan's Purse has been in eastern Washington helping homeowners since Sept. 1. It is a source of comfort and relief for homeowners when teams recover precious belongings that weren't destroyed in the blazes.
"Even in the midst of all this destruction and all this suffering, God sees them," said volunteer Isabel Mcinnis.
Our team sent in this praise report on the evening of Sept. 12:
The Lord can always bring beauty from ashes, and a story during share time reminded us of that. The one home a team worked at today was less than one year old when it got consumed by the fire. The homeowner was hurt and confused as to why God would allow something this awful to happen to her. Our volunteers took turns talking with and listening to the homeowner as they worked on the home, each planting seeds about the Lord's faithfulness. As the team was finishing up working on the house, one of the [Billy Graham Rapid Respond Team] chaplains had the opportunity to explain the gospel to her and asked her if she would like to accept Jesus as her personal Savior. The woman responded she was ready to let go and was indeed ready to receive Jesus as her personal Savior!
We praise God for our volunteers and for those residents who are hearing and responding to the Gospel!
Hear from more homeowners in the video below.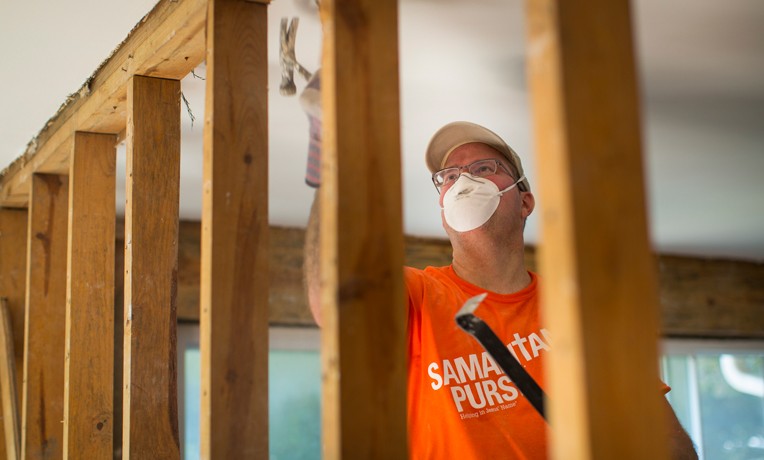 U.S. Disaster Relief
Samaritan's Purse mobilizes and equips thousands of volunteers to provide emergency aid to U.S. victims of wildfires, floods, tornadoes, hurricanes, and other natural disasters. In the aftermath of major storms, we often stay behind to rebuild houses for people with nowhere else to turn for help.
---
U.S. Disaster Relief 013622