Brad Chandler's new mission is to serve hurting homeowners in Jesus' Name through Samaritan's Purse, and it's a mission he and his wife, Tammy, can pursue together.
Bless the Marriage of a Military Couple
013960
Their mission that day in St. Louis was to save a condemned home where mold had taken over. The owner and her 85-year-old mother were still residing inside, breathing noxious spores.
"I really can't believe they were living in that," said Brad Chandler, who was serving as a volunteer with Team Patriot, a Samaritan's Purse project that deploys Operation Heal Our Patriots alumni on relief and rebuild assignments with our North American Ministries teams. "If we hadn't shown up I don't know if anyone else would have been there to help them."
A retired Marine Corps Master Gunnery Sergeant with 27 years in the service and 12 deployments, Brad has seen his fair share of disasters, but he was still surprised by what he saw in August in St. Louis.
"I was a little in shock," Brad said, recalling the conditions the family had been living in since July's flooding, when 11 inches of rain crashed down in eight hours. "They'd been in there for almost a month and everything, absolutely everything, had been ruined. There were just piles and piles of garbage. And no one was there to help them."
Brad and other Team Patriot volunteers moved loads of debris from the woman's home to the road, including furniture, belongings, drywall, and flooring. All the ruined items and materials in her home formed a 10-foot wall along the street out front. With the sopping mess cleared, the mother and daughter were able to start over with hope and without fear of mold growth.
At the conclusion of their work, Brad says they presented the homeowner with a special Billy Graham Bible signed by the team, and she was overwhelmed with this gift. It would replace the decades-old Bible she lost in the flood.
"She burst into tears," Brad recalled. "It was such an honor to see joy and hope come back into their lives again."
A New Man After Alaska
Brad knows a thing or two about starting over in the wake of devastation, which is what it felt like for him when he left the Marines.
When the Brad and his wife, Tammy, arrived in 2019 at Samaritan Lodge Alaska for Operation Heal Our Patriots, they were desperate for change and for hope. His decades of deployments had left deep scars, both physical and emotional, and had caused suffering in their marriage.
"I dealt with post-traumatic stress by trying to work myself to death to escape having to deal with what was going on in my head. Just exhaust myself so I could fall asleep," Brad said. "At night, I had nightmares."
There was no escape and no reprieve. A friend of theirs, who knew about the struggles, told them about Operation Heal Our Patriots.
"I don't think I realized the need until I got there," Tammy said. "After 27 years in the Marines, it became normal for us."
In Alaska, through marriage classes and conversations with chaplains and with other couples, the Chandlers learned a lot about themselves and each other. And, they learned that there are many other couples and veterans who struggle with many of the same painful difficulties.
"We realized that we weren't the only ones," Tammy said. "And I think for Brad it helped him realize his injuries were real, even if they weren't physical or visible."
Both Brad and Tammy had received Jesus Christ as Lord and Savior a few years before coming to Alaska, but their time there marked a deepening of their faith and a strengthening of their marriage. Brad was reminded of the purpose and value given to them through life in Christ. He also had the incredible experience of being baptized for the first time, under the cold water of Lake Clark.
"When you leave the service, you leave an environment where you know what it feels like to accomplish important things with your brothers," Brad said. "When you come out you search for that feeling again.
"I couldn't find what I was looking for at the VFW or the American Legion. But then I found Christ and Samaritan's Purse. Then, when Team Patriot was announced at the Reunion in 2019, I found a mission to be a part of working alongside other veterans. It's restored a sense of calling and purpose for me and for us as a couple. Military guys love a mission. And as a believer, I love the mission of sharing the Gospel and of seeing joy come back to people's faces."
Service Together Fueled by New-Found Freedom in Christ
Just over a month ago, before he went to St. Louis, both Brad and Tammy went to Mora, New Mexico, on their first Team Patriot deployment.
"It was wonderful," Tammy said, detailing some of the skills she learned, such as using a woodchipper to handle burned and fallen trees. She said they also will cherish the stories from homeowners they were able to help. The couple left feeling a strong sense of shared mission—which started in Alaska and was strengthened in Mora.
"We were able to connect together instead of being isolated," Tammy said. "We were able to work more as a God-centered team. It set a new precedent in our life of working together and also realizing we had to rely on God."
Brad says Operation Heal Our Patriots and Team Patriot set them on a journey both of healing and of service, a journey they're taking step-by-step in sync with each other.
"I didn't know the Lord when I was in the service," he said. "I didn't give my life to the Lord until I was 51 and this is our new purpose and new calling. It's a new mission, one Tammy and I are on together."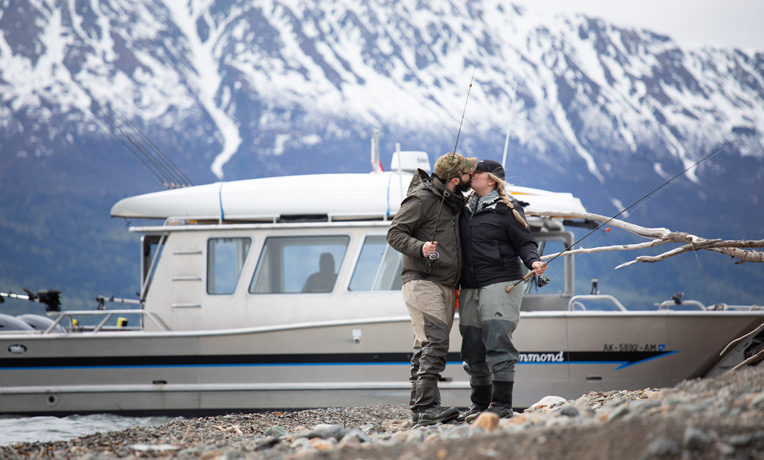 Bless the Marriage of a Military Couple
Operation Heal Our Patriots helps military couples build a strong spiritual foundation during a week of Biblically based workshops, relationship-building wilderness activities, and individual care by our retired military chaplains. We offer all this free of charge to these American heroes as a token of our appreciation for their service and sacrifice. Your gift will help us cover the costs—including transportation, lodging, activities, and long-term Family Care—so that we can help them find hope in the Lord.
---
Operation Heal Our Patriots 013960
Suggested Gift: $60