Samaritan's Purse staff members in Cambodia gather to run for projects in their country
Julia Henning is an intern in the Samaritan's Purse office in Cambodia.
When our country director approached me about recruiting Samaritan's Purse staff to run the Angkor Half Marathon, I was reluctant to take on the task. Though my strengths don't include coordinating logistics for large numbers of people, I agreed. I thought it would make a good story to say I ran an international half marathon at one of the wonders of the world.
I didn't have a training schedule. I didn't have running shoes. I didn't have anywhere to train. After a few weeks, I had announced the run via email but had made little other progress. I got a fever and was discouraged about being fit for training. While I was overwhelmed with coordinating sign ups, payments, and liability release forms at three different bases throughout Cambodia, another intern in our office helped me find a training schedule and started preparing for the race.
As soon as I was strong enough to run, I was on the street. I tried to run at 5 a.m., before the pollution and dirt started to mix in the air on the partially paved Phnom Penh streets. I bought a pair of $14, used running shoes from a local market.
The shoes weren't perfect, but they were worked—I was only running a few miles at first, anyway. And by a few, I mean five—that's the number of miles you run when you get lost and end up circling the Chinese Embassy for half an hour. Eventually I got a membership to a local gym.
As our training commenced, so did the number of sign-ups we received from staff. I decided to do a fundraiser for our projects in Cambodia. I started a campaign with a $1,000 goal on behalf of our team and annoyed my friends and family for donations. We raised a total of $825.
Facing the Angkor Half Marathon
From our office, the drive to the race site in Siem Reap was 8 hours. I spent the drive praying that all runners arrived to Siem Reap in one piece and stretching out my shins to relieve the shin splints I developed during training. We began running the 13.1-mile race at 6:13 a.m.
I was confident about my abilities until about the 5K mark, where I started dry heaving. At the 10K mark, I began to get sick. Several of our team members had already passed me. I stopped to throw up and felt a hand on my back. It was one of our Khmer staff members, Kham, who was supposed to run at 6:20 with the 10K runners.
He had gotten confused about start times and was now accidentally running the half marathon, even though he hadn't trained. He grabbed my hand and pulled me along for a while. He zoomed ahead at about the 8-mile mark when I stopped to use one of the public restrooms in front of the temples.
As I limped out of the restroom, I began to jog. A large group of children lined up along the trail and screamed and high-fived me as I jog-hobbled past. They grabbed my hand and ran beside me. At some points when my shin splints were excruciating, I felt as though they were dragging me. This little cloud of encouraging faces and giggles was the encouragement I needed.
As I got closer to the temples, the crowds of children became sparser, and I was alone for the last 4 miles. Men were shouting at me to hop on a motorcycle or take a tuk tuk for the remainder of the run because the race was technically over. Runners were given 3 hours to complete the course and I took about 3.75.
Much to the chagrin of some of my team members who were tired of waiting at the finish line and were calling me on my cellphone, I pressed on. I passed everyone I could until I just couldn't run any longer. I walked until the finish line was close, where I saw another staff member running toward me. Once she reached me, I decided to run/fast limp the rest of the way.
I finished. I ran a half marathon. All the glory goes to God. It was by no act of my own asthma-ridden lungs and worn legs.
We all finished. We all met our goals. For many of our staff, it was their first time ever running any kind of race. They finished strong, sacrificed their weekend, and spent the majority of two days in a car for this team building exercise.
God blessed us by giving us bodies that could run. We praised Him by using our abilities.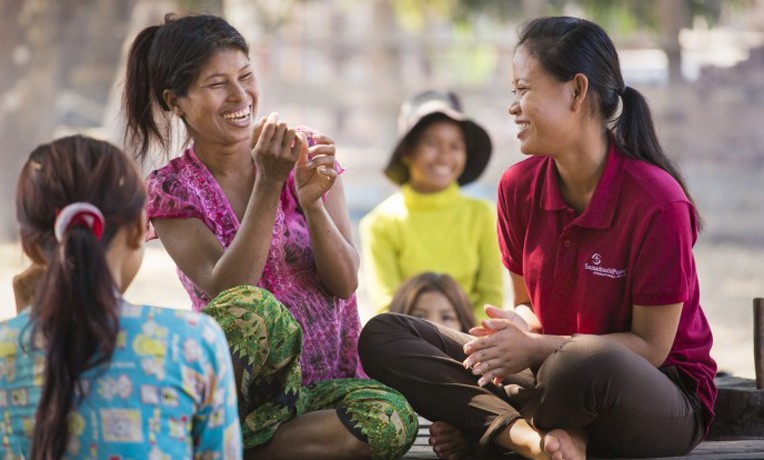 Cambodia Projects
Cambodia, one of the poorest nations in the world, has few resources available to care for its people, the majority of whom live in rural areas. We help meet desperate needs for food and livelihoods through animals and agriculture projects, as well as providing access to safe, clean drinking water. Children's education projects ensure boys and girls remain in school, while increasing their quality of life. Our maternal and child health program reduces the mortality rates of women and their young children by improving obstetric care, teaching essential nutrition practices, and increasing access to quality healthcare. We also combat human trafficking through education and training. Only 2 percent of the country is Christian, and a crucial aspect of our work involves partnering with local churches to help spread the Gospel in their villages.