An emergency field hospital has been airlifted in response to growing medical needs in Ecuador earthquake
Samaritan's Purse has begun transporting our emergency field hospital and medical personnel to Ecuador in response to the country's deadliest earthquake in decades.
The airlift on Wednesday marked the inaugural flight of our newly refurbished DC-8 cargo plane. Thirty medical staff will be joining personnel already on the ground along the northern coast of Ecuador—the epicenter of the 7.8-magnitude earthquake that struck Saturday evening, killing more than 550 and injuring thousands. The emergency field hospital will be set up on the grounds of Napoleon Davila Hospital in Chone and will be at least partially operational within 12 to 24 hours. We also have water/sanitation and shelter experts there to meet needs in those areas.
"This plane and this hospital give us even more capacity to respond in Jesus' Name around the world," Samaritan's Purse President Franklin Graham said on Wednesday from the airlift event in Greensboro, North Carolina. "This hospital could be the only hope for thousands of people to get healthcare right now."
Graham continued, "We plan to use this plane all over the world. I put a cross on the tail of this airplane. I want everyone to know that this plane is coming in the Name of the Lord Jesus Christ. God has given us this plane and hospital, and we are thankful.
"OK. Now all of the passengers load up. We got work to do."
Ongoing and Growing Response
The Wednesday airlift was the first in a series of three upcoming flights to earthquake-affected areas of Ecuador. Our recently refurbished DC-8 cargo plane can carry 40 tons of emergency supplies and up to 30 personnel to bring relief to traumatized survivors.
"This hospital could be the only hope for thousands of people to get healthcare right now."
The emergency field hospital being transported over the coming days will have an emergency room with the capacity to see more than 100 people a day, an operating theatre with the ability to perform 7-10 surgeries daily, 20 inpatient beds, and an outpatient clinic with an adjunct lab, ultrasound imaging capabilities, and onsite pharmacy.
Dr. Richard Furman, co-founder of World Medical Mission, is flying on the plane today to help set up the field hospital. He said, "It is an exciting time for the ministry to have this capacity to help people."
In addition to helping relieve the overwhelming medical need, Samaritan's Purse is also at work to bring clean water to 50,000 people and to meet the shelter needs for 5,000 households.
Please pray for the Ecuadorian people as they face this disaster. Pray for strength for our staff as they bring physical relief and spiritual comfort in Jesus' Name.
UPDATE:
The first flight has now landed in Ecuador. Personnel have arrived safely, and equipment is being unloaded.
Additional update: The field hospital is now set up and operational.
This article was originally posted on April 20 and received its final update April 22.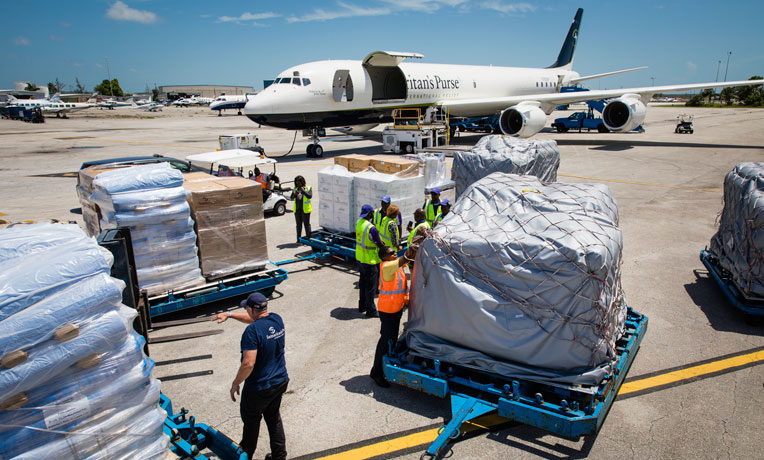 International Emergency Relief
When natural disasters strike or armed conflict causes people to flee, Samaritan's Purse responds quickly to bring relief to those in urgent need. We can provide food, clean water, and shelter, among other necessities. One way we help in disaster situations is by handing out "family survival kits" that include warm blankets, buckets with water filters, cooking utensils, soap, and other daily essentials. For just $45, we can provide a lifeline to a family that has lost everything, to help them get back on their feet.
---
International Emergency Relief 013310
Suggested Gift: $45