We're on the ground after tornadoes left devastation behind in both Jefferson City, Missouri, and Dayton, Ohio. Work is also ongoing in Michigan; we're responding in Oklahoma, too, and will call for volunteers after floodwaters recede.
U.S. Disaster Relief
013622
June 13 UPDATE: We have concluded our deployments to Missouri and Ohio. We have two deployments ongoing to Oklahoma in response to flooding. Our Michigan response continues.
May 30 UPDATE: Now that floodwaters are receding in Oklahoma, we are ready to receive volunteers. Our host church is Church That Matters in Sand Springs.
May 29 UPDATE: Samaritan's Purse is now assessing damage and working with possible partner churches in Kansas after a tornado ripped through Linwood in Leavenworth County on Tuesday night.
May 28 UPDATE: Samaritan's Purse has now deployed to Dayton, Ohio, after multiple tornadoes hit the area on Monday night, May 27. Volunteers begin Wednesday, May 29. You can sign up to serve in Ohio at spvolunteer.org.
—
Samaritan's Purse staff are in Missouri after devastating tornadoes struck Jefferson City on May 22.
SIGN UP TO VOLUNTEER IN MISSOURI
A twister hit the capital city late May 22, causing widespread damage and leaving dozens of people trapped inside their homes. Nearly 30 tornadoes touched down in Missouri and Oklahoma from Wednesday morning through Thursday morning.
These tornadoes were part of a larger severe weather system that has caused havoc in the central part of the country all week. At least 171 tornados have been reported along with heavy rains, flooding, damaging winds, and hail.
"Please keep our teams in your prayers as they come alongside these communities and remind them of the hope that is in Jesus Christ," said Franklin Graham, president of Samaritan's Purse.
Our base of operations in Jefferson City is First Assembly Church. Volunteers are working in hard-hit communities and have already served 45 homeowners in Jesus' Name.
In response to this larger storm system, Samaritan's Purse is also assessing damage in Oklahoma due to severe flooding. Continue to check this article for Oklahoma response updates.
Please pray for our assessment teams as they survey the damage and work with possible host churches. Please pray for the many families in Missouri and Oklahoma suffering after these destructive storms.
This article published May 23 and was updated May 24, May 28, and May 29.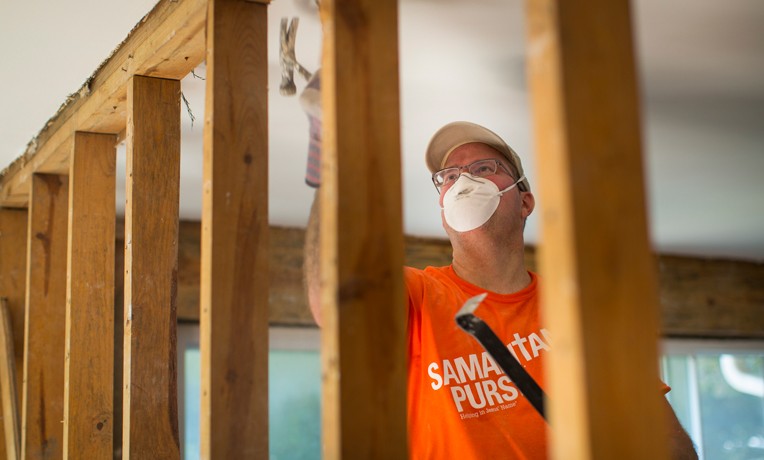 U.S. Disaster Relief
Samaritan's Purse mobilizes and equips thousands of volunteers to provide emergency aid to U.S. victims of wildfires, floods, tornadoes, hurricanes, and other natural disasters. In the aftermath of major storms, we often stay behind to rebuild houses for people with nowhere else to turn for help.
---
U.S. Disaster Relief 013622