Our volunteers are serving homeowners devastated by powerful storms.
U.S. Disaster Relief
013622
Samaritan's Purse is helping homeowners whose property was damaged by severe storms that slammed Albany, Georgia, and Dougherty County Monday night and into early Tuesday morning (January 2-3).
A Disaster Relief Unit, a tractor-trailer stocked with relief supplies including chainsaws and tarping, has arrived in the area, about 180 miles south of Atlanta. Our staff and volunteers are taking work orders and have begun assisting families in need.
Albany—the eighth largest city in Georgia, with a population of 77,400—was devastated by a line of storms that also slashed through Texas, Louisiana, Mississippi, Alabama, and Florida. Tornado warnings blared just before powerful storms ripped through the area.
Extensive Damage, Volunteers Needed
Volunteers began work Thursday, January 5. Information on volunteering is available at our volunteer network site.
Our teams are focused on cutting up downed trees and tarping, along with clearing damaged property.
Emergency management officials report that up to 3,500 homes in Dougherty County were affected by ferocious winds, and numerous trees and powerlines are down throughout the region.
"This storm that hit the Albany area is the biggest non-reported weather event that I've ever seen," said Todd Taylor, our program manager overseeing this response. "I've driven around the area and the damage is extensive and easily comparable to the tree and property damage caused by Hurricane Matthew in November in Bluffton, South Carolina.
"We have a lot of work in front of us. The need for volunteers is great."
Sherwood Baptist Church has provided use of the local Coca-Cola Bottling Plant, which will serve as the central location for the Samaritan's Purse Disaster Relief Unit, the Billy Graham Evangelistic Association Mobile Ministry Center, and homeowners seeking assistance. Our staff and volunteers will be housed at Gillionville Baptist Church.
"One of the wonderful aspects to our disaster relief work throughout the country is the network of incredible churches that we've had the privilege to partner with, and so we will be connecting with leaders of churches in the Albany area to see how we can come alongside homeowners to help them in Jesus' Name," said Luther Harrison, vice president of North American Ministries.
Please pray for wisdom as we seek God's direction in our response to families affected by this disaster.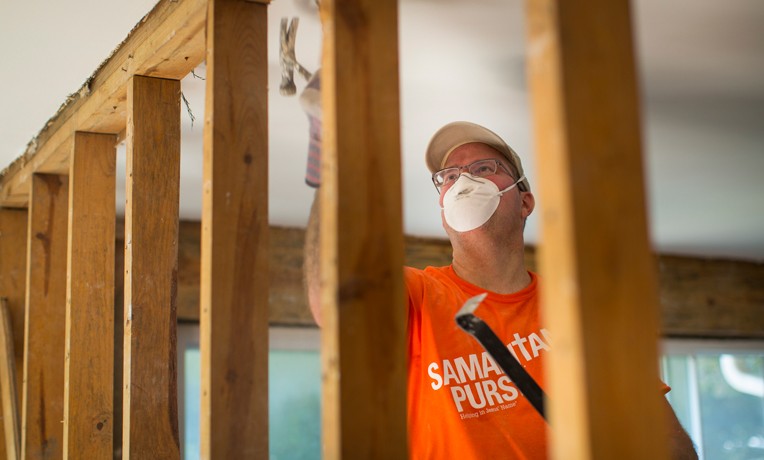 U.S. Disaster Relief
Samaritan's Purse mobilizes and equips thousands of volunteers to provide emergency aid to U.S. victims of wildfires, floods, tornadoes, hurricanes, and other natural disasters. In the aftermath of major storms, we often stay behind to rebuild houses for people with nowhere else to turn for help.
---
U.S. Disaster Relief 013622