Staff and volunteers are busy with clean up at a church damaged by arson in the Queen City
Samaritan's Purse staff members and volunteers are working to clean up Briar Creek Road Baptist Church in Charlotte, North Carolina, after it was damaged by fire on the night of June 24. Volunteers are expected to be at work for at least a week to remove damaged and unusable property and clean facilities that can be restored.
Investigators ruled that the fire was set intentionally. The fellowship hall, kitchen, youth room, offices, and computer room were destroyed or damaged by smoke and water, leaving the ministry without important assets.
The church building houses three different multicultural churches that hold services throughout the day on Sundays and on Wednesdays. In total, there are about 80 members.
The church is currently hosting a 10-week kids' camp. The fire left leaders scrambling for a new location. When one was found, it wasn't within walking distance for some of the kids, which meant they were no longer able to attend. Several of the church's other ministries are also struggling from the fire. However, the members are determined to continue worshipping.
"We as a church have forgiven whoever's done it," said Mannix Kinsey, a copastor of the church. "We give them over to God and let Him do what He does."
Volunteers began working Wednesday by shoveling out soot and ashes. Through the work they were doing, they hope to encourage the church.
"We all want to band together as Christians to help fellow brother and sisters whenever they incur any sort of damage," said Kayla Muth, a local volunteer. "[It's] a good way to just kind of have a presence and let them know it's not just their congregation; it's other Christians living in their community that want to help them out."
Samaritan's Purse needs volunteers for at least the next week as we continue to clean up wet soot and ash and clean furnishings that can be restored. Through the work, we hope to bless the church and "recast a new vision, especially for evangelism," according to Wayne Shoemaker, the Samaritan's Purse program manager.
"[The Samaritan's Purse program managers] have been absolutely awesome from the time I met them," Kinsey said. "[They] have just been brothers in Christ. And I think that's what it's about. It's brothers just really reaching out and saying, 'We're going to walk with you. We're going to support you the best way we can.'"
Please pray with us for Briar Creek Road Baptist Church as we clean up the damage and minister to its members and the surrounding community.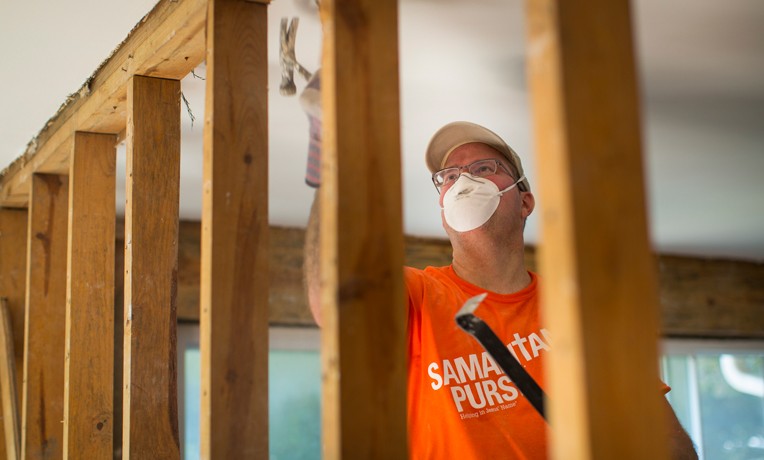 U.S. Disaster Relief
Samaritan's Purse mobilizes and equips thousands of volunteers to provide emergency aid to U.S. victims of wildfires, floods, tornadoes, hurricanes, and other natural disasters. In the aftermath of major storms, we often stay behind to rebuild houses for people with nowhere else to turn for help.
---
U.S. Disaster Relief 013622