Our DC-8 aircraft is en route to Armenia with a second airlift of relief to assist displaced families.
International Emergency Relief
013310
UPDATE: OCT. 13
Our DC-8 cargo plane left North Carolina on Thursday on its second flight to Armenia to provide further assistance to families who have fled Nagorno-Karabakh. On board are 23 tons of emergency supplies that will provide much-needed relief to families and support overwhelmed local resources.
These flights would not have been possible without overflight permissions expeditiously granted by Turkey, and we are grateful to the officials who made this possible.
We have already sent 30 tons of supplies to Armenia to support hurting families during this crisis. As winter quickly approaches, please continue to join us in prayer for the families who have fled and for our teams as we provide physical and spiritual help in Jesus' Name.
"Conflict between Armenia and Azerbaijan has once again caused suffering, heartbreak, and chaos for thousands of people," said Franklin Graham, president of Samaritan's Purse. "As Samaritan's Purse deploys life-saving aid and surgical care to this part of the world, please pray for God's protection over the families seeking refuge and for our teams as they serve in Jesus' Name."
UPDATE: OCT 9
Our DC-8 delivered personnel and relief to the region, landing in Yerevan, Armenia's capital city, over the weekend. Teams will begin transporting and distributing aid in the coming days.
Our DC-8 aircraft departed for Armenia in the early hours of Oct. 7 from our Greensboro Airlift Response Center in western North Carolina. The airlift is carrying more than 30 tons of relief–including food, blankets, and solar lights–to assist suffering families fleeing their homes in Nagorno-Karabakh.
More than 100,000 ethnic Armenians have fled in recent weeks, a mass exodus marking the latest humanitarian crisis in the rugged Caucasus region.
In addition to these emergency supplies, Samaritan's Purse has deployed two burn specialty teams to Armenia to provide surgical care for burn patients impacted by a recent gas station explosion that occurred in Nagorno-Karabakh.
A Samaritan's Purse Disaster Assistance Response Team (DART) is on the ground in Armenia where we are working with local church partners to deliver relief as tens of thousands of displaced families arrive in need of shelter, food, water, and other relief.
Our medical teams will begin working in local hospitals to meet needs as dozens of people were burned. We also will be providing hot meals to displaced families as well as basic items such as personal hygiene kits, diapers, cleaning supplies, bed linens, and blankets.
Samaritan's Purse has previously brought relief to this region, in response to war between Armenia and Azerbaijan in 2020. We used our DC-8 to airlift more than 22 tons of emergency supplies to Armenia—including coats, boots, thermals, gloves, socks and beanies. A team of disaster response specialists also distributed winter kits, blankets, food, and more to over 8,000 displaced families. Additionally, mobile medical teams provided critical care to more than 500 patients.
Please pray for hurting families during this current crisis, for our church partners serving them, and for potentially overwhelmed host communities. Pray also that God would bring peace to this region of longstanding conflict.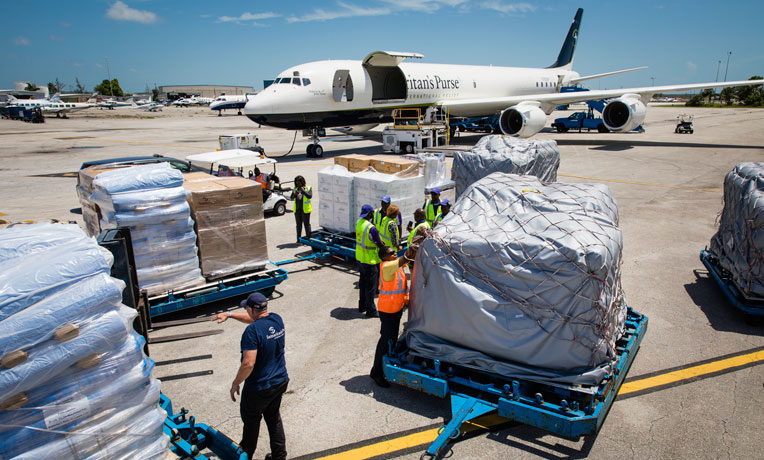 International Emergency Relief
When natural disasters strike or armed conflict causes people to flee, Samaritan's Purse responds quickly to bring relief to those in urgent need. We can provide food, clean water, and shelter, among other necessities. One way we help in disaster situations is by handing out "family survival kits" that include warm blankets, buckets with water filters, cooking utensils, soap, and other daily essentials. For just $45, we can provide a lifeline to a family that has lost everything, to help them get back on their feet.
---
International Emergency Relief 013310
Suggested Gift: $45