North American Ministries is helping to strengthen local churches and reach villages with the Gospel of Jesus Christ.
Clara Honea remembers when the first missionaries floated down the Yukon River more than 73 years ago to Ruby, Alaska—a gold rush town turned native village, now home to a community of Athabaskan Koyukon people in the state's remote interior. She remembers some of the first services at Ruby Bible Church and especially the night she received Jesus Christ as her Lord and Savior. She was just a child then.
"I finally understood what it was all about," she said. "That night I knelt down and asked Jesus into my heart."
Since that night many decades ago, Clara has been involved with Ruby Bible Church as a member, leader, and teacher. But in recent years the old church building had fallen into disrepair. A decaying foundation, molding floor boards, and the cost of upkeep were among the greatest obstacles facing the church. And there was very little money for weekly operating costs. More and more people were opting to stay home for most of the winter instead of braving the cold to sit in a frigid sanctuary.
"A small group of people would be gathered around the Toyostove," said Clara's brother Billy Honea, the traditional village chief. "The rest of us would freeze."
Of course Billy and most of the older generations had done that willingly for most of their lives as they sought to serve faithfully in their beloved village. But as they looked to their future, church leaders decided to approach Samaritan's Purse about what might be done. Our North American Ministries subsequently agreed to build a new facility.
These are the kinds of places in Alaska—remote villages with long, frozen winters—where Samaritan's Purse started building in 2006. Our volunteer teams have now completed 31 construction projects, providing native villages with places of worship well-suited for harsh climates.
Samaritan's Purse recently dedicated the new church in Ruby and another in the community of Dillingham. From start to finish, these two church building projects—which relied on state-of-the-art construction methods and materials—took just a few months to complete through the tireless efforts of more than 240 volunteers.
Chris Kopp, a pastor who has been leading Galena Bible Church 50 miles downriver of Ruby, served as project manager on the construction there. In the 1980s—the same decade Chris was born—Ruby Bible Church had helped start the church Chris now pastors. As he worked in Ruby each week, he saw this as an opportunity to give back to the community that had been so integral in reaching Galena with the Gospel.
Each week for more than two months this summer, Chris would preach in Galena, spend time with his family, and then boat more than an hour upriver to meet volunteer teams and continue construction on the church.
"Alaska is one of the most unreached places in America," Chris said. "We desire to see that changed and to give people the opportunity to hear the gospel of Jesus Christ. Now they have a building that's safe and clean with a full-sized kitchen, indoor plumbing and restrooms, and good insulation that the previous church did not have.
"My prayer is that they would continue in their faithfulness and use this building to lead the next generation to Christ and mobilize to reach other villages in this region."
Clara Honea was at first skeptical about leaving the old building and its memories. But last week she expressed deep gratitude for the new facility—one that will heat efficiently and stay protected from the elements for decades to come.
"I love to tell stories about what God is doing for us," she said. "I hope that the new church will be a happy church full of music and that we'll be like one big happy family.
"I'm so grateful those missionaries came down the river. And I'm so grateful for our new church. I want to see people come to know Jesus in our new church."
Expanding Their Gospel Reach
In the town of Dillingham, a hub community in remote Alaska, we handed over keys to a new facility for Dillingham Moravian Church. They had outgrown their space, especially for the expanding children's ministry. With volunteers working through the summer, we constructed a well-insulated building with steel siding and roofing that will withstand the harsh maritime environment of this coastal area.
"It's exciting to see a brand-new church and to think of all the ways this building will be used to proclaim the Gospel," said Corey Lynch, director of Alaska Projects, speaking with church and community members gathered for a building dedication in Dillingham. "We pray for this church that it would go forth piercing the darkness in southwest Alaska."
Dillingham has a population of more than 2,500 people, and swells during prime fishing season to about 8,000 people. The traditional Yupik community faces many spiritual challenges and the prevalence of drug and alcohol addiction, among other strongholds, that threaten the wellbeing of local families.
Through the ongoing work of Dillingham Moravian Church, and other evangelical churches in the town, these families have had a place to turn for hope and the truth of the Gospel. Longtime member Barbara Asher said she was a young girl when she learned of Jesus' love during a time of crisis.
"When my family needed help, real help right that day, there were two [Christian] ladies who were willing to help. And we have been part of the church since then," said Barbara, who is also a physician in the local hospital and volunteers overseas with our World Medical Mission. "We are so blessed to have this building so even more children can come and learn about Jesus. This is a place where we can be a part of God's work."
Simon Flynn, pastor of Dillingham Moravian Church, says the new building and the volunteers who built it are an answer to prayer and encouragement to local Christians.
"It's been such an eye-opening thing for us in the bush to see believers come from all over the U.S. to help us out," he said. "It's another reminder from God that we're not alone in our work out here."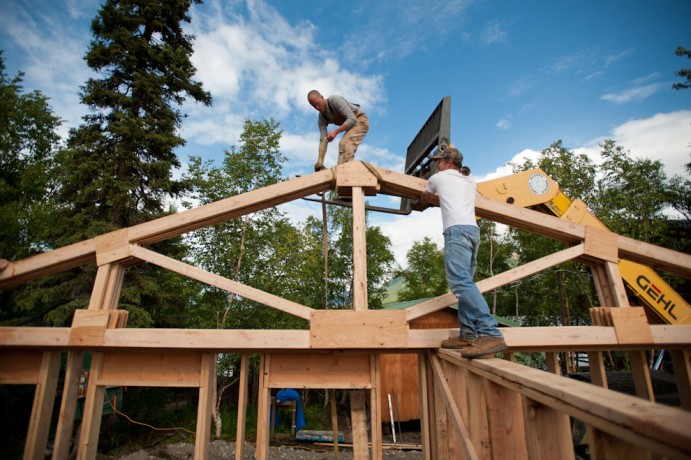 Alaska Projects
Samaritan's Purse staff and ministry partners aim to bring practical help and the Good News of Jesus Christ to native peoples in Alaska and the surrounding region.