Samaritan's Purse is working across the South after tornadoes.
U.S. Disaster Relief
013622
UPDATE: April 7
Governor Sarah Huckabee Sanders and some of her staff members volunteered today with Samaritan's Purse in Little Rock, Arkansas. Parts of the state capital were devastated by an EF4 tornado late on March 31, and the cleanup continues. Our volunteer teams have been working since the morning of April 3 to tarp roofs, cut downed trees, and search through debris to help homeowners find salvageable items. Governor Sanders joined her mother, Janet, who is serving on our Site Leadership Team in Little Rock.
Governor Sanders and the team served at the home of a local firefighter, Clint Travis and his wife Hannah. After volunteers finished their work, signed a special Bible, and presented it to him, Clint exclaimed, "Wow! This is like a yearbook from God."
Samaritan's Purse continues working in Tennessee, Indiana, and Mississippi (two sites) after deadly and destructive tornadoes struck the central United States over back-to-back weekends. Between our five current deployments, over 1,400 volunteers have so far served more than 300 homeowners. We praise God that 32 individuals have received Jesus Christ as Lord and Savior.
—
April 1-4:
A violent storm system that spawned as many as 80 tornadoes charged across the U.S. from March 31-April 1, resulting in at least 32 deaths. The Mississippi River Valley region got the brunt of the bad weather over the two days, though some damage was reported all the way from Wisconsin to Delaware.
Parts of Little Rock, Arkansas, were devastated on March 31, and Samaritan's Purse has deployed to the area. Staff members are already on the ground. A Disaster Relief Unit—one of our tractor trailers filled with supplies and equipment—headed for Little Rock early Sunday morning, April 2, from our Southwest Ministry Center in Texas.
Two additional Disaster Relief Units have been deployed to twister-damaged Covington, Tennessee, and Sullivan County, Indiana.
Volunteer teams in Arkansas started work early Monday morning, April 3. Teams started Tuesday, April 4, in both Tennessee and Indiana. All groups are tarping roofs, cutting downed trees, and searching through debris to help homeowners find any salvageable items. As they work, they are encouraging homeowners and sharing the Good News of Jesus Christ.
If you are interested in serving with us in Arkansas, Tennessee, or Indiana, please check spvolunteer.org for details. Our host churches are: First Baptist Church of Sherwood in Arkansas; First Baptist Church of Covington in Tennessee; and Shelburn First Baptist Church in Indiana.
We also continue working from two locations in Mississippi, one east (Amory) and one west (Rolling Fork/Silver City), where deadly tornadoes struck during the evening of March 24.
The central and eastern U.S. endured two consecutive weekends of deadly weather, with close to 60 fatalities in total.
Samaritan's Purse President Franklin Graham posted about the most recent storms on Facebook. He requested prayer "for those who have lost their homes, businesses—and especially for those who lost loved ones in these storms." Pray also for our teams as they travel and work in Jesus' Name, serving as His hands and feet to those who are hurting.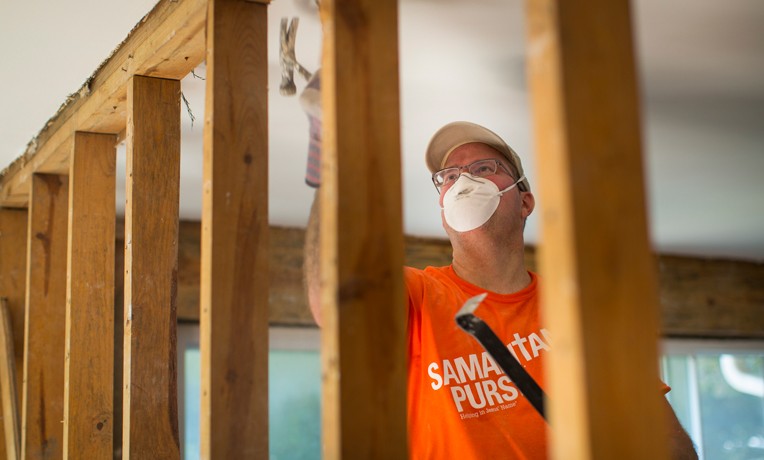 U.S. Disaster Relief
Samaritan's Purse mobilizes and equips thousands of volunteers to provide emergency aid to U.S. victims of wildfires, floods, tornadoes, hurricanes, and other natural disasters. In the aftermath of major storms, we often stay behind to rebuild houses for people with nowhere else to turn for help.
---
U.S. Disaster Relief 013622