Volunteers are working in Midland County, Michigan, where residents are reeling in the wake of catastrophic flooding after two dams failed.
U.S. Disaster Relief
013622
Samaritan's Purse has volunteers and staff working on the ground in central Michigan, in Midland County, where heavy rains and the failure of two dams caused a 500-year flood event. One of our Disaster Relief Units—a tractor trailer loaded with relief supplies and equipment—has been deployed and is stationed at our church base, Calvary Baptist Church in the city of Midland.
HELP HOMEOWNERS IN MIDLAND COUNTY, MICHIGAN (DAY VOLUNTEERS ONLY)
On May 19, the Tittabawassee River crested at more than 34 feet—10 feet above flood level—after nearly 5 inches of rain fell across the area in a 48-hour period. More than 10,000 residents had to be evacuated in Midland County (total population: 83,000), and thousands of homes were affected by the widespread flood.
Our volunteers are serving in Jesus' Name, helping these hurting homeowners remove waterlogged walls and flooring, clear debris, and salvage precious belongings. All staff and volunteers will work within guidelines established by local and federal government to prevent the spread of COVID-19. Measures include wearing masks and gloves and practicing social distancing. Billy Graham Rapid Response Team chaplains are also deploying alongside us.
Please pray for these many families and communities in Michigan as they begin to pick up the pieces of their lives. Pray they would receive and cling to the true hope found in Jesus Christ.
—
Note: This article was originally published on May 22 and was updated on May 24. If you're interested in the recently completed Bowie, Texas, response, please see a video and article here.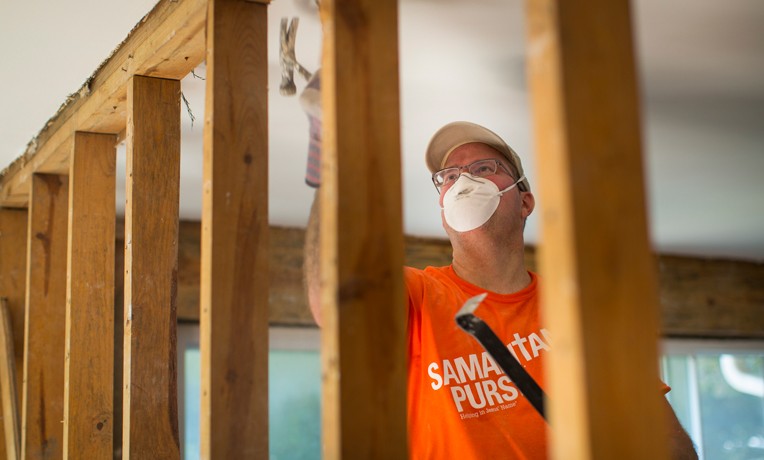 U.S. Disaster Relief
Samaritan's Purse mobilizes and equips thousands of volunteers to provide emergency aid to U.S. victims of wildfires, floods, tornadoes, hurricanes, and other natural disasters. In the aftermath of major storms, we often stay behind to rebuild houses for people with nowhere else to turn for help.
---
U.S. Disaster Relief 013622