Volunteer teams are assisting homeowners in The Sunshine State, helping them clear downed trees and flooded homes in Jesus' Name.
U.S. Disaster Relief
013622
UPDATE (Sept. 1):
Volunteers started work on Friday in Taylor County, Florida, serving homeowners in Jesus' Name by cutting and clearing fallen trees and removing debris. Teams will also begin work soon in Pasco County in New Port Richey, Florida, mucking out flooded homes.
SIGN UP TO VOLUNTEER IN FLORIDA
Billy Graham Rapid Response Team chaplains are also working in these locations providing spiritual comfort and emotional support to so many affected by this storm.
Hurricane Idalia made landfall in Florida early on Wednesday, Aug. 30, as a strong Category 3 storm with winds of 125 mph. Idalia roared through the Sunshine State's Big Bend region, the most powerful storm to hit that area in more than a century.
Responding in Florida
Staff members and two Disaster Relief Units, along with support equipment, deployed to two locations in Florida: Taylor County and Pasco County.
In Taylor County, there was a lot of wind damage, toppling trees onto homes and yards. Our host church for this response is Calvary Baptist Church at 2959 Golf Course Road in Perry.
In Pasco County, hundreds of homes were flooded by storm surge. We will be based from Living Word Church at 5151 Rowan Road in New Port Richey.
Please pray for these hurting communities as they begin to recover. Pray for our staff and volunteers as they serve as the hands and feet of Jesus.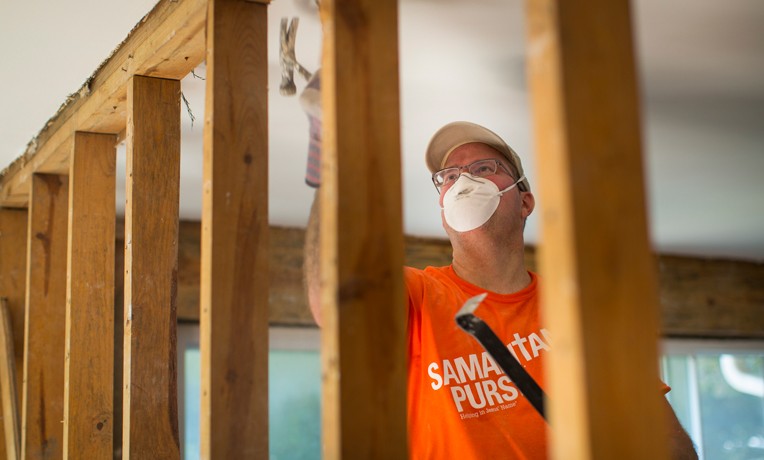 U.S. Disaster Relief
Samaritan's Purse mobilizes and equips thousands of volunteers to provide emergency aid to U.S. victims of wildfires, floods, tornadoes, hurricanes, and other natural disasters. In the aftermath of major storms, we often stay behind to rebuild houses for people with nowhere else to turn for help.
---
U.S. Disaster Relief 013622