Volunteer teams are fanning out around Houston to help in Jesus' Name
Samaritan's Purse is now fully deployed in Houston, with volunteer teams spreading throughout devastated neighborhoods to come alongside suffering homeowners and serve them in their time of need.
One of our disaster relief units—a tractor trailer stocked with needed equipment and supplies—has arrived and is up and running. More than 25 families have already requested help and that number will only increase in the days ahead. More than 1,000 buildings and buildings were flooded from last weekend's deadly deluge, with rains continuing throughout this week.
VOLUNTEER IN HOUSTON— FIND OUT MORE
Our base of operations will be The Woodlands Church at 1 Fellowship Drive, The Woodslands, Texas. Crisis-trained Billy Graham Rapid Response Team chaplains are joining with Samaritan's Purse to provide emotional and spiritual care in light of this disaster. We are trusting the Lord for many local volunteers and ministry opportunities to demonstrate the compassion of Jesus Christ and to share the loving truth of His Gospel.
"Texas has been hit hard," Samaritan's Purse President Franklin Graham said. "For some, these floods have swept away everything they had. We'll be working with churches in the greater Houston area to come alongside hurting homeowners with a helping hand and the hope of the Gospel of Jesus Christ. Please keep those affected by these historic floods in your prayers."
The latest storm camped atop Houston over the weekend and paralyzed the fourth largest city in the U.S. Eight people have drowned as a result of this storm, and Harris County officials reported nearly 900 water rescues in Houston alone and more than 1,200 region-wide by Monday afternoon. More than 100,000 customers have lost power due to the rapid downpours and resulting floods. The flooding has caused more than $5 billion in damage.
This new response by Samaritan's Purse comes on the heels of devastating floods in March in Orange, Texas, about 110 miles to the northeast of Houston. To date more than 335 volunteers there have invested nearly 7,500 hours in coming alongside nearly 90 homeowners in Jesus' Name throughout Orange County. We still have over 50 work orders to go in that area. All of this is on top of our ongoing work and ministry in West Monroe, Louisiana, which was also pummeled by the same March storm system. Our successful and fruitful deployment in nearby Bossier City, Louisiana, has been completed. Between the three deployments that started in March, more than 85 individuals have received salvation in Jesus Christ.
VOLUNTEERS NEEDED FOR MULTIPLE PROJECTS—FIND OUT MORE
Please be in prayer for those affected by the Houston floods and our staff and volunteers who will be assisting homeowners in Jesus' Name. Please keep all of our continuing responses in your prayers.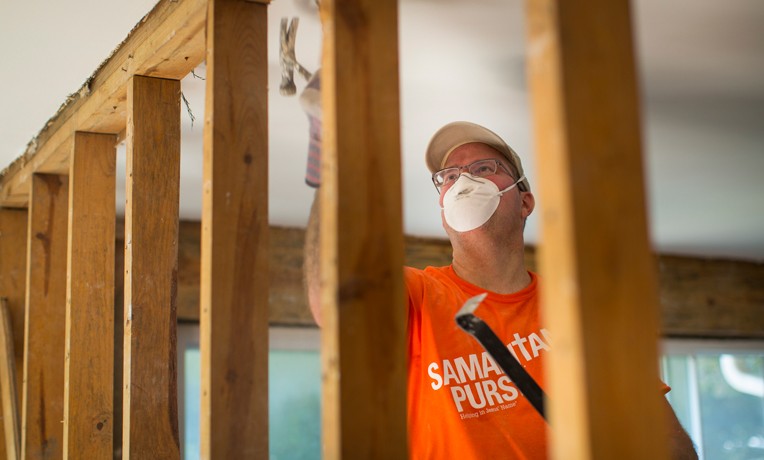 U.S. Disaster Relief
Samaritan's Purse mobilizes and equips thousands of volunteers to provide emergency aid to U.S. victims of wildfires, floods, tornadoes, hurricanes, and other natural disasters. In the aftermath of major storms, we often stay behind to rebuild houses for people with nowhere else to turn for help.
---
U.S. Disaster Relief 013622