Samaritan's Purse volunteers are helping homeowners recover from floodwaters that overwhelmed their communities.
U.S. Disaster Relief
013622
Samaritan's Purse volunteers are working in Pelham, Alabama, cleaning out flooded homes where a slow-moving storm system produced heavy rain across central Alabama the first week in October. The resulting flash floods killed four people, including a 4-year-old girl.
The deluge swamped hundreds of houses and flooded businesses as it surged across roads, fields, and into multiple neighborhoods. Over 100 people had to be rescued from their homes and cars.
Our teams are hard at work removing ruined walls and flooring, clearing debris, and salvaging treasured belongings. Many volunteers are still needed.
VOLUNTEERS URGENTLY NEEDED IN PELHAM, ALABAMA
Pelham was one of the hardest-hit areas, as upwards of 13 inches of rain fell in a very localized area in just six hours. City officials have reached out to Samaritan's Purse to help suffering homeowners clean up their properties. Many in the Shelby County community are still recovering from tornadoes that ripped through the region last March.
U.S. Disaster Relief Unit #8—a tractor-trailer filled with relief supplies and equipment—was sent October 18 from North Wilkesboro, North Carolina, to Pelham. Our North American Ministries staff is working closely with local officials to coordinate the relief effort and help homeowners start on the road to recovery.
Volunteers started work Oct. 20, operating out of our base of operations at our host church–First Baptist Church Pelham, 2882 Pelham Parkway.
For more information on how you can volunteer, visit SPVolunteer.org.
Please pray for the people of Pelham and for our staff and volunteers as they minister in Jesus' Name to those who are hurting.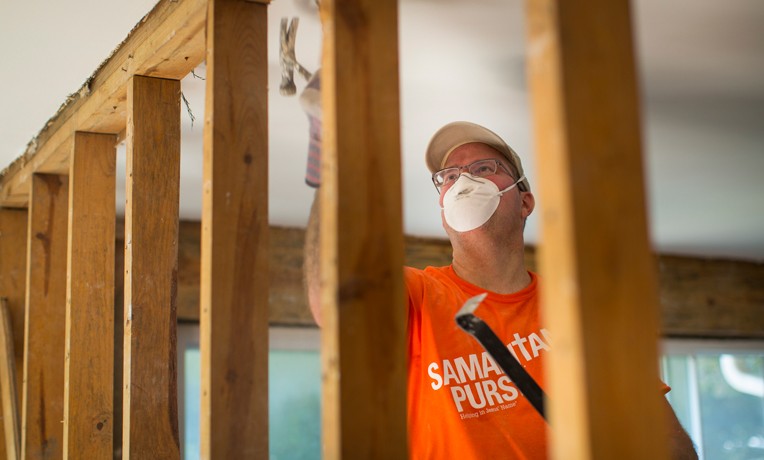 U.S. Disaster Relief
Samaritan's Purse mobilizes and equips thousands of volunteers to provide emergency aid to U.S. victims of wildfires, floods, tornadoes, hurricanes, and other natural disasters. In the aftermath of major storms, we often stay behind to rebuild houses for people with nowhere else to turn for help.
---
U.S. Disaster Relief 013622