Twisters ripped through portions of The Hawkeye State leaving injury and destruction in their path.
U.S. Disaster Relief
013622
Update: Samaritan's Purse is focused on serving homeowners in Marshalltown where over 700 homes sustained damage from an EF-3 tornado. Evangelical Free Church (3111 S. 6th St.) serves as our base. Volunteers began work on Sunday, July 22.
Staff, equipment, and a disaster relief unit—packed with tools and supplies—have arrived in Iowa after tornadoes ripped through buildings and homes in Marshalltown and surrounding areas on Thursday, July 19.
"Many families are devastated by the twisters that tore through their communities Thursday afternoon," said Franklin Graham, president of Samaritan's Purse. "We are on the ground helping them recover from the storm. Please pray for these families as we share the love of Jesus Christ with them in their time of need."
The storm churned through Marshalltown's central business district, leaving significant destruction in its wake. Pictures of damaged cars and homes and downed trees around town have made news reports.
In Pella, seven people were injured after a tornado struck Vermeer Corporation, a manufacturer of industrial and agricultural equipment.
Come Volunteer in Iowa
U.S. Disaster Relief program managers, accompanied by Billy Graham Rapid Response Team chaplains, are on the ground to minister to the spiritual and physical needs of homeowners in central Iowa. Volunteers will be patching roofs and removing trees and debris from affected properties.
Please join us in prayer for the hurting people of Marshalltown, Bondurant, and Pella, and remember our staff and volunteers as they begin serving those in need.
Note: This story was first published on July 20 and has been updated through July 24.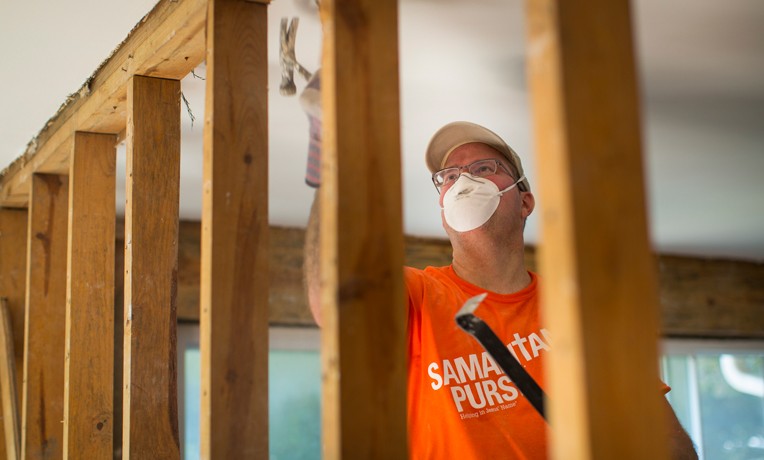 U.S. Disaster Relief
Samaritan's Purse mobilizes and equips thousands of volunteers to provide emergency aid to U.S. victims of wildfires, floods, tornadoes, hurricanes, and other natural disasters. In the aftermath of major storms, we often stay behind to rebuild houses for people with nowhere else to turn for help.
---
U.S. Disaster Relief 013622