Our U.S. Disaster Relief volunteer teams finished up their work in Colfax, California, and are now serving in Jesus' Name in the Lake Almanor area as communities are reeling in the wake of a destructive blaze.
U.S. Disaster Relief
013622
Samaritan's Purse volunteers continue working hard in northern California where wildfires have burned through residential communities, claiming homes and other structures.
Our teams served hurting families devastated by the Colfax Fire by sifting through the ashes to recover any precious belongings not claimed by the fire.
Now, we have transitioned from the Colfax area to Lake Almanor to establish a base camp in order to assist families devastated by the Dixie Fire.
A Samaritan's Purse Disaster Relief Unit—a tractor trailer filled with relief supplies and equipment that arrived from our West Coast Ministry Center in Fullerton, California—is set up at our host church and base of operations: Lake Almanor Community Church, 2610 Highway A-13, Lake Almanor.
In addition to sifting through the ashes, our teams are also pressure washing fire retardant off homes. We praise God that several homeowners have already come to faith in Jesus Christ during this response.
Billy Graham Rapid Response Team chaplains are also in Lake Almanor to provide spiritual comfort and encouragement to hurting homeowners and community members.
Fore more information about how to serve with us in Jesus' Name visit spvolunteer.org.
Please continue to pray for homeowners, first responders, local churches, and for our staff, volunteers, and chaplain teams as we serve these hurting families and remind them of the hope found through Jesus Christ.
This article was significantly updated Aug. 24.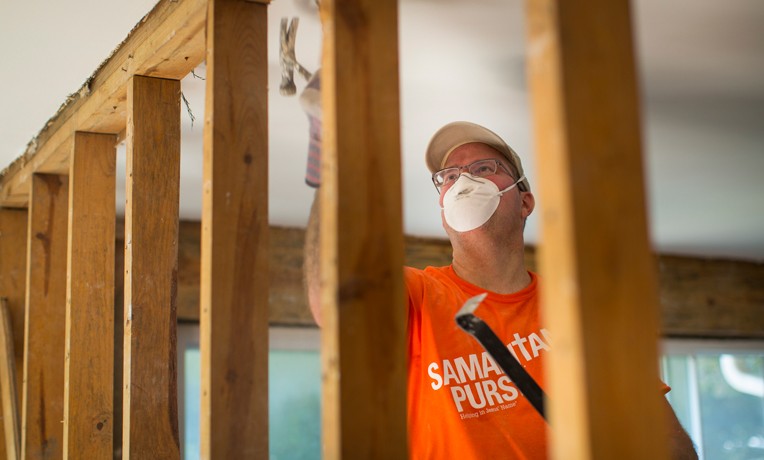 U.S. Disaster Relief
Samaritan's Purse mobilizes and equips thousands of volunteers to provide emergency aid to U.S. victims of wildfires, floods, tornadoes, hurricanes, and other natural disasters. In the aftermath of major storms, we often stay behind to rebuild houses for people with nowhere else to turn for help.
---
U.S. Disaster Relief 013622