As we finish our relief efforts in tornado-devastated Arkansas, we celebrate God's work through our staff and the many volunteers who helped homeowners in Jonesboro communities.
U.S. Disaster Relief
013622
Samaritan's Purse has completed work in Arkansas where an EF-3 tornado ripped a 20-mile destructive path through Jonesboro communities on Saturday, causing damage to hundreds of homes. A number of homes were completely destroyed and 22 people were injured as the city and surrounding neighborhoods took a direct hit.
This was one of three tornadoes to strike Arkansas in a 24-hour period of severe weather across the Central United States. At least 17 tornadoes were reported in the region.
A Disaster Relief Unit—a tractor trailer filled with relief supplies and equipment—deployed early on March 30 from our ministry center in Texas and worked out of our base of operations at The Rock Church, 4318 E Johnson Avenue in Jonesboro.
Over the course of our response more than 150 volunteers joined our efforts, completing work on 40 homes. We praise God that three people placed their faith and trust in Jesus Christ for salvation.
Homeowner Justin Curtis said that after the tornado he came to his parents' house to help them clean up his childhood home.
"I didn't know how we were going to get it done. I didn't know how I was going to get the tree off the house," said Justin, a wounded veteran of the war in Iraq. When Samaritan's Purse volunteers showed up and got busy doing the work that had been so overwhelming the day before, Justin was able to breathe a little. "Yesterday morning there was no hope. I have so much hope now that I didn't have before."
But that hope didn't come simply from the help received from volunteers. Justin experienced a much deeper, eternal hope while he was at the worksite. Billy Graham Rapid Response Team chaplains shared the Gospel with him, and he prayed to receive Jesus Christ as Lord and Savior.
"It's pretty amazing. I'm lost for words," he said. "These are amazing people out here. I had lost my faith but this has really opened my mind."
Our teams worked hard to help these homeowners in Jesus' Name by clearing trees and debris from yards and homes and placing tarps on damaged roofs. Many homes throughout the Jonesboro area experienced severe roof damage.
All staff and volunteers were careful to work within COVID-19 federal and local guidelines to ensure their safety and the safety of homeowners and residents of the Jonesboro area. Day volunteers only.
Please continue to pray for these hurting homeowners and for our staff and volunteers as they travel home from Arkansas. Please also continue to pray for residents of New York City and our Disaster Assistance Response Team—including doctors, nurses, and other medical personnel—during our New York City COVID-19 response as we begin treating patients in our Emergency Field Hospital in Central Park.
For complete coverage of our coronavirus response, including our work in Italy, please visit our coronavirus landing page.
—
Note: This article was originally published on March 30 and updated through April 4.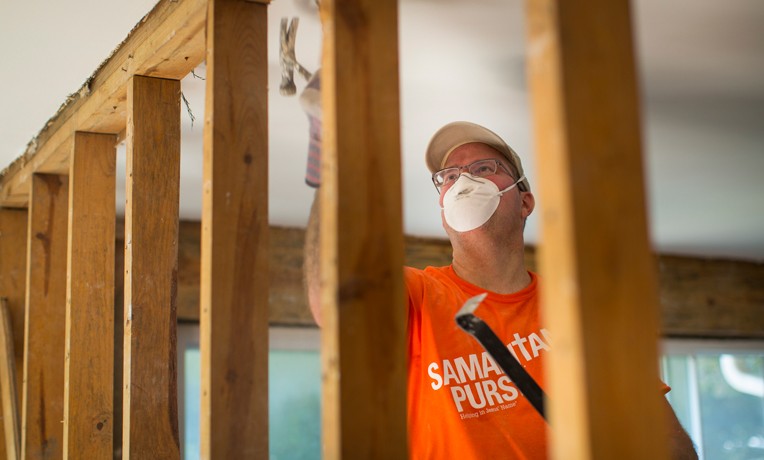 U.S. Disaster Relief
Samaritan's Purse mobilizes and equips thousands of volunteers to provide emergency aid to U.S. victims of wildfires, floods, tornadoes, hurricanes, and other natural disasters. In the aftermath of major storms, we often stay behind to rebuild houses for people with nowhere else to turn for help.
---
U.S. Disaster Relief 013622