Our U.S. Disaster Relief teams have deployed to Round Rock, Texas, and to Chalmette, Louisiana, to help clean up in communities damaged by tornadoes.
U.S. Disaster Relief
013622
UPDATED March 24
Samaritan's Purse is responding in two locations following a severe storm system that swept across the south Monday and Tuesday, spawning deadly tornadoes. Hundreds of homes were damaged along the storm's destructive path across Texas and Louisiana.
In Chalmette, Louisiana, we have staff on the ground working with local officials, emergency management, and church partners as we assess needs and plan a response.
VOLUNTEER IN ST BERNARD PARISH
Disaster Relief Unit #6–a tractor trailer filled with relief supplies and equipment–is on its way to the New Orleans-area community from our ministry center in North Wilkesboro, North Carolina. Teams in Louisiana will operate out of our base of operations at our host church, Tabernacle Church, 4030 Paris Rd., Chalmette, LA 70043.
Tornadoes ripped through the New Orleans area Tuesday night, carving a path of destruction through St. Bernard Parish near New Orleans' Lower Ninth Ward. Roofs were ripped off and homes were leveled by the twisters, leaving one man dead.
In Round Rock, Texas volunteers are already hard at work clearing yards and homes of trees and debris and tarping wind-damaged roofs.
Disaster Relief Unit #5, deployed from our Southwest Ministry Center in Dallas, Texas, on March 22, is deploying volunteer teams from our base of operations at our host church, First Baptist Church Round Rock, 306 Round Rock Avenue, Round Rock, TX 78664. Volunteers began work in Round Rock on Wednesday, March 23.
Please pray for these communities and for our teams and volunteers as we begin helping homeowners in Jesus' Name.
Visit SPVOLUNTEER.ORG for updates on volunteer opportunities.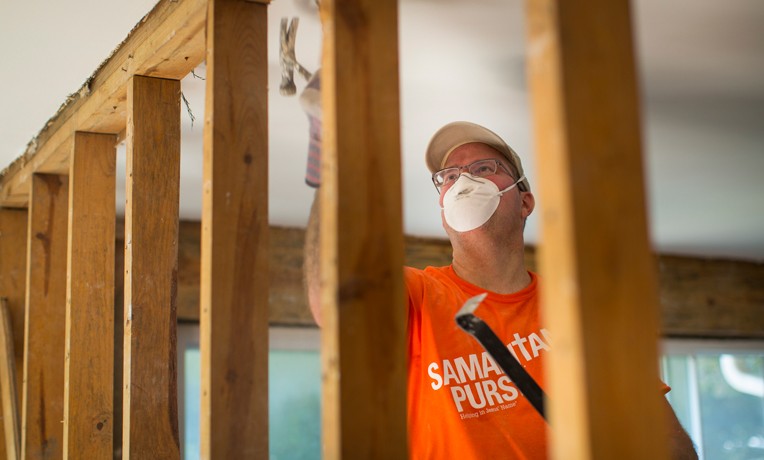 U.S. Disaster Relief
Samaritan's Purse mobilizes and equips thousands of volunteers to provide emergency aid to U.S. victims of wildfires, floods, tornadoes, hurricanes, and other natural disasters. In the aftermath of major storms, we often stay behind to rebuild houses for people with nowhere else to turn for help.
---
U.S. Disaster Relief 013622