Our work continues on the islands as we deliver much-needed relief to people left with almost nothing.
International Emergency Relief
013310
UPDATE (Nov. 18): Journalist Greta Van Susteren accompanied our second airlift to the Northern Mariana Islands, a commonwealth of the United States. Our DC-8 left on Friday, Nov. 16, and has now delivered relief items—tarps and generators—to be distributed to families in desperate need.
"I'm thankful for Greta Van Susteren continuing to put the spotlight on this terrible tragedy that has brought so much pain and suffering to the Pacific," Samaritan's Purse President Franklin Graham said. Greta is a contributor to Voice of America and hosts Plugged In With Greta Van Susteren.
In late October, Typhoon Yutu left a path of destruction on the islands of Saipan and Tinian. The disaster has been underreported.
—
ORIGINAL STORY FOLLOWS:
"All I want for my son's birthday is for the power to be back on," said Chielo, a mother of two on the island of Saipan. Marion, her eldest son, turns 14 years old next month.
Thousands of families like Chielo's remain without power, water, and shelter after Typhoon Yutu decimated the islands of Saipan and Tinian on Oct. 24.
To meet the continued needs of affected families, Samaritan's Purse airlifted a second wave of relief supplies on Nov. 16 to the Northern Mariana Islands. The Samaritan's Purse DC-8 will bring 300 generators to families on the island of Tinian—where power is not expected to be restored for some nine months. Hundreds of rolls of heavy-duty plastic tarp will help additional families on the larger island of Saipan.
We initially responded with an airlift of 30 tons of relief supplies to aid hurting families—including emergency shelter material (plastic tarp), water filtration units, and solar lights. Partnering with local churches, we have already distributed these items to more than 1,800 families affected by the storm's 180-mph sustained winds and heavy rain (as of Nov. 14).
While Chielo and her sons Marion and Mitch remain without power, their hope has been restored—their family was the first on the island of Saipan to receive assistance from Samaritan's Purse.
With wind gusts over 200 mph, Typhoon Yutu ripped off the roof of the family room—where they frequently gathered to play games, eat meals, and spend time together. The family room was not only a gathering place for their own family but for the community, hosting many youth activities and Sunday School.
The family remained in the home during the storm, gathering on a small mattress with their family of four and their four dogs. "The experience was so scary," Chielo said. "We didn't really expect that this storm would be so strong until we experienced it. Even our house was shaking."
Now, a Samaritan's Purse tarp is placed where the gaping hole used to be, allowing the family to once again gather in their favorite place. "I want to thank you for this," Chielo's son Marion said. "If we didn't have this, our living room would be wet."
Grinning from ear to ear, Chielo said, "this is a big help. We can move the chairs and dining table back."
Grateful for Helping Hands from Afar
In a government raffle nearly 50 years ago, Bernadita won the parcel of land on which her home sits. Earning 89 cents per hour, she and her husband slowly built a home and filled it with priceless family memories.
Two years ago, however, her husband suddenly passed away. Yutu is the first typhoon to strike the island since her husband's passing—and it left her home completely destroyed.
Bernadita and five of her family members hid in a bedroom closet as the storm ravaged their roof and broke windows. Her son and son-in-law lay under beds on the already-flooded floor. For one hour they stayed cramped and terrified. "I opened the closet and I saw nothing," Bernadita said. "I was scared because what if the tin is flying and hits us?"
In the morning, their entire roof had collapsed inward—leaving gaping holes for rain to further destroy their home. Bernadita had no idea where to turn.
Just days later, members of the Samaritan's Purse Disaster Assistance Response Team (DART) carried a large tarp and solar lights to Bernadita's doorstep—recognizing her great need. Still sleeping in the home, she was extremely grateful for lights and the opportunity to charge her phone via the included solar charging port. Bernadita's sons are going to help her properly install and secure the heavy-duty plastic tarp to ensure that Bernadita and her family remain safe and dry.
"I really appreciate it," Bernadita said. "Imagine someone coming from the States to help you—that's a long way."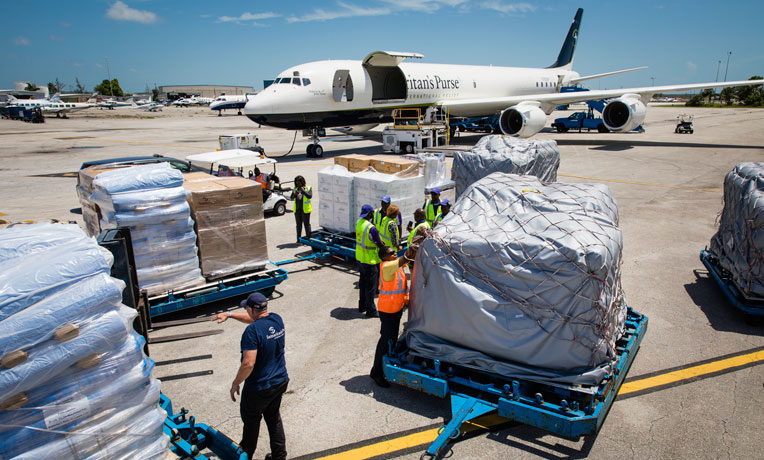 International Emergency Relief
When natural disasters strike or armed conflict causes people to flee, Samaritan's Purse responds quickly to bring relief to those in urgent need. We can provide food, clean water, and shelter, among other necessities. One way we help in disaster situations is by handing out "family survival kits" that include warm blankets, buckets with water filters, cooking utensils, soap, and other daily essentials. For just $45, we can provide a lifeline to a family that has lost everything, to help them get back on their feet.
---
International Emergency Relief 013310
Suggested Gift: $45