Edward Graham, Will Graham, and Cissie Graham Lynch encouraged survivors of Hurricane Ian at a special event in Fort Myers, Florida.
U.S. Disaster Relief
013622
Nearly three months after Hurricane Ian slammed into southwestern Florida, many families are still struggling to recover from massive wind and water damage to their homes. The Fort Myers community was particularly hard hit, with powerful storm surges and 150-mph sustained winds at landfall. Samaritan's Purse, in partnership with Mission BBQ, served a hearty Christmas meal—smoked turkey, pulled pork, and all the trimmings—to more than 600 folks on Wednesday, Dec. 21, to let them know that God loves them and hasn't forgotten them.
Edward Graham, vice president of operations at Samaritan's Purse, traveled down to Fort Myers to encourage and pray with residents at the meal. His older brother, Will, and their sister, Cissie, and her husband, Corey, also participated in the event, which was held at Citygate Ministries.
"We want people to know that Jesus has not forsaken them, has not forgotten about them" Edward Graham said. "God loves them so much that He sent His only Son, Jesus Christ, to die on the Cross."
Luther Harrison, vice president of North American Ministries at Samaritan's Purse, was on hand as well. "It's a difficult time for these families to spend the holidays after this hurricane without the use of their homes," he said. "We want to show them Christlike love and wrap our arms around these families and remind them that God loves them. So, we're partnering with Citygate Ministries, our host church in Fort Myers, to enjoy some fellowship with homeowners, to share a hot meal, hear their stories, and encourage them this Christmas as we journey with them through this season."
In addition to the hot meals, about 75 care packages, each containing a blanket, plastic tarp, and a New Testament, were given out to homeless individuals in the area.
Samaritan's Purse deployed staff, equipment, and an army of volunteers to Fort Myers and other severely damaged areas immediately after the deadly Category-4 storm tore through the state in late September. Volunteers continue to work in Jesus' Name to help homeowners clean up their properties and mud out their flooded homes. Billy Graham Rapid Respond Team chaplains remain in Florida as well to minister to hurting residents.
To date, over 2,600 homeowners have received assistance with the help of more than 7,700 Samaritan's Purse volunteers from our base in Fort Myers and multiple other sites in Florida. We praise God that more than 450 people have received Jesus Christ as their Lord and Savior during this deployment.
Citygate Ministries was a wonderful host for the evening and their team clearly shared the Gospel with participants. We are grateful to Pastor David Pleasant, his staff, and his congregation for their partnership from the very outset of our Florida deployment.
"We believe God mobilized and sent us an army called Samaritan's Purse, people from all over the country, who came to help serve following the storm," Pastor Pleasant said. "And this Christmas meal gives us another opportunity to partner with Samaritan's Purse and bring back a little bit of normal to our community. We also get to demonstrate the Gospel with both words and deeds. We believe this act of generosity is going to lead others to Christ during this Christmas season."
Please pray for those who are still recovering from Hurricane Ian, and for our teams as they continue to serve for many weeks to come.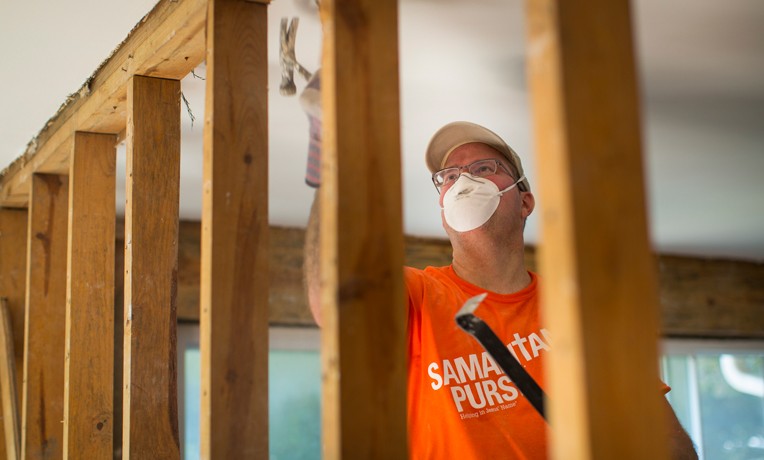 U.S. Disaster Relief
Samaritan's Purse mobilizes and equips thousands of volunteers to provide emergency aid to U.S. victims of wildfires, floods, tornadoes, hurricanes, and other natural disasters. In the aftermath of major storms, we often stay behind to rebuild houses for people with nowhere else to turn for help.
---
U.S. Disaster Relief 013622