A disaster assistance response team is on the ground in response to the deadly Ebola outbreak.
LATEST: The Ebola Treatment Center is now open (Jan. 17). Please read more here.
Samaritan's Purse will soon open a treatment center in northeast Democratic Republic of the Congo (DRC) in response to an Ebola virus disease outbreak that has killed more than 300 people. This recent outbreak was declared Aug. 1 and is now the second deadliest in history.
At the 18-bed treatment center, our medical team will provide expert and compassionate clinical care for patients suffering with the deadly virus, which has a current fatality rate of about 60 percent. Supportive care and other interventions can decrease case mortality.
The center, part of our Emergency Field Hospital, was transported to Africa in November aboard our DC-8 cargo plane. It can be expanded to 54 beds, if needed.
A 21-member disaster assistance response team left for the DRC on Dec. 26 and additional staff have since arrived in country. This deployment supports our local partners and staff in the DRC, as Samaritan's Purse has operated a country office there for eight years.
Megan Vitek, program manager for our international health unit, explained that Samaritan's Purse had been working in the northeast region of the DRC months prior to the first Ebola cases. Samaritan's Purse started community awareness campaigns, and we are continuing those efforts. Our teams are helping to educate people on Ebola symptoms and how to prevent the infection from spreading.
"The Lord put us there months before for a reason—to be able to love and care for this community in the midst of a deadly epidemic," Megan said.
"Please pray for our team as they work tirelessly to set-up this treatment center and fight this disease with every patient they touch."
We have also constructed five isolation centers and provided infection protection and control training for 20 local health centers.
Learning from Liberia
Our teams are well prepared, having received Ebola response training at our facilities in Wilkesboro, North Carolina. Representatives from our 2014 Ebola response in Liberia were also involved in the training.
The 2014-2016 outbreak in West Africa was the largest on record. More than 11,300 people died as Ebola spread throughout Liberia, Guinea, and Sierra Leone. Our work in Liberia—where Samaritan's Purse has had a country office for 14 years—included providing clinical care, as well as campaigns focused on awareness and prevention.
Please pray for people suffering in the Democratic Republic of the Congo. Pray for Samaritan's Purse staff as they serve with compassion in Jesus' Name.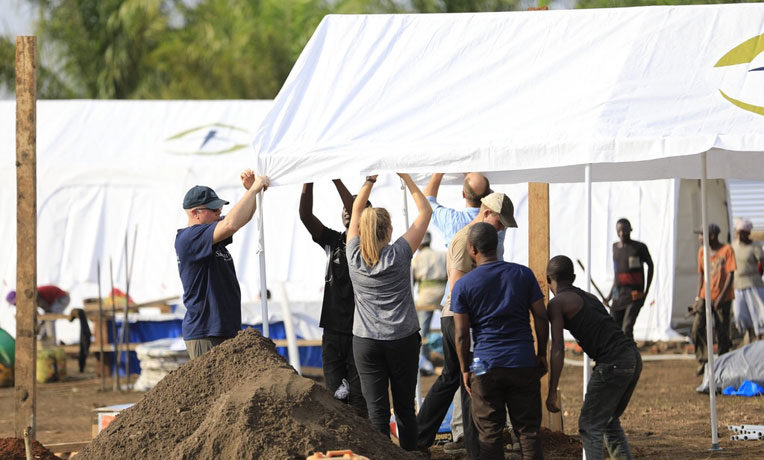 This article was originally published on Jan. 1 and was updated with new photos on Jan. 8. The note at the top was added on the opening date of Jan. 17.