Married couples dedicate their lives to helping disaster victims by volunteering with Samaritan's Purse
It's not the typical way to spend a one-year wedding anniversary, but Kurt and Jenny Morton wouldn't have it any other way.
The young couple served together with Samaritan's Purse in Moore, Oklahoma, to help storm victims after a deadly EF-5 tornado ripped through the area on May 20. They were team leaders, heading crews of volunteers who helped homeowners by helping tornado victims by cleaning up debris, salvaging personal belongings, cutting up and removing downed trees, and tarping damaged roofs.
HELPING STORM VICTIMS IN OKLAHOMA: Samaritan's Purse continues to help victims of devastating tornadoes in the Oklahoma City area
Their anniversary was June 1, the official first day of hurricane season. Jenny said it was fitting they celebrated while serving in a disaster zone. After all, they originally met working in Mississippi during a rebuild project for Hurricane Katrina victims with another organization.
Natural disasters are now part of their calling and their life together. They decided to become regular volunteers with Samaritan's Purse, and are joining our site management team as we respond to wildfires in Colorado.
"My wife and I are storm chasers, going to disaster to disaster with Samaritan's Purse," Kurt said. "It's what we love to do and feel called to do."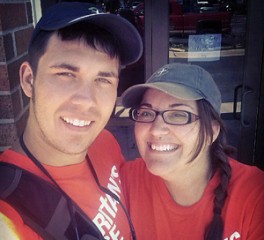 Even before they married, Kurt and Jenny wanted to make missions their life, particularly with volunteering domestically with natural disasters. But after three years of struggling to get the "right job" and have the "right amount of money saved" that would give them the freedom to accomplish their dream, God made it clear He had other plans.
Kurt had just received a promotion the day before tornadoes hit Granbury, Texas. When he came home from work, Jenny told him she felt like God was telling them to go help and he'd have to quit his job. Kurt was completely on board because he also remembered feeling that same calling three years before.
"From the moment that we gave up control to God and said this is what we're going to do, everything fell into place," Jenny said.
Because they didn't have enough money to travel to the disaster site, they decided to start a blog and raise money. They had faith that God would provide, but they still were amazed at how quickly He worked.
"We worked and worked for three years," Kurt said. "But in two days, God raised the money we needed."
Originally, they thought they were going to Texas with Samaritan's Purse, but plans changed after the disaster in Oklahoma. They served for three weeks in Moore, and enjoyed every minute of working with fellow Samaritan's Purse volunteers.
They even met another couple who, although older, has a similar passion.
Lois and Terry Long, from Thornton, Iowa, have been married for 45 years. They started volunteering together while they were dating. Now, they've dedicated their retired life to working with Samaritan's Purse. When they pack their camping trailer, they're even sure to include their chainsaw equipment so if there's a disaster while they're gone, they can easily head that way on a moment's notice.
It's not a sacrifice for Terry and Lois to serve together. In fact, they find many benefits along the way.
"The one thing I noticed when we came in [to Oklahoma], saw the Samaritan's Purse trucks, and walked into the church parking lot, right away we saw two or three people we knew," Terry said. "We're 600 miles away from home and we're home."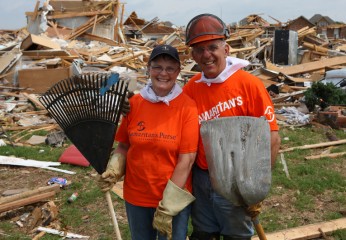 Lois loves meeting other volunteers and couples who serve together and said she thinks there's a special strength that comes from serving alongside a spouse.
"[It's nice] to be able to watch other couples grow from their experience in a world where couples don't seem to be the going thing anymore, " Lois said. "Couples are important. There's a strength and a weakness to each, and the other can complement that weakness."
Jenny couldn't agree more.
"It's such a God thing that we're together here because being on site together as team leaders, where I have a weakness, he has a strength and we make a team," she said.
Brent Graybeal, the program manager during the first part of our response in Moore, said it's not too uncommon for married couples encompassing a wide range of ages to volunteer together with Samaritan's Purse. He's seen a couple in their 70s doing mud outs together. Another time, newlyweds spent their second week of marriage serving disaster victims.
"For a couple to come, it shows us that it's not just one person's commitment, it's the family's commitment to the work that's being done and the support that's being shown to Samaritan's Purse and the love of Christ," he said.
With their first year of marriage coming to a close and yet their new life as disaster relief missionaries starting to take off, Kurt and Jenny could not be more excited about where God has put them with Samaritan's Purse.
"When I found out we were coming here and our one-year anniversary was while we would be here, I was excited," Jenny said. "This is our dream. It's happening. To spend it out on the field and having dinner with everyone here volunteering, it feels right."
Find out about current Samaritan's Purse volunteer opportunities.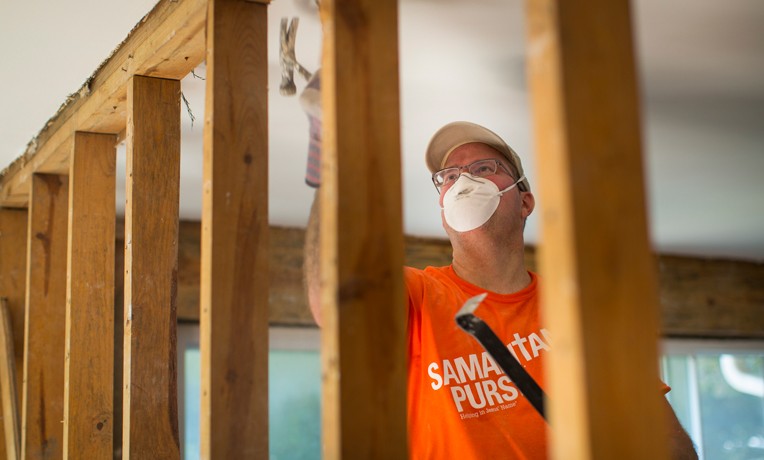 U.S. Disaster Relief
Samaritan's Purse mobilizes and equips thousands of volunteers to provide emergency aid to U.S. victims of wildfires, floods, tornadoes, hurricanes, and other natural disasters. In the aftermath of major storms, we often stay behind to rebuild houses for people with nowhere else to turn for help.
---
U.S. Disaster Relief 013622