Samaritan's Purse volunteers are helping homeowners recover after flooding in South Texas. Dozens of residents have come to Christ.
U.S. Disaster Relief
013622
Lupe Aguirre works at the Science Academy of South Texas not too far from his home in Mercedes. When he returns to school this fall, he'll be excited to tell others about what happened this summer—about the one week in June that changed his life and that of his wife Maria.
"Though tough, I've had the most amazing summer," he said. "In fact, this week has been the greatest, most beautiful experience of my life."
Lupe experienced devastating flooding on June 20, just as thousands of others did across the Rio Grande Valley. But in the days since then he's had lots of help cleaning up his home—thanks to a group of local and out-of-state volunteers from Samaritan's Purse. And not only did they put in a lot of muscle for him, they also pointed him and his wife Maria to Jesus Christ as their Lord and Savior.
Answers to Prayer
Lupe and Maria lost the battle against rising floodwaters. Fifteen inches of rain fell in a short time span and their home was flooded with sludge a foot deep. Most of their belongings were ruined. He felt hopeless and lost sleep agonizing over what they were going to do.
"Finally, one morning around 4 o'clock, I was restless and prayed a prayer of desperation, 'Jesus, You take control. You lead the way.'"
The very next day, Lupe heard about Samaritan's Purse through his niece on social media, and soon after a team of our volunteers showed up at the front door, ready to serve. For two and a half days, they carried damaged furniture to the front curb, tore out waterlogged walls and sheetrock, swept and mopped their tile floors, and sprayed for mold.
The second afternoon, after Maria arrived home from work, our team presented the couple with a Billy Graham Study Bible signed by each of the volunteers who worked on their home. Maria clutched it close to her heart and repeatedly thanked the team.
After the rest of our group headed back to our host church, New Life Baptist, in nearby Weslaco, two of our volunteers, David and Wendy Pittman of Albuquerque, stayed behind. They sensed God's leading to talk with Lupe and Maria about how to have a personal relationship with God through Jesus Christ. The Pittmans shared about God's love, Jesus' death and resurrection, and His offer of forgiveness for those who repent and receive Him by faith. Lupe and Maria each prayed and turned to Jesus Christ as their only Lord and Savior.
David and Wendy rejoiced, praising God. "We were blessed to see what God was doing in their lives," David said later. "God opened their hearts and He set up this appointment, having used the witness and the work of all of the volunteers who helped at their home. It was so cool, so cool."
Wendy added, "To be able to tell people about Jesus is amazing. It was beautiful and exciting to see Lupe and Maria come into God's Kingdom."
As she saw what the Lord did in their hearts of Lupe and Maria, Wendy was reminded afresh of the power of the Gospel seen in her own family. Her mother was contemplating suicide decades ago when she turned on the television and happened to hear Billy Graham preaching. During his message, he turned to the TV camera and said there was a woman getting ready to commit suicide and he boldly exhorted, "Don't do it, there's hope in Jesus." Wendy's mother stopped dead in her tracks and prayed, "Lord, if You're real, I'm going to trust You."
Over the next couple of years, Wendy's father also committed his life to Christ, and Wendy did, too. "God changed all of our lives and the course of our family," Wendy said.
Wendy's parents went on to become missionaries in Costa Rica and Mexico, and today her dad is a pastor of a church in Kingsville, Texas, about 90 minutes from Hidalgo County—the geographic focus of this Samaritan's Purse disaster relief response.
Good News for the Rio Grande Valley
Our teams are assisting a number of hurting families in South Texas, coming alongside them in Jesus' Name. On the morning the floods hit, Julian Quintana Jr. was on vacation, asleep at his parents' home. In the early hours, he heard a thud. When he got up to turn on the light to see what had fallen, Julian's feet landed in ankle-deep water. He quickly ran to arouse his parents—Julian Quintana Sr. and Ofelia Quintana—but they were already awake, alarmed by what was taking place.
The floodwaters stopped for a while, but later began rising again—reaching 12 to 18 inches in their home. Julian's mom soon connected with Samaritan's Purse and for two days our volunteers tore out waterlogged sheetrock in multiple rooms, getting the house ready to be repaired.
"This is heartbreaking, but it's good to know there's still good people out there willing to help," Julian said. "We didn't anticipate so many people coming from around the United States, but we really appreciated your help. Thank you so much."
Not only did our team members demonstrate God's love in deed, they also shared the Gospel. Team lead Miguel Garcia and Billy Graham Rapid Response Team chaplain Desi Perez explained to Julian how he could he could be saved.
"What really got me was when they asked me, 'If you had died in the flood, where do you think you'd be spending eternity?'" Julian said. "I said Heaven, hopefully."
That's when Miguel and Desi explained the Good News of Jesus Christ, and afterward Julian surrendered his life to Jesus. "Now I know I will be standing [with] God in Heaven when I die," he said.
A few hours later, Miguel talked with Julian's cousin Jose and he, too, asked Christ into his heart.
Praise God for how His Spirit is working in Hidalgo County. Please pray for an influx of volunteers so we can assist as many families as possible.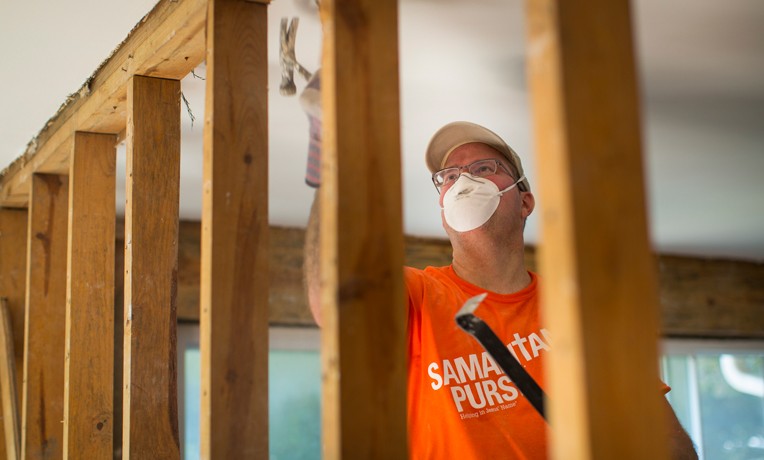 U.S. Disaster Relief
Samaritan's Purse mobilizes and equips thousands of volunteers to provide emergency aid to U.S. victims of wildfires, floods, tornadoes, hurricanes, and other natural disasters. In the aftermath of major storms, we often stay behind to rebuild houses for people with nowhere else to turn for help.
---
U.S. Disaster Relief 013622