Governor Nikki Haley and her staff came out to help homeowners struggling after floods overwhelmed parts of Columbia.
South Carolina Governor Nikki Haley traveled to a Samaritan's Purse work site today to demonstrate her support and concern for homeowners devastated by epic rains and catastrophic flooding.
"I can't tell you how much Samaritan's Purse means to South Carolina right now," Governor Haley said. "When this happens, people are traumatized. They don't know where to go and don't know who to turn to. So, when the army of Samaritan's Purse volunteers show up in a neighborhood like this one or any other, people feel safe. People feel like there's help and people all of a sudden realize they can find the blessings in something that happened that's so tragic.
"Thank you to Samaritan's Purse. Thank you to everybody who supports Samaritan's Purse. Thank you for the volunteers who come to help Samaritan's Purse. South Carolina is better because of you."
Volunteer in South Carolina
Governor Haley, joined by some of her gubernatorial staff and their spouses, flexed their muscles to help homeowners Henry and Kay Gaddis clean out their flood-damaged home. More than two dozen Samaritan's Purse volunteers started working at the Gaddis home in the morning, and the governor joined their labor later in the afternoon.
"This family is a World War II veteran and his wife. If you look at the damage in their house, it's devastating. It's the least we can do is to give back for all he's given to our country," Governor Haley said. "So Samaritan's Purse is allowing us to do that today and I hope everybody will get out and realize there are organizations out there for you. All you have to do is contact them because they're waiting."
Henry is a 90-year-old veteran injured while serving in France during the Second World War. He and his wife Kay had to evacuate their home around 4 a.m. on October 4 as 18 inches of muddy water flooded their home. Henry was pushed out in his wheelchair as water rose to chest level.
Family, neighbors, and friends rallied around the couple in removing debris and helping them salvage what remained of their personal belongings. They then requested assistance from Samaritan's Purse to perform the necessary deconstruction work, including removing four feet of dry wall and tearing out flooring. Kay said it's amazing what was accomplished by our volunteers in just a few hours.
"I've got to tell you, I feel very honored to have Samaritan's Purse right now," Kay said. "It just shows there are lovely, wonderful people in this world."
"We appreciate it very much," Henry said.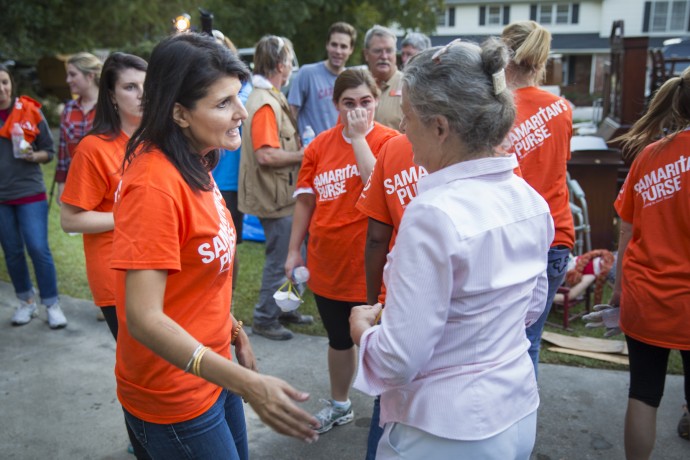 Samaritan's Purse U.S. Disaster Relief deployed to Columbia soon after flood waters receded. There's been a huge outpouring of volunteers from around the city area and across South Carolina. But workers have also traveled from around the country to help those who have been affected by the historic weather event. Hundreds of our orange-clad volunteers have been hard at work for days, tearing out water-logged walls and flooring.
In Columbia, we are based at Shandon Baptist Church. We have also established a second base of operations in north Charleston at the First Baptist Church of Jedburg in Summerville. Volunteers are needed to come alongside homeowners there and help in Jesus' Name.
A team of chaplains from the Billy Graham Evangelistic Association's Rapid Response team has deployed alongside Samaritan's Purse. These crisis-trained chaplains work to share the love of Jesus Christ, providing spiritual and emotional care to victims and families.
We have already completed work on more than a dozen homes and three individuals have been saved by the Lord Jesus Christ.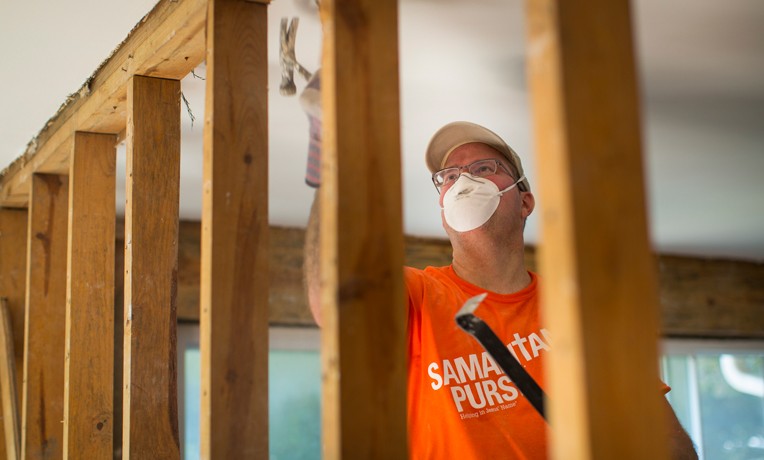 U.S. Disaster Relief
Samaritan's Purse mobilizes and equips thousands of volunteers to provide emergency aid to U.S. victims of wildfires, floods, tornadoes, hurricanes, and other natural disasters. In the aftermath of major storms, we often stay behind to rebuild houses for people with nowhere else to turn for help.
---
U.S. Disaster Relief 013622