Students from John Brown University and College of the Ozarks were among many who served this year at Samaritan's Purse work sites.
U.S. Disaster Relief
013622
Spring break is a time-honored college tradition. It's a chance for students to get some well-deserved rest and relaxation, typically by lounging at the beach, splashing in the waves, and soaking up the sun. But Isaiah Wiese, a freshman at John Brown University in Arkansas, didn't have his toes stuck in the sand during this year's spring break. Instead, he operated a power sander, smoothing out the rough edges of Ken Hamilton's new deck in hurricane-battered Texas.
Ken's Rockport home was badly damaged when Hurricane Harvey's 175-mph winds ripped his neighbor's shorefront house off of its stilts and hurled it like a fastball into the backside of Ken's dwelling. Then came the flood waters—six feet of them—from the Copano Bay across the street. That was August 2017. Nineteen months later, Ken still isn't back in his home of 24 years. He's living next door in a trailer.
Thanks to students like Isaiah, Ken looks forward to soon moving back into his rebuilt house. Isaiah was just one of 14 students from John Brown University who used their spring break to serve with Samaritan's Purse and help rebuild homes hit by Hurricane Harvey along the Texas coast.
Beth Abdo was another John Brown student serving Samaritan's Purse during spring break. "This is a lot more valuable experience than a vacation or time off for yourself," she said. "It teaches you about service and about others. It shows the homeowners that Christianity is more than just staying inside the church walls and worshipping together. It's about reaching out to the community and showing that we are the hands and body of Christ."
"It blew my mind," Ken said, grateful that students would give up their spring break to help him and put the finishing touches on his freshly painted canary yellow home. "They are like the color of the house—sunshine."
College of the Ozarks Students Keep Up the Hard Work
Two hundred miles northeast in Pearland, Texas, near Houston, 17 students from the College of the Ozarks (C of O) in Missouri also devoted their spring break to rebuild houses with Samaritan's Purse.
John and Adrianne Dunn's two-story suburban house was flooded with four feet of water. The C of O students came to hang dry wall and doors, paint the downstairs interior, install kitchen cabinets, and lay bathroom tile.
Another senior, Daniel Betzer, said he was surprised by the amount of trust the Samaritan's Purse supervisors placed in the students to do the construction. "They teach you on the spot," he said. "They then tell us what to do, and let us do it. It's all very hands-on."
He said the experience was unlike other mission trips he has taken because he was able to combine sharing his faith with physical labor and witness firsthand the difference he made in the lives of appreciative homeowners. The volunteer experience with Samaritan's Purse is "the best of both worlds," he said.
Public relations major Ben Bandy agreed, saying that the week in Texas has allowed him and his teammates to show John and Adrianne "how much we care for them in the Name of Jesus. It's awesome we can do that with Samaritan's Purse."
The students are a blessing, homeowner Adrianne said. "To see these students voluntarily come and help us out of this situation, you can't help but smile," she said. "You can't help but have the joy of the Lord because look at what God has done. Look at what He's provided for us. It's awesome to us."
At another rebuild site in Pearland, C of O students are busy applying aluminum siding and flashing to Pastor Marcos Urbina's one-bedroom house. Flooding from Harvey forced him and his wife Esther to evacuate their home of 46 years.
Pastor Marcos, 87, said he bought the house for $9,600 but says now it looks like "a million-dollar house," due to the work of the students and other volunteers. "What a blessing! I never did expect the Lord to bless me this way," he said. "It blesses my soul to see (these students) working hard to bless a servant of God, and that in itself brings tears to my eyes."
Joel Johnson, a junior, said that working on Pastor Marcos' house showed him what Samaritan's Purse is all about. "I've never worked for a better ministry before," he said. "I've had lots of different ministry opportunities but this one is the most hands-on and the most effective. Samaritan's Purse is doing what Christ calls us to do, serving orphans and widows and those who are poor and more needy than we are."
Over in Highlands, Texas, four C of O students helped rebuild Danny and Mary Lee's once-flooded house. Dr. Marvin Schoenecke, the college's dean of administration, assisted in the project and explained that the school is a work college. Students aren't charged tuition. Instead, they work an average of 15 hours per week, 280 hours per semester, to pay for their education.
Just as Samaritan's Purse "looks out for the least of these," he said, College of the Ozarks primarily assists students who have financial need. "What you see here," he says, looking around at two students putting up a door frame, "is the least of these helping the least of these."
More than 700 students from over 40 different colleges and universities served over their spring breaks with Samaritan's Purse this year, according to Tyler Troyer, who recruits students for the ministry's service projects. Not only did they serve in Texas, but also in North and South Carolina and Florida.
"Our goal is to see college students engaged in service to those in need," he said. "We want to see this generation of students active in service now, so that they can see the physical, spiritual, and emotional benefits of helping in Jesus' name after a disaster. In turn, we believe they will be more likely to serve again in the future, whether it is with Samaritan's Purse or in response to a need in their own communities."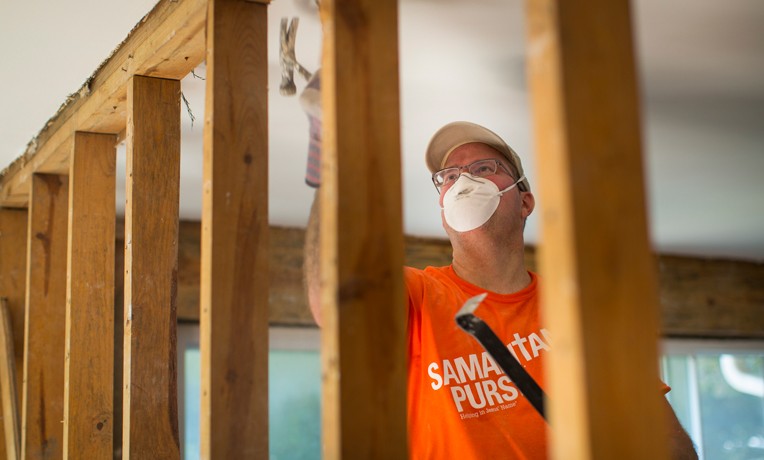 U.S. Disaster Relief
Samaritan's Purse mobilizes and equips thousands of volunteers to provide emergency aid to U.S. victims of wildfires, floods, tornadoes, hurricanes, and other natural disasters. In the aftermath of major storms, we often stay behind to rebuild houses for people with nowhere else to turn for help.
---
U.S. Disaster Relief 013622