Tornado relief in Griffin wraps up with the help of Team Patriot and Liberty University students.
U.S. Disaster Relief
013622
Multiple twisters with winds up to 150 miles per hour tore through Spalding County in mid-January, damaging more than 2,000 properties in the Griffin area. Just two days later, Samaritan's Purse set up a base camp at Oak Hill Church in nearby Williamson.
This past Friday (March 17), our U.S. disaster relief team completed more than two months of service in the tornado-ravaged region. We praise God that 53 people came to faith in Jesus Christ as we completed nearly 500 work orders in the area through the help of over 1,000 volunteers, including Team Patriot and Liberty University students.
Team Patriot Offers Unique Perspective
Team Patriot, a volunteer U.S. disaster relief unit made up of Operation Heal Our Patriot participants, served on site for the past three weeks. These combat-wounded veterans offer a unique skillset and attitude to the volunteer force.
Program Manager Matt Campbell said of Team Patriot, "They want the most challenging project because they want something they can work through as a team."
While Josh McCart of Smiths Station, Alabama, served as an infantryman and paratrooper with the U.S. Army's 82nd Airmen, he was injured by an improvised explosive device (IED) in Baghdad, Iraq, in 2007. After a dozen surgeries to try and save his right arm, he eventually made the decision to have it amputated. Yet McCart still came out to serve with Team Patriot for three weeks, working hard to haul brush and debris from yards with his prosthetic hand.
McCart and the team served homeowner Liz Orr who couldn't manage clean up on her own yard because a medical condition limits how much she can lift.
"You'll all just never know how much this help meant to me," she said.
While Team Patriot seeks to show Jesus' love to homeowners, their service offers an added bonus to participants.
McCart noted that for Team Patriot, using chainsaws and driving skid steers helps "reestablish confidence that some guys feel like they've lost. While you're moving brush, it's your heart that gets worked on," McCart said.
Father-Son Duo Serve Together
Angel Alvarez-Ayala of Cullowhee, North Carolina, can attest to McCart's assessment. He first volunteered with Team Patriot following wildfires in New Mexico in spring of 2022. There, while helping homeowners recover precious belongings from the ashes, he also surrendered his life to the Lord Jesus Christ.
Earlier as an Army sergeant paratrooper, Alvarez-Ayala was also hit by an IED in Iraq in 2007. Taking shrapnel to his head and damaging his spine, he was in a coma for a month afterward. When he regained consciousness, he felt he'd only been out for a couple of hours.
Alvarez-Ayala and his wife were on the verge of divorce before they went to Alaska with Operation Heal Our Patriots in October 2021, but the week of Biblically based marriage enrichment classes and wilderness excursions restored their relationship.
When he came to Griffin to serve with Team Patriot, Alvarez-Ayala brought his 17-year-old son Yomar Bruno along with him. He hopes he'll also see the light of Christ in the other volunteers as they serve together. Alvarez-Ayala comes back to these deployments, in part, to give other people the same opportunity he had to accept Christ.
"If we're doing this 100 times and only one person gets saved, it's worth it," Alvarez-Ayala said. "That's what God wants us to do—love our neighbors."
Team Patriot served their neighbor Terry Cloffey, 76, by cleaning up trees and brush that filled his yard. Throughout his 40-year career in law enforcement, he said he interacted with countless people, but saw something in Team Patriot he hadn't noticed anywhere else.
"You're incredible," he said. "I've worked disaster events all over the country but I've never seen anything like this. The unity, the guys, guys with missing limbs, and they're right out there on the line. Absolutely phenomenal."
Students Work Hard During Spring Break
Over spring break (March 13-17), a very different group of volunteers served at other work sites scattered across Spalding County. Eight Liberty University students spent their break cutting up trees, hauling brush, repairing roofs, and more, all while learning the skills needed to accomplish the job. For many of them, this meant their first experience operating a chainsaw.
"Our goal is to connect students to local churches and non-profits to be the hands and feet of Jesus," said Abby Sanders, associate director of partnerships for LU Serve, the entity responsible for organizing the trips. The trip to Georgia is just one of seven to 10 trips scheduled this year for Liberty University students to serve alongside Samaritan's Purse.
For Taylor Swartz, a graduate athletic training student, the trip to Griffin was her sixth with Samaritan's Purse over her undergraduate and graduate years. She sees the eternal purpose behind every yard she works on.
"When it comes to someone's eternity and their salvation, I consider that way more important than any spring break plans," she said.
While working on dismantling a shed in Glenda Dallas' yard that had been destroyed by the tornadoes, Swartz came across a Bible under the debris. Dusting off the sticks, pinecones, and leaves on top of it, she found that the winds of the tornado had opened the pages to Psalm 23. Swartz said this was powerful to her because no matter the storm, "The Lord is my shepherd; I lack nothing," quoting Psalm 23:1 in the New International Version. After all the salvageable belongings were retrieved from the shed and connecting bolts removed from the walls, the entire Liberty team pulled on a rope together to bring the shed walls crashing down.
When all that was left was the slab where the shed once stood and leaks in her roof had been tarred, the team of students presented Dallas with a Bible signed by the team. She was so excited, she hugged everyone and said, "They gave up their spring break for me! That's nice. I appreciate them."
Homeowner Saved During Clean-up Efforts
Eric Mullikin, a sophomore studying to be an electrician, echoes Jesus' sentiments that it's better to serve than be served (Matthew 20:28).
"What better way to spend spring break than to come out and help people. I see it as an opportunity to help other people instead of myself," he said.
For Lukas Gawryluk, a senior aeronautics major, it was especially meaningful to come alongside homeowners in the community at their time of need.
"It gives me a joy," he said, to serve the different homes, all with their different stories.
At the home of John and Lizzie Calloway, the team cut up large trees in the yard with chainsaws and hauled debris to the road for pick up. As the yard was raked clean and the leaf blower blew away stray pine needles, Billy Graham Rapid Response Team Chaplains Bruce Button and Brian Martyn talked with the Calloways as they sat under their carport. There, after reading the booklet Steps to Peace with God, Lizzie made the decision to accept Jesus as her Lord and Savior.
Gawryluk presented a Bible to the couple at the close of the job, noting that the date they'd written inside stood not only for the day of their service, but also the day of Lizzie's salvation.
Assistant Program Manager Bo Repko served two months in Griffin and was especially eager to host the Liberty students, having just graduated from Liberty in December. Three years ago, Repko was the resident assistant on Gawryluk's dormitory floor, and he was proud to see him out serving with Samaritan's Purse.
Knowing that the students could have spent their week off in a number of other places, he said, "It gives me hope that the next generation is able to spread the Gospel through any means possible."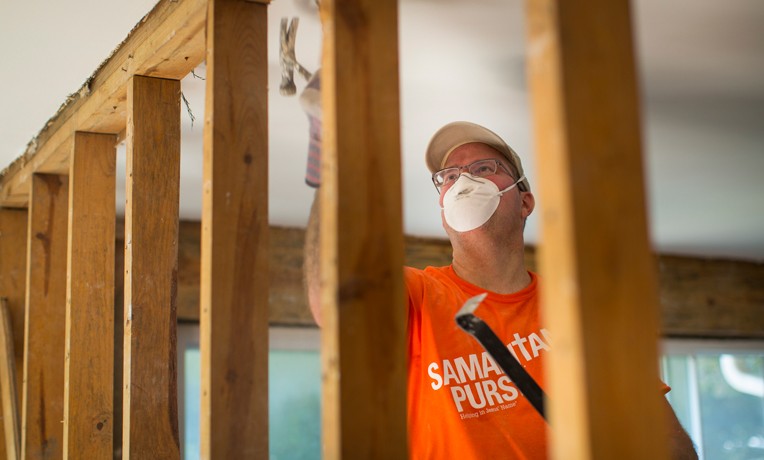 U.S. Disaster Relief
Samaritan's Purse mobilizes and equips thousands of volunteers to provide emergency aid to U.S. victims of wildfires, floods, tornadoes, hurricanes, and other natural disasters. In the aftermath of major storms, we often stay behind to rebuild houses for people with nowhere else to turn for help.
---
U.S. Disaster Relief 013622