Disaster Relief volunteers finish work in Boulder and Weld Counties after a joyful time serving both locations.
To say Monte Deault has been through a lot is an understatement.
The catastrophic flood that affected much of the state in mid September, damaging or destroying more than 19,000 homes, was particularly devastating for the Longmont, Colo., resident.
During the downpour, he was stranded alone on the second floor of his home until the military was able to come in and rescue him days later. The heavy rains didn't just flood his area, but they completely rerouted a river through his yard. Looking out the window, he said it looked like he was in the middle of the Mississippi River.
Give
Even when the waters receded, a mini river still separated his shed from any dry walking path to his house, and a new creek now took up residence behind his home. Although he was able to return to his house of 17 years, the widower said it was not at all anything he could recognize. Mud barricaded doors, and more than a foot of mud covered much of the first floor. Whole pieces of furniture had been tossed aside by the waves that had flooded the home earlier, covering the couches with muddy grime. The smell of raw sewage permeated the air.
When Samaritan's Purse disaster relief teams arrived to help, the 61-year-old homeowner was definitely feeling overwhelmed and distraught.
"This is not something I could begin to do," Monte said. "I took a few shovels full, and I was knowing that there was no way I'd ever be able to get my house cleared."
Even volunteers with previous flood experience, including team leader Kurt Morton, said the damage was unlike anything they'd ever seen.
"I've never seen it quite this bad," Morton said. "Normally it's a mud out with a thin layer of mud. I've only seen this in Hurricane Katrina. Sometimes you see this in basements, but not on the first floor."
When Kurt and his wife, Jenny, met Monte, they could tell how hopeless he felt about the situation, and while assessing the property, some of Monte's neighbors even expressed concern regarding Monte's sad state. While he was a man of faith, Monte was understandably struggling with the disaster.
"He said he was really down and depressed," Kurt said about the day before they brought a group of more than 40 volunteers to work on Monte's yard.
But as each day passed with more and more volunteers diligently working on the home in the name of Jesus Christ, Kurt said you could tell that Monte was finding more and more hope in the situation.
"He said, 'Yesterday I didn't have any hope, and now I feel I have that hope coming back,'" Kurt said.
Work with a Purpose
Many Colorado residents who experienced devastating flood damage like Monte received help from Samaritan's Purse. We responded in the immediate aftermath of the disasters, and established bases in Boulder and Weld Countries. In the next six weeks, our volunteers completed a total of 359 work orders.
When we completed work in Boulder County on Oct. 24, 1,405 volunteers had helped 295 homeowners. As our teams prayed with the people they helped, presented Bibles when the jobs were done, and worked in conjunction with chaplains from the Billy Graham Evangelistic Association, the Gospel was proclaimed in word and deed. Twenty-four people came to faith in Christ during the response.
The Weld County team finished its response mid-October after completing 64 work orders with the help of 478 volunteers. The deployment ended with 47 new salvations.
Monte kept repeating how "extraordinary" the whole situation was. But he wasn't referring to the severity of the flooding that devastated his home state, although many residents agreed they had never seen anything like it before. Monte was referring to the Samaritan's Purse volunteers who came to his aid. To him, that was the truly amazing part of his experience.
"To have all these people show up … They don't know me, and they're saying we're here to help and we're here to bless you—it's extraordinary," he said. "One person cannot do this job. Forty people can do this job."
When volunteers finish each house they work on, they take time to sign a Bible as a gift to encourage the homeowner. By the time volunteers finished Monte's house, he had been given a renewed sense of strength in his faith, and the Bible gift really meant a lot to him.
"This here … this is just a house," Monte said, pointing to his home before holding up the Bible and then clutching it closer to his chest. "But this? Now, this is a house."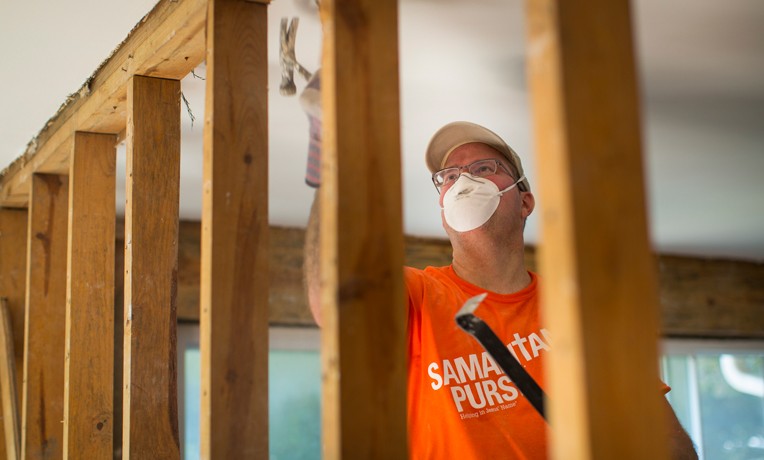 U.S. Disaster Relief
Samaritan's Purse mobilizes and equips thousands of volunteers to provide emergency aid to U.S. victims of wildfires, floods, tornadoes, hurricanes, and other natural disasters. In the aftermath of major storms, we often stay behind to rebuild houses for people with nowhere else to turn for help.
---
U.S. Disaster Relief 013622