Elementary school instructors were among those helping out after a tornado rocked a city in Georgia.
U.S. Disaster Relief
013622
Hours after an EF-4 tornado forged a path of destruction through Newnan, Georgia, families awoke to a town unrecognizable. The dawn light revealed damage that stretched for miles—reducing community blocks to piles of splinters and fallen trees.
"It was kind of like walking into a war zone: houses gone, people just wandering the streets with suitcases because they had nowhere to go," Cindy Bowles said.
Cindy is a third-grade teacher at Atkinson Elementary School in Newnan, Georgia. The night of the storm, she and her family took shelter during the heavy winds and driving rain.
"All of the sirens went off and we grabbed everybody and went into the basement," Cindy said. "But it just died out and went away." They had no idea that the storm was actually leaving behind an historic trail of ruin in certain parts of town.
She woke up early the next morning as she usually does, preparing for the day of teaching ahead. That's when she received messages that Atkinson Elementary School and houses in the surrounding community had been severely damaged by the storm and classes would not be meeting.
The neighborhoods around the school contain more than half of its students and teachers. Knowing the impact of the storm on their students and colleagues, several Atkinson Elementary School teachers took advantage of cancelled classes over the next days to give back to the community, volunteering with Samaritan's Purse.
"I had to do something; we've got so many kids who are hurting and who are homeless," Cindy said. "I've got five kids in my own classroom who have no house right now."
Samaritan's Purse was on the scene quickly after the tornado passed through and continues to help families in Newnan, Georgia, recover from the devastation. As of April 19, more than 700 volunteers have helped nearly 200 families remove downed trees, clear debris, tarp roofs and salvage personal belongings. Most importantly, they remind impacted communities that God loves them and they are not forgotten.
"These are our kids, this is our family, so we are out here trying to help as much as we can since we can't be at the school or with them," said Christie Smith, another Atkinson third-grade teacher who volunteered with Samaritan's Purse.
The town of Newnan hasn't seen a storm like this in decades. Still, the tight-knit community is resilient and always looking out for their neighbors.
"Newnan is really strong and we're all working together to get it built back up," Christie said.
"It's just helpful for people to know that they have someone to turn on, they know where they can lean on to get support, they know it's no judgement: we're here."
Retired High School Teacher Focused on Spiritual Impact
Some 15 Atkinson Elementary School teachers and their family members joined a Samaritan's Purse volunteer team led by Gregg Mervich—a retired educator who hails from another part of Georgia. Gregg poured himself into the lives of students teaching high school engineering and architecture for 15 years.
He now continues a life of service in his retirement years and is thankful for the opportunity to join Samaritan's Purse with its focus on physical and spiritual relief.
"Everything else we do in life is temporary, the only thing that we do that has eternal impact is what we do for Jesus Christ," Gregg said. "When we have the opportunity to do this in Jesus' Name and you watch homeowners get saved and meet the Lord and commit their lives to Christ, it's all worth it."
A Birthday Gift from God
Not only are educators assisting with cleanup in Newnan, they are also among those receiving help. Janice Copeland is a speech therapist at Newnan High School, which was also damaged by the tornado. The night of the storm, she was with her adult children in her home of 16 years.
The home is surrounded by trees in every direction and the storm's ferocious winds threatened to snap them at any moment. The family went to the basement when they heard what sounded like freight train—a sound characteristically associated with impending tornadoes.
"I was praying, 'please keep us safe' but I felt like I was going to be OK. I believe in God and I know that He looks after us," Janice said.
Janice's daughter felt air rush into the basement as a tree hit the external door. However, when the storm passed and they stepped outside, all of the trees had fallen away from the home with minimal damage to the roof and basement door. Janice considered it a miracle and praised God.
A couple of days later, on her birthday, an army of Samaritan's Purse volunteers dressed in orange arrived to Janice's home to remove the dozens of downed trees from her yard. For Janice, it was another gift sent by God and the best present she could ask for.
"I can't express the feeling that is in my heart to see people just come and help me," Janice said. "This is a miracle in itself. He sent people to help me and He said, 'when you help My people you help Me.' Someone is helping me through Jesus."
Please pray for the safety of our Samaritan's Purse teams and that God would be glorified through their work. We praise the Lord for 21 people (as of April 19) who have received Jesus Christ as Lord and Savior through this deployment in Newnan.
Note: This article was published on April 13 and the numbers were updated as of April 19.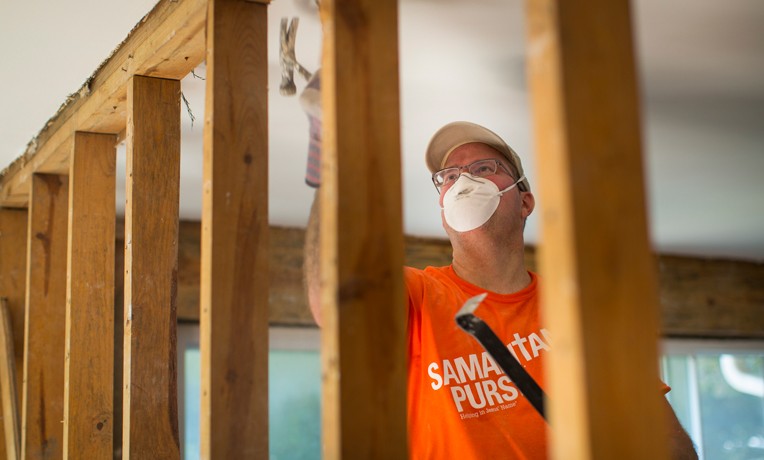 U.S. Disaster Relief
Samaritan's Purse mobilizes and equips thousands of volunteers to provide emergency aid to U.S. victims of wildfires, floods, tornadoes, hurricanes, and other natural disasters. In the aftermath of major storms, we often stay behind to rebuild houses for people with nowhere else to turn for help.
---
U.S. Disaster Relief 013622