After Tropical Storm Imelda, Operation Heal Our Patriots alumni served homeowners in Texas, including a World War II veteran.
U.S. Disaster Relief
013622
"A good generation, like ours, is always wondering: 'Will they have somebody to take our place to help other people when they need help?' I see it now with veterans helping veterans. I see it very clearly."—Joe Escamilla Sr., World War II veteran
Joe Escamilla Sr., 93, was proud to see fellow veterans—albeit much younger ones—helping communities in Texas after Tropical Storm Imelda flooded many areas and forced families out of their homes.
Team Patriot is a project of Samaritan's Purse that gives Operation Heal Our Patriots military families an opportunity to serve in disaster relief. Participants are committed to working in the trenches and bringing help and hope in Jesus' Name to homeowners in need. Grateful for the arrival of Team Patriot volunteers in Texas, Joe shared, "In the war, I felt good helping people that needed help. God, in turn, is helping me with Team Patriot."
As a subset of Samaritan's Purse volunteer teams at work in Winnie and Vidor, Texas, Team Patriot has been helping fellow veterans and others. World War II veteran Joe Escamilla Sr. was among the most memorable.
"We have some patriot volunteers at my house. They are cleaning the house up, clearing the sheetrock that's been cut, and they are doing a good job," Joe explained. "I'm really proud of them. It's wonderful, the help."
A deep-rooted faith in Christ shapes the lives of Joe and his family. Despite various challenges over the years, Joe confidently states with a smile, "God has always been with me and my family."
Thankful for God's Leading
In 1944, Joe Escamilla Sr. enlisted in the military at age 18 and embarked on a life-changing journey.
"I was in World War II and proud of it," he said. "I'm glad God picked me to be a veteran. All my family is military personnel. My four boys, my uncle, and my grandpa. We're all veterans. I had to join the crew too."
While stationed in Europe with the 82nd Airborne, Joe and his company traveled into Germany and established themselves unknowingly near Dachau concentration camp, located northwest of Munich, in southern Germany. While posted in a three-person foxhole about three-fourths of a mile ahead of their platoon, Joe and two other daring soldiers on lookout began to hear disconcerting sounds.
Joe decided to leave the foxhole while the other two stayed behind to serve as a guard. Following the sounds, he came upon an area that he quickly realized was a concentration camp.
After surveying the property, Joe knew he needed to get the attention of the German officer. "I didn't have a choice but to go up and meet him, face to face," Joe added.
"First thing out of his mouth: 'Where are all of the American soldiers?'" Joe recounted. Fearlessly, Joe then informed the officer that the camp was surrounded by U.S. forces. He then told the German to lead his men out, drop their weapons, and surrender.
The German unit obediently marched back to Joe's foxhole, and the watchful soldiers alerted a U.S. captain of the prisoners they were about the receive. In honor of his heroic service, Joe has received communication from a number of American presidents, including Nixon, Carter, Reagan, Obama, and Trump.
Looking back on his life, Joe continues to remain steadfast in his faith. When asked what information he would pass down to the next generation, Joe humbly shared, "The main thing is that there is a God. A lot of times you wonder why evil is happening to us, but that's Satan. He tries to outdo God and tries to outdo us, trying to get us against God, but there's no way that will happen. God is our Father and Creator."
Samaritan's Purse Team Patriot volunteers prayed with Joe as they completed the disaster repairs on his home. The veteran group praised God together and then presented Joe with a signed Bible before parting ways.
Numerous Samaritan's Purse volunteers, among them those serving with Team Patriot, remain on the ground working in Vidor and Winnie, Texas. For more information about how you can serve with Samaritan's Purse U.S. Disaster Relief, please visit spvolunteer.org.
Note: For more on Team Patriot (including the work at AJ Dixon's home mentioned in the video), as well as our larger work in southeast Texas, see this recent story on our Imelda response.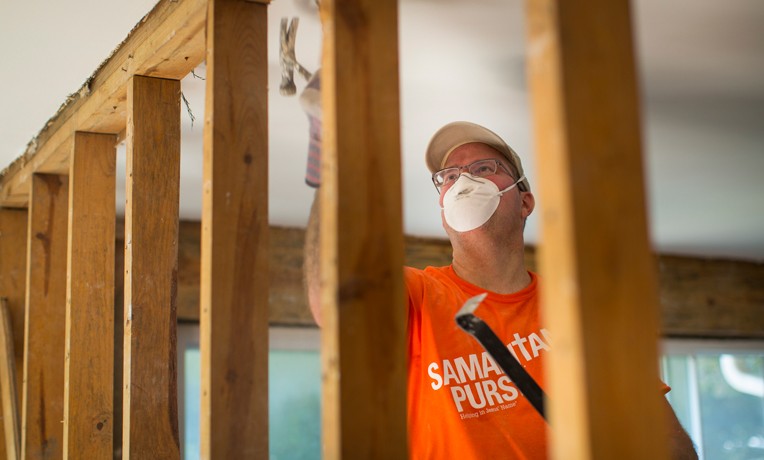 U.S. Disaster Relief
Samaritan's Purse mobilizes and equips thousands of volunteers to provide emergency aid to U.S. victims of wildfires, floods, tornadoes, hurricanes, and other natural disasters. In the aftermath of major storms, we often stay behind to rebuild houses for people with nowhere else to turn for help.
---
U.S. Disaster Relief 013622