Team Patriot members brought relief in Jesus' Name to a fellow wounded warrior whose home was damaged by floodwaters in Lake Charles, Louisiana.
U.S. Disaster Relief
013622
Residents of Lake Charles, Louisiana, a working-class town of nearly 78,000 people, are weather weary. They have seen their city ravaged by two hurricanes, crippled by an ice storm, and inundated by floodwaters—all within the past nine months.
First, Hurricane Laura, a Category 4 storm, roared into Lake Charles in late August. It was the strongest hurricane to hit southwest Louisiana in more than a century. Six weeks later, Hurricane Delta ripped through the region. The two-fisted gut-punch damaged or destroyed hundreds of homes and businesses. Then, just as life was returning to normal for many, an ice storm struck in February that caused widespread power outages and water shortages.
And last month, torrential thunderstorms dumped over a foot of rain over a 12-hour period in Lake Charles. The deluge, which produced more rain than either Hurricane Laura or Delta, led to dangerous flash floods that quickly sent water gushing into hundreds of homes.
One home damaged by the flood belonged to a 79-year-old disabled Vietnam War veteran. Team Patriot, comprised of wounded veterans and their spouses who are part of the Operation Heal Our Patriots family, came to help in Jesus' Name.
Watch the video at the top to see God's love in action!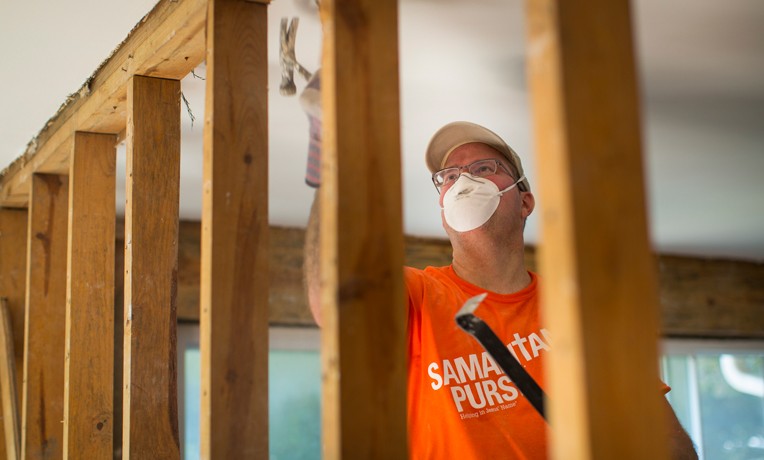 U.S. Disaster Relief
Samaritan's Purse mobilizes and equips thousands of volunteers to provide emergency aid to U.S. victims of wildfires, floods, tornadoes, hurricanes, and other natural disasters. In the aftermath of major storms, we often stay behind to rebuild houses for people with nowhere else to turn for help.
---
U.S. Disaster Relief 013622