Please pray for God to transform the lives and marriages of wounded veterans and their spouses over the coming weeks.
Bless the Marriage of a Military Couple
013960
Sunday afternoon nine U.S. military couples arrived at Samaritan Lodge Alaska to be greeted on the local gravel runway by a long line of excited townspeople and staff waving American flags. One participant, Army Specialist Sean Goetz of Cedar City, Utah, said of the experience, "It's just overwhelming—the patriotism. I'm speechless. I'm just privileged to be a part of this."
Sean hopes to get rest this week, but more than that, for a change in his life. He said, "I want that spark again. It's something I haven't had in a long time. The things I've done and seen and had to do is a heavy toll. It's time to let it go."
His wife, Jennifer, was moved to tears by the support she witnessed in those first few moments of the program. "It really gives the veterans the extra love that sometimes they don't feel."
Monday morning, the patriots and their spouses joined Operation Heal Our Patriots staff as well as townspeople for a special Memorial Day observance. Chaplain Jim Fisher began the service by reminding the crowd through tears that it was a time to "remember those who have gone before us."
Participants Army Sergeant First Class AJ Fidler and his wife, Amy, from Clarksville, Tennessee, hoisted the stars and stripes to half-mast and the crowd saluted the colors. This particular flag was flown over Forward Operating Base Falcon in Iraq on July 4, 2010.
The service continued with Marine Staff Sergeant Dustin Carlton reading a letter from a fellow Marine who had participated in Operation Heal Our Patriots in the past. Preferring to remain anonymous, the letter writer wrote, "This saved not only my marriage, but my life."
He had sent to Alaska a memory bracelet he had worn for two fallen comrades that was to be nailed to the flagpole along with others that had been placed there in the past.
Chaplain Emory Lussi then read Joshua 1:9: "Have I not commanded you? Be strong and courageous, for the Lord will be with you wherever you go."
Next to the flagpole was a battle cross draped with gear representing some of the modern wars the U.S. has fought in—a canteen from World War I, a rifle from World War II, an ammunition pouch from the Korean War as well as other items from the Gulf War, Iraq, and Afghanistan.
One by one, the military couples followed by staff and members of the community came forward and placed an American flag in a designated area in front of the battle cross while naming someone who had given their life in the service to the United States of America.
Many Weeks of Healing to Come
Each week for the next 16 weeks, U.S. service members and their spouses will participate in six days of Biblically based marriage enrichment training. We are planning for a total of almost 160 couples to join us in Alaska this summer.
These military couples will spend their week in classes led by our retired military chaplains who will present practical, God-centered ways to strengthen their marriages. Husbands and wives also enjoy once-in-a-lifetime excursions into the wilderness of Lake Clark National Park and other areas where they can connect with God and each other in pristine surroundings.
Since its start in 2012, Operation Heal Our Patriots has welcomed 961 U.S. military couples [and 40 Canadian couples] into the program, which is focused on those who've been wounded or injured in combat or combat-related activities since 9/11 and their spouses. We praise God that so far more than 400 individuals have made commitments to Jesus Christ, 516 have been baptized, and 481 couples have publicly rededicated their marriages to the Lord.
"The men and women who are coming to Alaska have suffered and they have sacrificed so much for the liberties we enjoy in America. Many of them have physical scars and emotional scars, and their marriages and families are suffering too," said Franklin Graham, president of Samaritan's Purse. "We want Alaska to be a part of seeing them healed and whole as they experience the power of the Gospel of Jesus Christ in their lives."
In addition to the physical and spiritual refreshment offered in Alaska, couples become part of our long-term aftercare program. Our team makes personal contact on a regular basis, we help provide connections to local churches, invite couples to an annual reunion, and organize various regional activities and retreats.
We pray many more couples will experience the life-transforming power of the Gospel this year through Operation Heal Our Patriots. Please join us in praying for this season's couples, our retired military chaplains, and all the Samaritan Lodge staff and volunteers as we kick off Operation Heal Our Patriots 2019.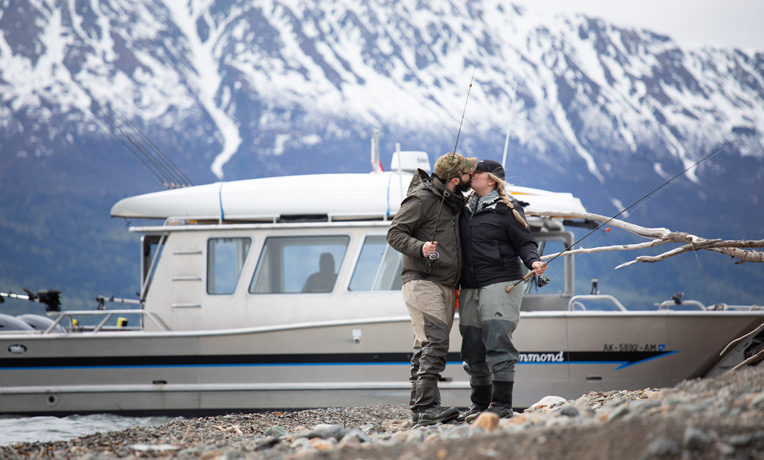 Bless the Marriage of a Military Couple
Operation Heal Our Patriots helps military couples build a strong spiritual foundation during a week of Biblically based workshops, relationship-building wilderness activities, and individual care by our retired military chaplains. We offer all this free of charge to these American heroes as a token of our appreciation for their service and sacrifice. Your gift will help us cover the costs—including transportation, lodging, activities, and long-term Family Care—so that we can help them find hope in the Lord.
---
Operation Heal Our Patriots 013960
Suggested Gift: $60