A father learns an important lesson from a young refugee in South Sudan
By Josh Anderson, Samaritan's Purse staff writer
The first thing I noticed about young Khaja was her beautiful lavender headscarf. She was wearing it when she entered the grass hut where Samaritan's Purse was conducting a trauma-counseling workshop in the Yida refugee camp. It looked like an accessory either of my two daughters would love to play dress-up with.
Its vibrant color pierced the subdued atmosphere of the room, where about 20 refugees were sitting on makeshift benches. Each one feverishly jotted down notes as they listened to a lesson on forgiveness. For the past week, men and women of all ages had been learning biblical principles on how to overcome the atrocities that forced them to flee their homes in the Nuba Mountains.
"Go back to your friend and forgive him if he does you wrong," said Samaritan's Purse workshop leader Abdurahim Adris Koji. "Like it says in the Lord's Prayer."
Many in the class and throughout the camp are victims of terror campaigns conducted by the Sudan government. Tens of thousands have crossed the border into South Sudan to escape horrific bombings, which have lead to widespread starvation and death.
Khaja was late to class that day. She and a friend had entered through the back of the hut. After a quick look around, Khaja realized the only seat available was in the front of class. Awkwardly and shyly, the teenager made her way forward.
Khaja's headscarf had caught my eye at first, but something else would soon break my heart. As she went by, I noticed she was walking with crutches. Her left leg was missing.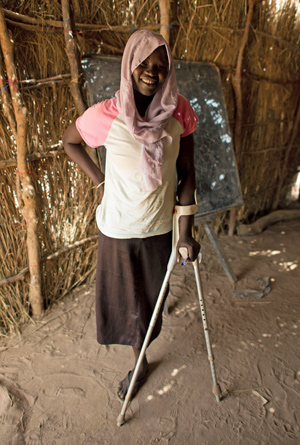 As a writer, I wanted to know what happened. As a father, I wanted to know why.
One night Khaja and her family woke up to the sound of an Antonov plane circling overhead. The distinct roar of its engines was instantly recognizable. But the unknown remained: would a bomb drop?
The explosive answer came soon enough, as shrapnel tore through homes and Khaja's leg. Her life would never be the same.
That was over a year ago. Her parents sent Khaja and her brother to live with relatives in Yida soon after the bombing. And yet, even after the horrors of that night, Khaja wants to return to the Nuba Mountains.
"It is my home," she said. "I want to go back if there's peace."
For a 16 year-old, Khaja has remarkable resolve. Even more impressive is her faithful perspective about those who have hurt her and so many other Nubans.
"God wants us to forgive and love one another," she said. "I agree with that, and it's something I want to share with others."
As a father, I wanted to come to Khaja's rescue, to get even with the cowards who had snuck in that night and shattered her innocence. But this girl, who has suffered so much, taught me that a real hero—one who fights for Jesus Christ—doesn't seek revenge. A real hero offers his enemies the gift of forgiveness.
"Gird Your sword upon Your thigh, O Mighty One,

With Your glory and Your majesty.
And in Your majesty ride prosperously because of truth, humility, and righteousness;

And Your right hand shall teach You awesome things." (Psalm 45:3-4, NKJV)