Samaritan's Purse volunteers helped begin the recovery process for homeowners reeling from a fertilizer plant explosion in a small Texas town
The blast that rocked West, Texas, shook the Hutyra family to its core.
Johnny, 83, and Mary Ann, 78, were home when the fertilizer plant less than a mile away exploded. The next few moments were terrifying.
"Everything was flying around, the house was shaking," Mary Ann said. "He was outside. I was inside watching a movie. The lights went out. The worst was the noise. I thought we were being attacked by terrorists."
Their home—the one they've lived in for 45 of their 58 years together, the one with the homey back porch and nicely landscaped yard—had sustained a devastating, possibly fatal, blow. The force of the explosion and the undulating ground shifted it on the foundation, creating cracks in the walls. They had to leave, not knowing if they were going to return.
It was especially hard for Johnny.
"Dad recently had a stroke," said Doris Stewart, their daughter. "He's having a hard time processing what happened."
The Hutyra's loss went beyond property though. Their daughter-in-law, Michelle, had two family members who were first-responders. Her cousin was among the 14 people killed when the explosion ripped apart the small, tightknit Texas town on April 17. Her brother was critically injured and spent days in the ICU.
"It's hard to take in," Michelle said. "The loss is deep. We take it day by day. You find strength. You find your strength in your faith, and in people like you."
Samaritan's Purse responded to the blast by sending a disaster relief unit to West. Volunteer teams worked through early May, helping 42 homeowners.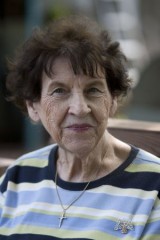 They included Johnny and Mary Ann. We removed all of their belongings and gutted the house to the studs so an engineer could assess the walls and foundation to see if it could be salvaged.
"They really work hard," Mary Ann said. "They do a good job. It's a big job. I didn't even know something like this existed."
Most of all, as the volunteers prayed with the family and presented a Bible, they showed that God cares and provided hope.
"It is definitely a big help," said Johnny Jr. "We'll rebuild and get back on our feet."
The West response was unique. In a typical disaster situation, we patch damaged roofs, remove downed trees, and clean out flooded houses. In West, many of the homes received significant damage and were uninhabitable.
"We quickly realized this was going to be different," said Todd Taylor, program manager in West. "We truly felt the Lord leading us to primarily help the victims pack up their homes. Boxes, bubble wrap, and tape were the tools God called us to use on this one. Our teams were able to serve 42 homes, but it was so much more. The people of West noticed the love and care our volunteers put into each task and were so thankful for the help."
Earlene Pospisil, an 84-year-old widow, was thankful as she watched some of the 131 volunteers who worked with us in West pack up her belongings. They carefully wrapped fragile items in blue plastic and boxed them up.
"It's just been a blessing," she said. "It means everything. I didn't know anything like this existed. Jesus said love. That's what you're doing."
Miss Earlene has lived in her house since 1952. The blast blew out the windows, collapsed the ceiling in places, and cracked the walls.
"It took a major jolt," she said. "They didn't condemn it, but it's too expensive to fix it up. I raised my kids here, and my grandbaby. It wasn't just a house. It was a home. I've pretty much told myself I'm not going to be able to come back. It hurts."
The pain was eased by the caring Christians who came to help.
"Ya'll are God sent," Miss Earlene said. "Bless every one of you. It just goes to show there are good people. God sends His people. It's wonderful that you travel this far. I appreciate you so much. I didn't realize there was a group like you."
Lester and Freddie Boortz were also faced with an uncertain future when the blast damaged the house they've lived in for over 30 years. He is 81, and she's 79. They don't know if they'll be able to make repairs.
"My preference would be to stay here, since we've been here this long," Lester said. "But I have to think what's best for the kids, whether to put the money into the house or not."
A few groups offered to help, but Freddie wasn't sure who she could trust.
"We turned down five or six people who have come by," Freddie said. "When Samaritan's Purse came we let them in and talked to them. We felt comfortable."
Samaritan's Purse volunteers removed furniture and mattresses that were ruined after being saturated by glass. They packed up the Boortz's belongings, including some things that were unexpectedly precious. Freddie didn't want to part with the rocks at the base of an artificial tree.
"When your kids give you rocks, they're important to you," she said.
Lester and Freddie have nine grandchildren and one great grandchild. There have been many Thanksgivings, Christmases, and birthday celebrations in the house. There might not be any more.
One of the granddaughters is a senior at Texas A&M. She wanted to take a day off school so she could take one last photo of Nanny and Popa in their old house.
The thought hurt, but as Freddie watched the volunteers in the bright orange T-shirts she found strength.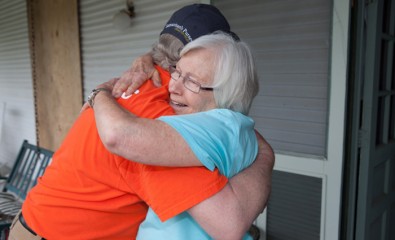 "I'm a strong South Texas girl," she said. "Yes, I love this house. I have a lot of great memories here. But I can go on with my life. Our lives have changed. But we have God, we have our children, and we have each other. We can go on."
In zone 3, the area closest to the blast, Diane was also dealing with the pain of losing a house. It was her Mom and Dad's home since it was built in 1967. She's lived there since 1990.
"It has sentimental value," she said. "You can't put a price on that. This is the house everybody came to. The grandkids called it their playhouse. This was the happy house."
She was down the street when the plant blew.
"They told me to go home and close the doors and windows because of the chemicals. I said Houston, we have a problem. I have no door and no windows," she said.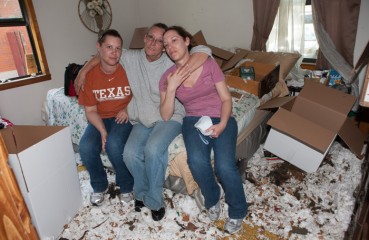 The force of the explosion damaged walls, the roof, and possibly the foundation. The house was declared yellow, meaning the family was allowed in to remove belongs but it was unsafe to occupy. It might be salvageable, but Diane has her doubts.
She and her husband, Jack, are used to working hard. She and her daughters, Debbie and Amy, worked alongside Samaritan's Purse volunteers, helping pack boxes and taking items either to a trailer, storage area, or to the curb to be hauled away.
They are also used to helping others. Jack works with paralyzed veterans, pulling his boat around the country to take them fishing. In the immediate aftermath of the blast Diane went to the high school football stadium, where people were gathering, to see if she could do anything to help.
On this day, the helpers were being helped by volunteers who made sure their needs were being met, and who took the time to talk and pray with them.
The volunteers, who came from near and far to show the love of Christ to people reeling from the explosion, were following the instructions given in orientation at the beginning of the day.
"The priority is not the work," said Becky Sander, a team leader from New Mexico. "The priority is the homeowner. Put down the tool and listen to their story. I am always stunned by the amount of work God does through His people."
God worked through Samaritan's Purse volunteers to help dozens of people in West.
"Once it happens you're shook inside," said Jackie Arias, one of those homeowners. "But we're good. We're blessed. I saw a bumper sticker that said our ground was shaken, but our faith was not. We were shaken, but we're still here."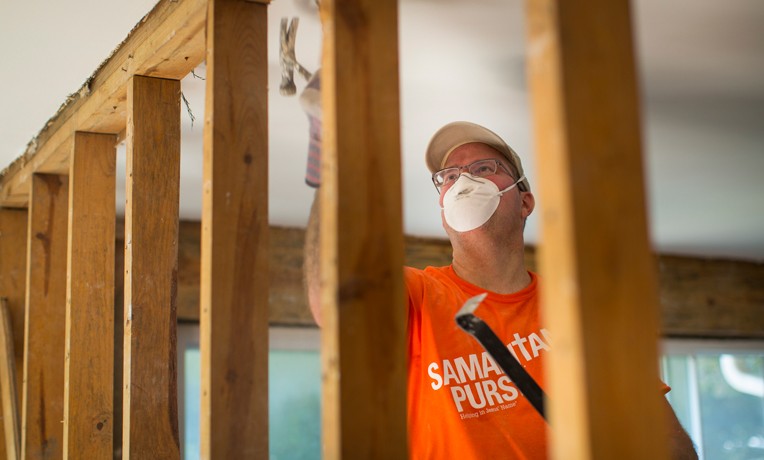 U.S. Disaster Relief
Samaritan's Purse mobilizes and equips thousands of volunteers to provide emergency aid to U.S. victims of wildfires, floods, tornadoes, hurricanes, and other natural disasters. In the aftermath of major storms, we often stay behind to rebuild houses for people with nowhere else to turn for help.
---
U.S. Disaster Relief 013622