Samaritan's Purse volunteers are working hard in the Mississippi Delta--cleaning up homes and offering encouragement in Jesus' Name.
U.S. Disaster Relief
013622
In the early days of her retirement, Sarah Rutland was wondering what to do with the rest of her life. So, she did what many retirees do—she went to Florida. But not for the reasons you'd expect.
Hurricane Michael had just roared through the Panhandle and she wanted to help. So instead of picking up seashells, she picked up the pieces of people's lives. Instead of tanning on the beach, she worked in the hot sun.
"When I retired, I asked God, 'I know there's something you want me to do. I don't know what it is, so just guide me and direct me," she said.
This is when, serving with another volunteer group, she first came across Samaritan's Purse volunteers cleaning up a Florida neighborhood.
Amid fallen trees, splintered roofs, and scattered belongings from families' homes, she also saw this–an army of orange shirts—Samaritan's Purse volunteers providing hope and hard work.
HELP FLOOD VICTIMS IN THE MISSISSIPPI DELTA
Sarah said it was difficult to leave knowing all the work that still needed to be done, so she decided to put on an orange shirt herself and join with the work of Samaritan's Purse.
It was during that response in Florida that she was beginning to see the pieces of God's plan come together.
"I saw something I wanted to be a part of," she said.
Now, nearly three years later, Sarah and her husband, Dennis, are serving with Samaritan's Purse regularly on our Site Leadership Team. Most recently the retirees have been ministering to hurting Arkansas families in the wake of catastrophic flooding in Desha County.
More than 260 Samaritan's Purse volunteers from across the country are responding to flooding along the Mississippi Delta, including in Desha County, Arkansas; Lake Charles and Iberville Parish, Louisiana; and Bolivar County, Mississippi. Volunteers have helped more than 100 families clean out their homes and, most important, remind homeowners that God loves them and that they are not forgotten.
God Meets Them in Their Weakness
Sarah and Dennis often refer to the verse that has laid the foundation for their ministry together:
"But He said to me, 'My grace is sufficient for you, for My power is made perfect in weakness.' Therefore, I will boast all the more gladly of my weaknesses, so that the power of Christ may rest upon me" (2 Cor. 12:9, ESV).
This truth has sustained them in their own weakness during deployments, and its words have continually reminded them of why they volunteered in the first place. They want hurting people to know the love and strength of Christ in the midst of crisis.
Arkansas homeowners Roy and Erica Williams needed this strength and encouragement after floodwaters filled their home, just one of many difficulties they've faced in recent months.
Roy had suffered a stroke in March and is only now regaining his strength after months of physical therapy. He knew he'd never be able to clear the waterlogged contents from his home, which had been filled eight inches high with water. You could see the relief in their eyes as Sarah introduced herself to the Williamses.
"I am from East Tennessee," she told them, "and I came all the way to Arkansas to help you. I didn't know you but God loves you, and I want to show you that love."
Sarah and the team immediately got to work clearing waterlogged contents from the home—including ruined walls and flooring. Roy and Erica were amazed and encouraged.
"These guys here that do the work for the Lord, it's awesome," Roy said. "They come in and help people who are in distress in their time of need. You have to believe in the word of the Lord because without them, none of this would be possible. It's truly a blessing."
Serving in the Midst of Mourning
Samaritan's Purse volunteer Roberta Kallay agrees, but insists she's the one who's been especially blessed by the opportunity to volunteer.
Like the Rutlands, Roberta was at a crossroads several years ago after losing her husband of 37 years. Her world had been turned upside down by a flood of grief, and it was then she heard from friends whose lives were upturned by devastating floods in Columbia, South Carolina.
Roberta, in the midst of her mourning, drove her husband's camper from Indiana to South Carolina, where Samaritan's Purse put her to work.
"When you put this orange shirt on, that's who you are: the hands and feet of Jesus," Roberta said. Her time in Arkansas marks her 30th deployment with Samaritan's Purse. "It's a blessing and very humbling to be called to be the hands and feet of Jesus."
She praises God for using her loss to uniquely minister to others and that, in turn, He uses the stories of homeowners and volunteers to bless her.
"Like most people with Samaritan's Purse would tell you, you come with the intention of being a blessing but you go home being much more blessed," Roberta said. "The God moments that we share revive and refresh my faith."
To find out how you can join Samaritan's Purse volunteers like Sarah and Roberta as they help hurting families in the wake of disaster, visit SPvolunteer.org.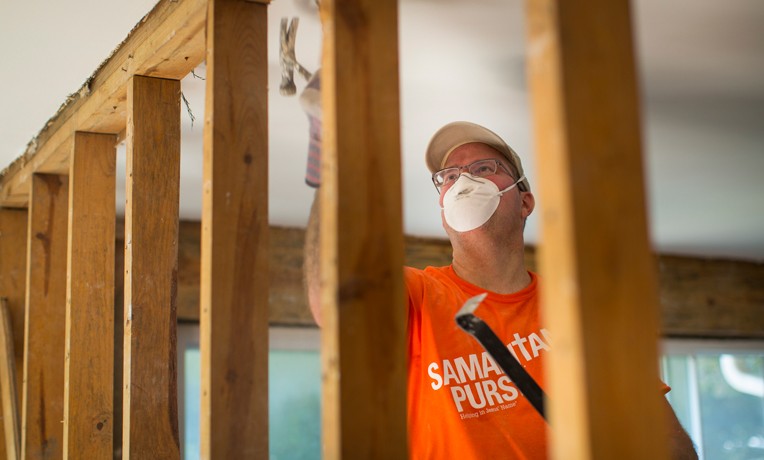 U.S. Disaster Relief
Samaritan's Purse mobilizes and equips thousands of volunteers to provide emergency aid to U.S. victims of wildfires, floods, tornadoes, hurricanes, and other natural disasters. In the aftermath of major storms, we often stay behind to rebuild houses for people with nowhere else to turn for help.
---
U.S. Disaster Relief 013622