Samaritan's Purse staff members mobilize to help people hardest hit by Typhoon Hagupit
Kristine Wager is an intern with Samaritan's Purse in the Philippines.
The Samaritan's Purse team in the Philippines is in action mode as we prepare to send relief supplies to the areas most affected by Typhoon Hagupit. Reports from Northern Samar indicate that survivors of the storm are in need of medical attention and shelter. It's estimated that more than 80 percent of homes have been destroyed, leaving inhabitants exposed to the elements and at risk of contracting disease.
The scene is one of controlled chaos with dozens of moving pieces. We are fueling, loading, and staffing four container trucks with 1,200 hygiene kits, 1,500 water filter kits, 1 million water purification tabs, and 2,400 shelter kits. It's poignant to watch as staff cut and bind tarpaulin to distribute to those who have lost their homes—all while working under the ripped-open roof of the Samaritan's Purse warehouse.
What a perfect illustration of Christ's redemption of the Church: we who were once broken and lost have been given grace in order to pass on that grace to others. We are all survivors helping survivors; in no place is that more resoundingly true than in the Philippines today.
We praise the Lord that many of our emergency relief supplies were salvageable after the devastating damage to our warehouse Saturday night. The boxes they were stored in may be soggy and disintegrating, but the life-saving supplies held in them remain intact and sealed. While the loss of documents, including hundreds of Bibles and children's curriculum, remains a wound in our hearts, we know that paper can be replaced.
On the loading dock of our battered building, we gather to pray for 40 Samaritan's Purse staff members and disaster response team members as they leave with a convoy of 15 vehicles carrying life-saving relief supplies. From our base of operations in Tacloban City, the people with greatest need are a half-day's drive over damaged roads. There is a long day of travel ahead.
Please join us in prayer for the teams as they go to help those in desperate need of medical attention, shelter, water and, most of all, Christ's love.
Editor's Note: A collapsed bridge north of Borongan in Eastern Samar made travel difficult, but our team and supplies were able to reach the hardest hit area late Tuesday night local time.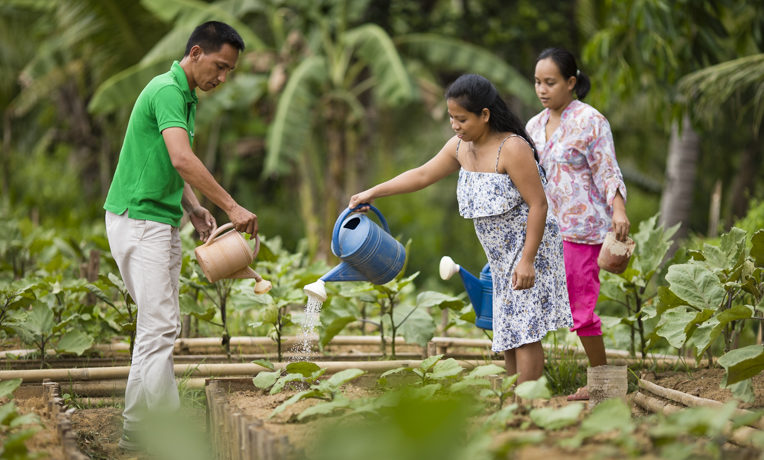 Philippines Projects
Samaritan's Purse is working to improve the quality of life for impoverished families in both rural and urban areas of the Philippines. We are training women and expectant mothers on best feeding practices for infants and young children. Our teams are providing malnutrition screening, medical care, clean water, latrines, and hygiene education. We're also supporting families through livelihood projects such as community gardening and pig raising, as well as vocational skills and microenterprise training. Most importantly, our staff are sharing the Gospel. We partner with local churches to offer evangelism and discipleship courses so that they can reach their communities with the hope of Jesus Christ.
---
Philippines Projects 013395