Samaritan's Purse finished responding in Pilger, Nebraska, after it was ravaged by deadly twisters
When tornadoes hit northeast Nebraska on June 17, the Savage family feared for their lives. Juliana Savage's husband and children crouched in their basement as the storm destroyed their home. The house collapsed, the water heater landed on Juliana's 4-year-old daughter, and gas began to pour into the basement.
"I don't know how they made it out alive. There's nothing there," said Juliana, who was not home when the storm hit.
ENCOUNTERING CHRIST IN PENSACOLA: The love of Jesus shown by Samaritan's Purse volunteers changes the life of a woman victimized by the Florida floods
GOD'S GLORY SHINES: Homeowners lives were changed when Samaritan's Purse responded to tornadoes across four states
Many families in the small town of Pilger experienced the same terror. The town of 350 had never sustained a tornado before it was hit with two almost simultaneously. More than three-fourths of the town is gone, including the fire station, school, and grain bin. Nearly 50 houses were reduced to rubble, while two people were killed and more than 16 were critically injured.
Samaritan's Purse responded immediately by sending staff and equipment to the area. A disaster relief unit deployed from our North Carolina headquarters days after the disaster. The tractor-trailer is stocked with supplies and is serving as our command center at Journey Christian Church in the nearby city of Wayne. Volunteers helped storm victims by cutting down trees, tarping roofs, and cleaning up debris. The response ended Saturday, June 28 after 42 homeowners were helped.
"Samaritan's Purse is here to do everything we can in the name of Christ to help these people to dig out from underneath the rubble," said Bob Barnes, a member of the Samaritan's Purse site management team.
More than 168 volunteers helped clean up homes and comfort those affected by the disaster. As a result, six homeowners gave their lives to Christ.
One of the beneficiaries was an elderly woman who was alone when the tornadoes hit. Our volunteers prayed with her, then began working to meet her needs by cleaning up debris in her yard and tarping her roof.
"I'm just trying to help my brothers and sisters weather the storm," said Amanda Ballard, one of the volunteers. "And if they don't know Jesus, I'd like to introduce them to Him."
Please continue to pray for those affected by this disaster.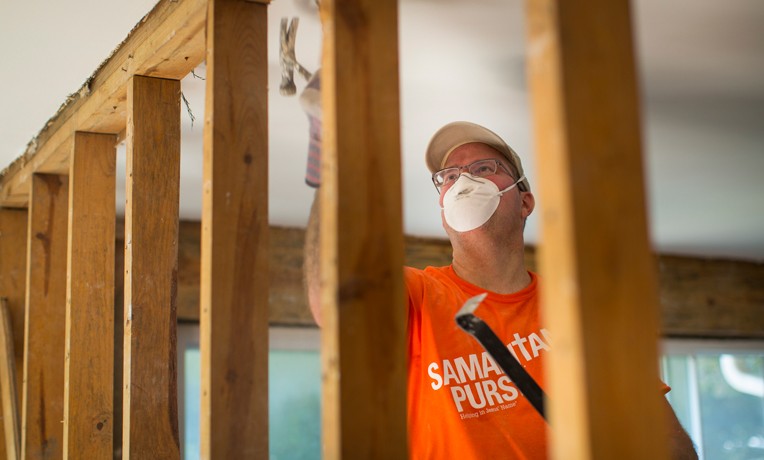 U.S. Disaster Relief
Samaritan's Purse mobilizes and equips thousands of volunteers to provide emergency aid to U.S. victims of wildfires, floods, tornadoes, hurricanes, and other natural disasters. In the aftermath of major storms, we often stay behind to rebuild houses for people with nowhere else to turn for help.
---
U.S. Disaster Relief 013622