Students from Liberty, Auburn, and Indiana Wesleyan recently joined our volunteer teams to help families recovering from devastating tornadoes. Edward Graham was also in Alabama, encouraging the students as well as storm victims.
Homeowners had only a few minutes to find cover before an EF4 tornado—and a dozen other twisters—touched down the afternoon of March 3, tearing through communities along northeastern Alabama's rolling hills. Many emerged from the traumatic event to find the storm had ripped apart all of their possessions. Twenty-three people lost their lives.
Samaritan's Purse has deployed more than 1,300 volunteers to the devastated area, including more than 100 university students who spent their spring break helping homeowners in Jesus' Name. A number of schools were represented at worksites, including Liberty University, Auburn University, and Indiana Wesleyan University. Volunteer teams cut and cleared debris from properties and helped search for precious keepsakes lost in the rubble.
U.S. Disaster Relief
013622
Edward Graham, son of Samaritan's Purse president Franklin Graham and a former Liberty University student, met with some Liberty students who were serving in Alabama through the university's LU Send NOW program.
"It's a missions-focused university, and they're out here proclaiming the name of Jesus Christ," Edward said of Liberty, the school he attended before his years at West Point.
"I'm a huge fan of these kids who take their time to help when they could be relaxing sitting on a beach somewhere," he said of the college students serving. "They're a great example for our youth, and it gives you hope because these are our future leaders in the church, the workforce, and politics."
Liberty University student Leah Castlebury served at Karon Henderson's home and was privileged to present her with a Billy Graham Study Bible after completing work on the property.
"It's been exhausting but in the best kind of way," Leah said. "The work we did wasn't all that glamorous. We were picking up logs and debris, and we're tired and sore. But moments like this totally makes all of it worth it. And the week I spent on my spring break serving meant so much more than if I'd spent the week on the beach. I'll have memories of this forever. Knowing that I've done the work that the Lord has called me to do is very humbling."
Baseball, softball, and track and field athletes, as well as Cru students, from nearby Auburn University also joined our volunteer teams last week. Butch Thompson, the school's head baseball coach, said it was an opportunity for his players to build skills of service off the field.
"We're in the middle of our baseball season and all of a sudden on a Sunday something like this happens so close to home," Coach Thompson said. "When you see people affected in your community and our county so close to home, you have to do something. I'm trying build baseball players, but I'm also trying to build men. Part of that process is that when you see needs around you, you tend to them."
"This is an opportunity for these guys to continue to grow as men and try to make a difference because this should be a skill they try to do for their whole lives."
Help in a Difficult Time
Edward also met with homeowners and local government officials. Homeowner Krystal Garrett described the violent storm and her subsequent grief over the deaths of her father, mother, and brother. They lived close by and were an integral part of her daily life.
"The first few days I was completely numb," Krystal said. "I want things to be normal for the kids. I just want things to stay normal for them and to rebuild on our property. I want the cousins to be able to play together."
Nearly every homeowner we have assisted lost a friend or family member, or knew someone close to the victims. Several families in the area lost multiple loved ones, and four children were among those killed in the storm.
Please continue to pray for grieving communities in Lee County, Alabama, and for our volunteer teams as they serve as the hands and feet of Jesus. More than 1,400 volunteers have served in northeastern Alabama and helped nearly 100 homeowners with clean up and recovery. Our response in Lee County will come to a close this weekend.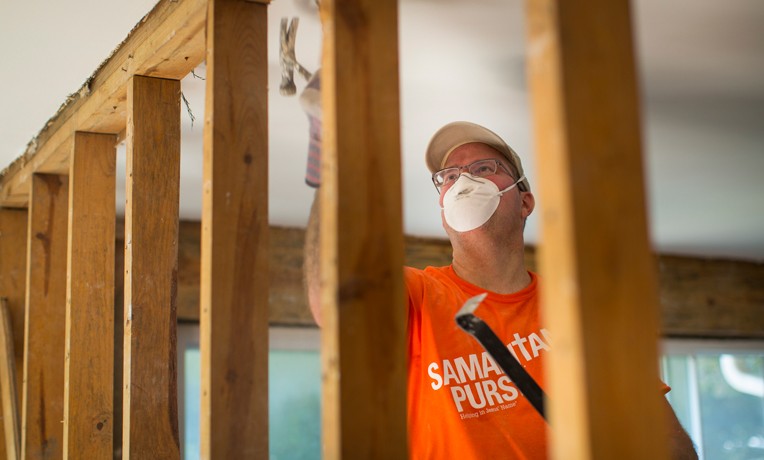 U.S. Disaster Relief
Samaritan's Purse mobilizes and equips thousands of volunteers to provide emergency aid to U.S. victims of wildfires, floods, tornadoes, hurricanes, and other natural disasters. In the aftermath of major storms, we often stay behind to rebuild houses for people with nowhere else to turn for help.
---
U.S. Disaster Relief 013622