Watch as Army Sergeant Larry Kaibetoney and his wife Chani share their story from this Samaritan's Purse project dedicated to strengthening military marriages.
Bless the Marriage of a Military Couple
013960
When Army Sergeant Larry Kaibetoney and his wife Chani touched down at Samaritan Lodge Alaska this summer, it was the first time either of them had been welcomed by an American flag-waving crowd.
"When we landed and there were all these people here who came out to meet us, I felt energized. I felt welcome. I felt loved," Larry said.
This was the beginning of many "firsts" the couple got to experience in Alaska as part of Operation Heal Our Patriots.
The couple had been struggling for years with various crises stemming from Larry's combat service. The soldier narrowly escaped with his life after a 2004 suicide bomb attack in an Army chow hall in Iraq. His injuries continue to affect him every day: post-traumatic stress disorder, traumatic brain injury, and ongoing pain from shrapnel irretrievably lodged in his body. They take a physical and emotional toll on both him and Chani.
While in Alaska, they met military couples who deal with similar challenges, and they realized they were not alone in their struggle.
"It can be pretty lonely sometimes, so I was really hoping to find people who truly understand where I was coming from," Chani said. "I can't put into words just how much this has meant to us."
The Kaibetoneys grew both in their faith and marriage while in Alaska. They ended their week by rededicating their relationship to God in a special ceremony along the shores of Lake Clark.
Watch the video at the top of this page to find out more about their story.
—
Since its start in 2012, Operation Heal Our Patriots has brought nearly 1,000 combat-wounded U.S. veterans and their spouses to Alaska for a week of marriage enrichment.
Military couples often come to Samaritan Lodge reeling from the traumatic effects of war, but many leave with lives and marriages transformed by the Gospel of Jesus Christ. We praise God that hundreds of individuals have been brought to saving faith. As we continue to pray for the many couples who have come through this program, we prayerfully anticipate what God will do in the lives of new couples who will join us next year.
Eligible couples can apply starting Feb. 1 for the 2019 Operation Heal Patriots summer season in Alaska.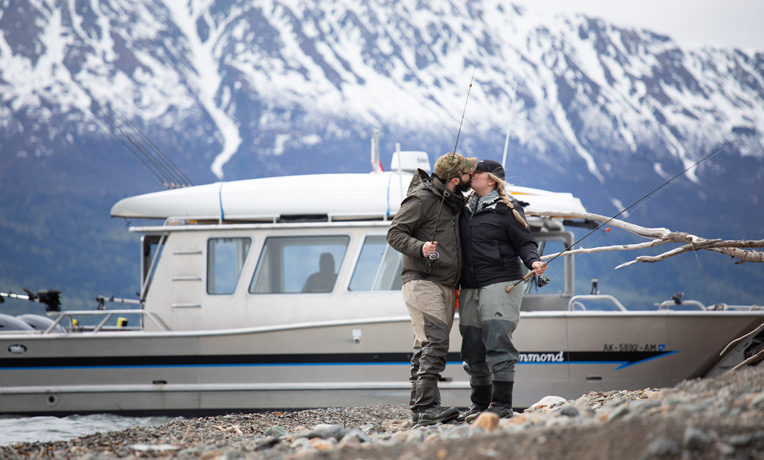 Bless the Marriage of a Military Couple
Operation Heal Our Patriots helps military couples build a strong spiritual foundation during a week of Biblically based workshops, relationship-building wilderness activities, and individual care by our retired military chaplains. We offer all this free of charge to these American heroes as a token of our appreciation for their service and sacrifice. Your gift will help us cover the costs—including transportation, lodging, activities, and long-term aftercare—so that we can help them find hope in the Lord.
---
Operation Heal Our Patriots 013960
Suggested Gift: $60