Mike Pence and his wife Karen served with Samaritan's Purse to help a veteran couple whose home was damaged by Hurricane Ida. He also thanked Team Patriot volunteers for their service.
Former Vice President Mike Pence and his wife Karen rolled up their sleeves, slipped on work gloves, and helped remove broken tree limbs and other debris from the backyard of Scott and Faith Sawyer, whose home and property in Hammond, Louisiana, were badly damaged by Hurricane Ida. Pence also fired up a chainsaw and helped cut up a tree that blew down when the deadly storm roared ashore late last August.
The Pences traveled to the Pelican State today (Nov. 12) to encourage the military couple—Scott has served in the Louisiana National Guard for the past 33 years—and to work alongside Team Patriot volunteers who are continuing to serve their country by helping fellow veterans who have been affected by natural disasters.
"When I served as Vice President there was not a time that I arrived at a natural disaster that Samaritan's Purse wasn't already there," Pence said. "For us, it's a blessing to be a part of this ministry and to be here with veterans, who are a part of Team Patriot. These men and women who served our country in uniform were on a mission greater than themselves and now, as our veterans, are volunteering to be on a mission for the Lord and coming alongside people facing difficult circumstances. It's inspiring for us to be with all of them."
Team Patriot is comprised of men and women who are part of Operation Heal Our Patriots, the Samaritan's Purse project that aims to strengthen the marriages of veterans wounded after 9/11 and their spouses.
Faithful Service
When the Pences first met Scott and Faith, they thanked them for their service to our nation. "It's our honor to join all these great American patriots to come alongside and help you as you put your lives back together."
Having the Pences and Team Patriot help them was especially meaningful for Scott and Faith, who have been married for 33 years. In May 2020, Faith, a former school teacher, suffered a stroke. Her right arm and leg are paralyzed, as is the left side of her face. She is confined to a wheelchair.
Scott now works from home and is a fulltime caregiver. When Ida roared through Hammond, it toppled several trees in the Sawyer's backyard, damaged the roof of their house, and ripped apart two storage sheds. Scott didn't know how he was going to be able to haul all of the scattered debris to the curb so the county could collect it.
"Having Samaritan's Purse come out and volunteer to help me move this debris is a true blessing. It helps relieve a lot of the stress that we've been going through," Scott said. "And look at all of the veterans that we have here. These guys have sacrificed so much of their lives and yet they came out here to work with me and to bless me and my wife.
"And then to have Mike Pence to come walk in your yard and shake your hand and tell you how much he appreciates you? I'm just blessed. This is wonderful. This is truly amazing to me and an honor."
Veterans Helping Veterans
Mike and Karen Pence have a deep appreciation for veteran families and have personal family connections with combat veterans and military service members, including their son, Marine First Lieutenant Michael Pence, an aviator in the U.S. Marine Corps, and Pence's late father, Army Second Lieutenant Edward Joseph Pence Jr., a veteran of the Korean War and Bronze Star recipient. To serve with Team Patriot during the week of Veterans Day was especially meaningful for the former Vice President.
"The Bible says if you owe debts, pay debts. If honor, then honor. If respect, then respect," Pence said. "And Veterans Day is a day every year that we pay a debt of gratitude and honor to all the men and women who have worn the uniform. What makes Team Patriot special is that these veterans have come together around a veteran family to say we're here to be with you and to help you. To see how moved Scott was to see other veterans donning those orange shirts and coming here as part of Team Patriot to help him and his wonderful wife Faith rebuild their lives is inspiring to see and be a part of."
After the Pences finished their yardwork, they presented Scott and Faith with a Billy Graham Study Bible. They signed it and wrote inside their favorite verse, Jeremiah 29:11, a verse that Karen said has hung over the mantel in their home for the past 21 years. "'For I know the plans I have for you,' declares the Lord, 'plans to prosper you and not to harm you, plans to give you a hope and a future.'"
Reflecting back on all that took place, Scott said: "Today—out of the many difficult days that we've had—today is a very good day. It causes hope to spring up, and it renews and strengthens my faith."
—
Samaritan's Purse quickly deployed to Louisiana after Ida hit to help homeowners begin to recover following the devastation. We have three current response sites (Houma; Hammond [Northshore area]; Greater New Orleans) across the southeastern portion of the state. Over the past 11 weeks, our staff and volunteers have assisted over 1,000 homeowners by tarping roofs, removing debris, and cutting up downed trees. More important, they, along with several Billy Graham Rapid Response Team chaplains, have shared the Gospel with those who are hurting and over 150 people have accepted Jesus Christ as their Lord and Savior during these deployments. If you would like serve, visit spvolunteer.org.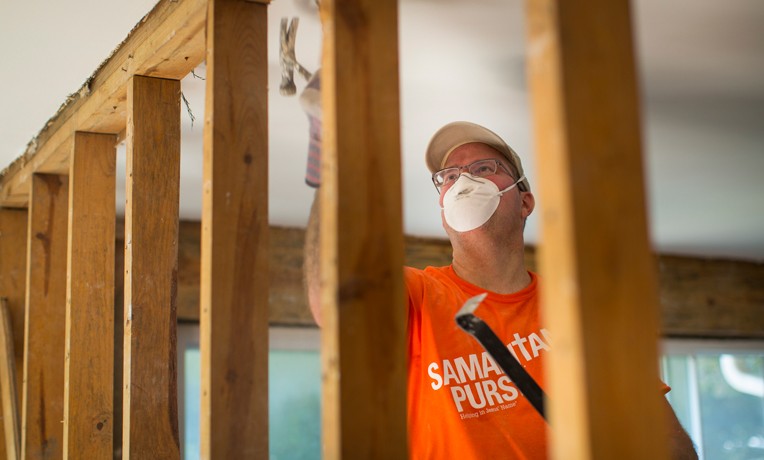 U.S. Disaster Relief
Samaritan's Purse mobilizes and equips thousands of volunteers to provide emergency aid to U.S. victims of wildfires, floods, tornadoes, hurricanes, and other natural disasters. In the aftermath of major storms, we often stay behind to rebuild houses for people with nowhere else to turn for help.
---
U.S. Disaster Relief 013622