Disaster Relief volunteers who served in Middle Tennessee experienced the joy of serving as the hands and feet of Jesus.
U.S. Disaster Relief
013622
Nick Walker is well acquainted with catastrophic storms.
As a meteorologist for The Weather Channel, Nick witnessed firsthand the devastation caused by multiple hurricanes and tornadoes. But as he covered those terrifying weather events he also witnessed the work of Samaritan's Purse as our volunteers responded in Jesus' Name to help hurting homeowners by tarping their wind-damaged roofs and cleaning up their debris-strewn yards.
Nick retired two years ago and decided to devote time to helping in the wake of the same types of disasters he'd spent his career only reporting. He didn't have to wait long to serve. In October 2018, Hurricane Michael slammed into the Florida Panhandle. Nick was soon on the ground in the Sunshine State as a volunteer with Samaritan's Purse removing rubble from yards and sharing the love of Christ with those impacted by the destruction.
"I knew the first time I served with Samaritan's Purse would not be my last," Nick said. And he was right.
Disaster Close to Home
On March 3, a series of deadly tornadoes swept across four counties in Middle Tennessee. Nick and his wife Barb had recently moved from Atlanta to a Tennessee community near Nashville—one of the hardest-hit areas.
"I woke up at four in the morning for some reason and started reading all about the tornadoes," Nick said. "We believe God uses everything, and He used our transition to put us right here before this tornado came."
Barb said she sensed God was calling her toward service, but what that looked like she wasn't certain. On March 3 it became clear.
"We had just had a sermon in our church about finding our calling, and I think this is part of it," Barb said. "We can do this. God has enabled us to do this. We have the opportunity and the resources to do it. How can we say 'no'?"
Nick and Barb worked a week in Nashville alongside dozens of other Samaritan's Purse volunteers clearing away trees and debris from yards and damaged houses, including the home of Michael and Kathy Worrell.
The EF-3 tornado that shredded the Worrell's property was a terrifying experience for the retired couple.
"By the time I got awake enough it was here. It was on top of us," Michael said. "It sounded like a freight train. I looked outside and saw pink, green, and blue swirling debris. I told my wife 'You're screeching.' She said, 'No. I'm just making sure the Lord can hear my prayer!'"
The damage they saw at daybreak made their hearts drop.
Contractors quoted thousands of dollars just to remove the fallen timber—an expense they couldn't afford. If it hadn't been for Samaritan's Purse volunteers like Nick and Barb, Michael said it would have been an unbelievable burden to get his house and yard back in order.
"It means everything in the world," he said. "I'll soon be 70 years old. I'm disabled. You came to the rescue. I can't put it into words except to say it's a Godsend. I thank everyone of them for everything they've done for us."
Barb said she and Nick are grateful God used them to encourage and help someone in such a desperate situation.
"We're blessed to be a blessing, right? I know that's such a cliché but it's true," she said. "I grieve for these people. We've never experienced anything this devastating but to be able to be the hands and feet of Jesus to help those who have—it's so important. It's such a privilege."
NOTE: These photos are from early March and predate relevant national, state (Tennessee), and local guidelines that have since been put in place to reduce the spread of coronavirus.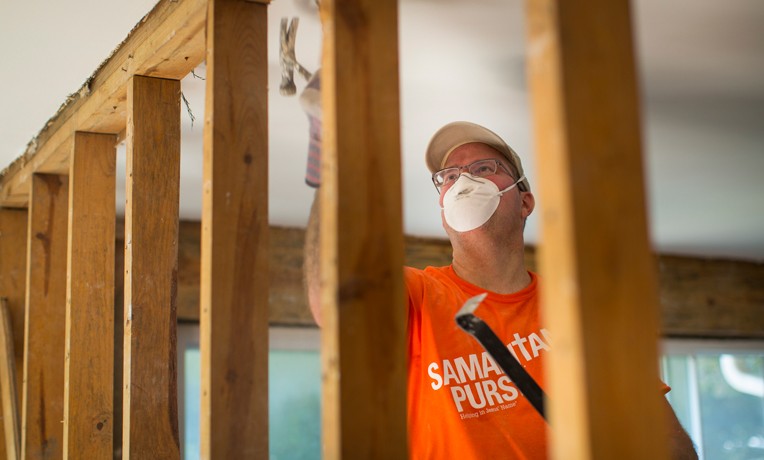 U.S. Disaster Relief
Samaritan's Purse mobilizes and equips thousands of volunteers to provide emergency aid to U.S. victims of wildfires, floods, tornadoes, hurricanes, and other natural disasters. In the aftermath of major storms, we often stay behind to rebuild houses for people with nowhere else to turn for help.
---
U.S. Disaster Relief 013622