After two floods in five weeks, Samaritan's Purse staff and volunteers help weary Texas residents.
Samaritan's Purse volunteers have been assisting homeowners in Montgomery County, Texas, after recent flooding. We are removing debris, mud, insulation, drywall, and flooring. As we come alongside these homeowners, we minister in Jesus' Name.
Just weeks after devastating flooding struck Houston, more than 16 inches of rain fell in Conroe and Magnolia, smaller communities northwest of Houston. Only a week after Samaritan's Purse closed down a flood relief site in the Houston area, we returned to The Woodlands Church, which also hosted our staff members and volunteers for the previous deployment. On Wednesday, June 15, the entire staff of The Woodlands Church, more than 120 people, volunteered in the surrounding community.
Many homeowners we have helped were disheartened at this second flooding. Some of them had just finished putting up fresh drywall, only to have to tear it out again. To date, we have completed work on 76 homes with the help of more than 1,000 volunteers. Twenty-five people have accepted Christ.
"Our volunteers are telling us stories of hurting, confused, sometimes angry folks who are stressed beyond their limits due to their recent devastating circumstances," said Wayne Shoemaker, our program manager overseeing this deployment. "Each of our volunteers and staff are being called on in many instances to minister on the spot as the situation presents itself. As they share, you can see God working in the midst of their presence.
"That's why we're here. It's another opportunity the Lord is allowing us to have to assist homeowners and share the love of Jesus Christ and to display the Parable of the Good Samaritan."
Billy Graham Rapid Response Team Chaplains are also on hand to provide spiritual and emotional care. As He did during the May deployment, God is using our blue-shirted chaplains and our orange-clad Samaritan's Purse volunteers to demonstrate the Gospel and to proclaim the Good News of Jesus Christ.
We plan to finish work in Montgomery County toward the end of the month. Please pray for the safety of the volunteers and for opportunities to listen to homeowners and to share the Good News.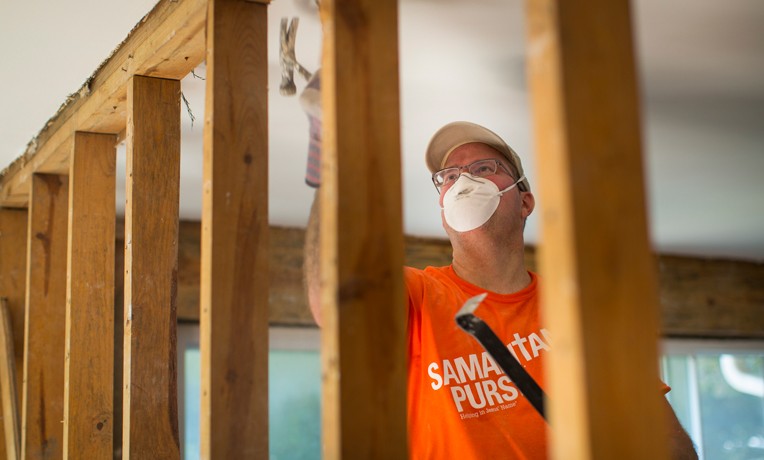 U.S. Disaster Relief
Samaritan's Purse mobilizes and equips thousands of volunteers to provide emergency aid to U.S. victims of wildfires, floods, tornadoes, hurricanes, and other natural disasters. In the aftermath of major storms, we often stay behind to rebuild houses for people with nowhere else to turn for help.
---
U.S. Disaster Relief 013622