College students and others are helping their neighbors in the wake of flooding.
U.S. Disaster Relief
013622
Samaritan's Purse is on the ground near Jackson, Mississippi, providing relief to families who are struggling after the Pearl River recently flooded.
Volunteers from across the U.S. are helping families clear their property of debris, remove waterlogged drywall and insulation, and salvage any personal belongings that may have survived the floodwaters. Inspired to serve in their own community, a group of more than 25 Mississippi College students joined our volunteer corps over this past weekend (Feb. 22).
"I think we lose sight of the fact that we're called to be missionaries everywhere we're at," said Shem McConnell, a junior at Mississippi College. "It's cool to be able to do something in your own community—give back to people who you shop at the grocery store with and you see every day."
More than the physical work the students provided, they hope families recognize what motivates them to get out and serve their hurting neighbors.
"My hope is that these homeowners and these people wonder why a bunch of 19-, 20-, 21-year-olds are out here on a Saturday morning, bright and early, trying to get all covered in mud and crawl under a house," Shem said. "That can show people that our motivation really is Christ, and He's the reason I'm out here right now cutting out insulation of a house."
Love of Strangers Brings Her to Tears
Eighty-five-year-old Doris Grayson knows that the Lord was with her as she evacuated her home ahead of widespread flooding. "I knew He would provide," Doris said. "I knew that it was all in God's plans and when you accept that, you just have to accept the good and the bad."
When she returned home, her storage shed—which contained many years' worth of family memories and personal belongings—was filled with several inches of standing water.
But, the Lord encouraged and sustained her as the group of Mississippi College students came to serve through Samaritan's Purse. They removed all the belongings from the shed, sorted through what Doris wanted, and then put everything back—reorganized and better than before the flood came.
"It brings tears to my heart and my eyes," Doris said. "It's a very humbling thing to know the Lord has [sent] all these young people who are so dedicated; complete strangers and all the love you feel from all these people is an amazing thing."
Though a heart condition prevents Doris from physically serving alongside Samaritan's Purse, she is exuberant about becoming a Samaritan's Purse volunteer through prayer.
"I will always be deeply in prayer and every time I hear or see or do something, I will think about all of you wonderful people and all of the love and everything that's been shown to me. There's no way to forget it for sure."
Note: During this deployment Samaritan's Purse is based out of Colonial Heights Baptist Church in Ridgeland. All overnight positions are filled, but day volunteers are still welcome.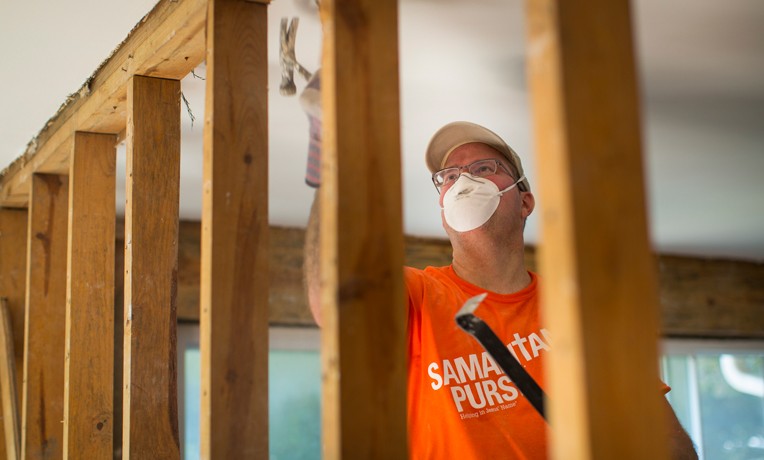 U.S. Disaster Relief
Samaritan's Purse mobilizes and equips thousands of volunteers to provide emergency aid to U.S. victims of wildfires, floods, tornadoes, hurricanes, and other natural disasters. In the aftermath of major storms, we often stay behind to rebuild houses for people with nowhere else to turn for help.
---
U.S. Disaster Relief 013622