U.S. Disaster Relief teams are assisting Colorado homeowners in Jesus' Name after what some are calling the worst fire in Colorado history.
U.S. Disaster Relief
013622
Samaritan's Purse volunteers are hard at work in Colorado after the Marshall Fire that swept through the region in late December. Wildfires pushed by violent winds forced tens of thousands of residents to flee their homes in several Front Range communities.
Nearly 1,000 homes and other structures were scorched as the blaze swept across more than 6,000 populated acres just two days shy of the New Year. At least two people are still listed as missing in what is deemed the most destructive wildfire in Colorado history.
Residents returned to the charred remains of homes to find what's left of their belongings. A Samaritan's Purse U.S. Disaster Relief Unit—a tractor trailer filled with relief supplies and equipment—arrived Wednesday evening, January 5, from our ministry center in North Wilkesboro, North Carolina.
Volunteers began working over the weekend, deploying out of our base of operations at our host church–Boulder Valley Christian Church at 7100 S. Boulder Road in Boulder–to help homeowners in Jesus' Name as they sift through the ashes and recover any salvageable keepsakes. Details will be posted on SPVOLUNTEER.ORG as soon as they are available.
Billy Graham Rapid Response Team Chaplains are also working in communities to offer encouragement and spiritual support to so many hurting people left to pick up the pieces of their lives.
Please pray for these hurting homeowners and for our teams as we continue to work in the mile-high communities where winter weather and sub-zero temperatures are rolling in and could threaten relief efforts.
Story updated January 10.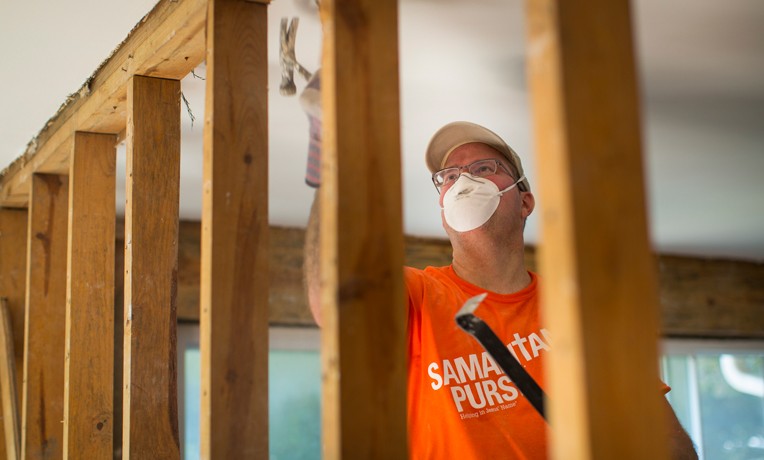 U.S. Disaster Relief
Samaritan's Purse mobilizes and equips thousands of volunteers to provide emergency aid to U.S. victims of wildfires, floods, tornadoes, hurricanes, and other natural disasters. In the aftermath of major storms, we often stay behind to rebuild houses for people with nowhere else to turn for help.
---
U.S. Disaster Relief 013622