Samaritan's Purse is bringing relief in Jesus' Name to those affected by flooding.
U.S. Disaster Relief
013622
Severe spring thunderstorms rolled through Louisiana in mid-May and dumped massive amounts of rain across the southern portion of the state, leading to dangerous flash floods and hundreds of home evacuations.
Twenty-plus inches of rain soaked Iberville Parish, 28 miles south of Baton Rouge. An inflatable flood barrier, known as an AquaDam, was set up to hold back the rain-swelled waters of the Intracoastal Waterway. But the fast-rising waters breached the temporary restraint in Bayou Sorrel along Highway 75. Gushing water rushed over roads and swept into over a hundred neighboring homes. Mandatory evacuations were ordered for over 1,000 people living in the flash flood areas of Bayou Sorrel and Bayou Pigeon.
Making the devastation even worse was the slow speed at which the flood receded. Water sat in some homes for up to two weeks.
Samaritan's Purse is responding to this disaster in Jesus' Name and is asking for volunteers to help hurting homeowners.One homeowner we've helped is Monica Fisher, a Christian woman who praised God for bringing "me His family" to clean up her home.
Watch Monica's story above.
To learn about current volunteer opportunities, go to SPVolunteer.org.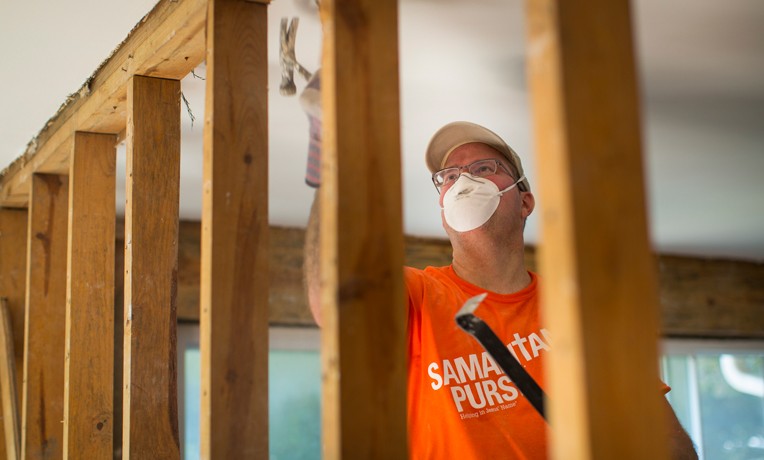 U.S. Disaster Relief
Samaritan's Purse mobilizes and equips thousands of volunteers to provide emergency aid to U.S. victims of wildfires, floods, tornadoes, hurricanes, and other natural disasters. In the aftermath of major storms, we often stay behind to rebuild houses for people with nowhere else to turn for help.
---
U.S. Disaster Relief 013622