Samaritan's Purse is assisting devastated homeowners in Missouri after extensive July floods.
U.S. Disaster Relief
013622
In late July, torrential, record-breaking rainfall swept through the greater St. Louis metropolitan area, triggering massive flash floods that quickly swamped roadways and rushed into neighboring communities. Hundreds of homes were flooded.
One of those houses belonged to Alondra Scott [check out the video above].
Flood waters engulfed her basement and destroyed everything in it. And while Alondra knew that the damaged items were material possessions that could be replaced, she didn't know how she was going to remove the waterlogged debris and haul it to the curb.
That's when a team of Samaritan's Purse volunteers, wearing their signature bright orange T-shirts, arrived and offered to help.
"You guys are blessings in orange!"
"I guess if you've seen people who have God inside and it shines through their eyes, that's what it was like," Alondra said of the group, who cleaned up her basement and got it ready for repairs. They also gave her a Billy Graham Study Bible that each team member signed and prayed with her. She said she was encouraged that there are still people in the world who are willing to help when disaster strikes and, more than that, who are "doing it in Christ's Name."
"Everyone from Samaritan's Purse that I've gotten in contact with, every single one, you could feel [their] joy and that makes a difference," Alondra said. "You guys are blessings in orange!"
Please pray for the many homeowners in St. Louis who are still recovering from the devastating floods and for our teams as they serve in Jesus' Name. To volunteer, go to spvolunteer.org. We also continue to serve in two locations following deadly flooding in Kentucky.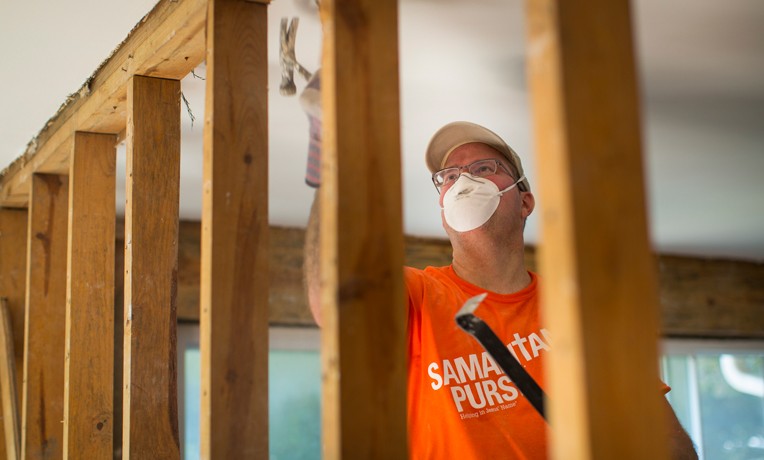 U.S. Disaster Relief
Samaritan's Purse mobilizes and equips thousands of volunteers to provide emergency aid to U.S. victims of wildfires, floods, tornadoes, hurricanes, and other natural disasters. In the aftermath of major storms, we often stay behind to rebuild houses for people with nowhere else to turn for help.
---
U.S. Disaster Relief 013622